News and Events
News and Events
Online Experts Workshop: Asset Recovery in Anti-Corruption
The Centre for Criminal Justice and Human Rights is pleased to participate in and support an event on Asset Recovery in Anti-Corruption on 24-25 November 2020.
Hosted by Vietnam National University Law School and Towards Transparency, the event is an online experts workshop focusing on Asset Recovery in Anti-Corruption. The Workshop will bring together international experts from the Transparency International network including Mr. David Ondráčka, Director of TI Czech, Ms. Sara Brimbeuf, Advocacy Officer- TI France, and Ms. Matilde Manzi, Policy Assistant- TI EU. Contributions will be drawn from a range of countries including Canada, China, Indonesia, Ireland and Vietnam.
This event is the latest in a range of collaborative activities between the CCJHR (Law School, UCC) and the Vietnam National University Law School over the past two years. The project, Support to the First Master Programme on Anti-corruption in Vietnam through Enhancing Capacity for the School of Law, Vietnam National University Hanoi has supported internal capacity building and public events supporting VNU-LS to deliver a postgraduate programme (LLM) on State Governance and Anti-Corruption. The project is funded under the Vietnam Ireland Bilateral Education Exchange programme.
The link to register and more information is available on this flyer: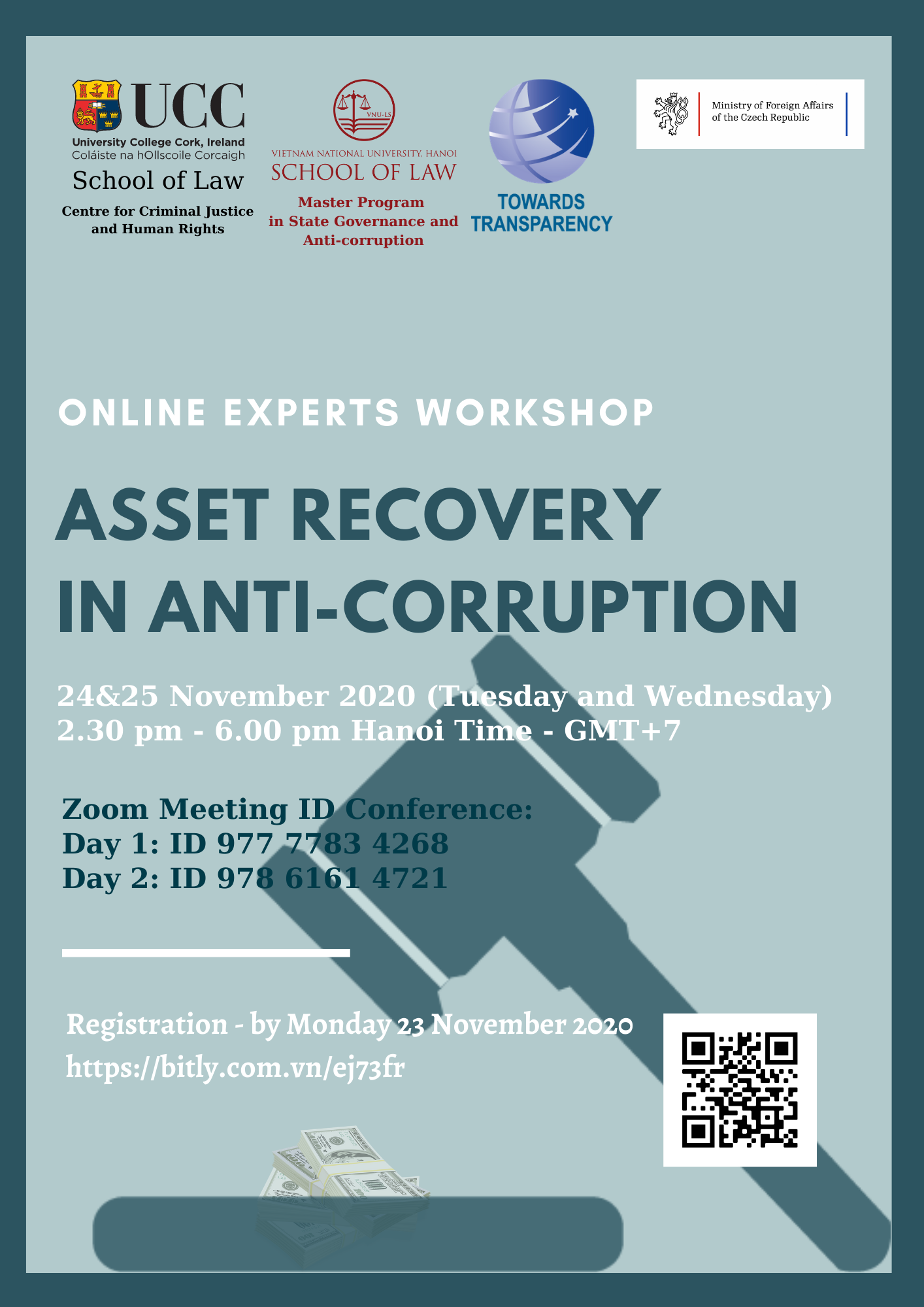 Workshop papers
Sébastien Lafrance - A Canadian Perspective
A Canadian Perspective - Vietnamese
TI France - Role of CSOs in AR
Asset Recovery Policy Brief TI EU
Asset Recovery Policy Brief TI EU - in Vietnamese
Anga R Timilsina Paper - Vietnamese
Anga R Timilsina Paper - English
Asset Recovery in Indonesian Anti-Corruption Law
Asset Recovery - Summary of the Irish Approach
AR Summary of Irish Approach - Vietnamese
Asset Recovery in Vietnam Possibilities and Challenges
China's Legal System on the Recovery of Corruption Assets
Thu hồi tái sản Indonesia - Go Lisanawati
Asset Recovery - What Civil Society Can Do
Presentation Dr. Juanita Olaya