Lizzie Thynne
Lizzie Thynne
Narrative Voices in a Documentary Biopic: Independent Miss Craigie
Independent Miss Craigie (Lizzie Thynne, 2021) is a feature-length documentary that explores the career and life of Jill Craigie (1911 - 99), one of the first women documentary makers in the UK. Becoming a director in the 1940s, she succeeded in addressing radical subjects for the cinema, such as artists at work in Out of Chaos (1944), town planning in The Way We Live (1946) and equal pay in To Be a Woman (1951). Research for the project, has uncovered a fascinating stash of correspondence and documents. These throw new light on Craigie's tenacious negotiations with funders, collaborators and contributors to make her films and on how production contexts influenced the form and content of her films. Film-maker Thynne discusses how she drew on these documents as well as extant interviews with Craigie to create a first-person narration of her life and career, which like that of many women in the sector, was fragmented and disrupted. This narrative covers Craigie's acclaimed films of the 1940s, her journalism, her writing, her little-known television work, and her presence as media personality in what might be called, in that slightly euphemistic phrase, a 'portfolio career'. Thynne shows how her film orchestrates two voices for Craigie that reflect the different identities and performances that emerge from the archives and her media appearances, as a younger and as an older woman, suggesting how this split might be a response to the gendered hierarchies of the film industry.
The project Jill Craigie: Film Pioneer is supported by the UK Arts and Humanities Research Council.

Talk
View Lizzie's talk 'Narrative voices in a documentary biopic: Independent Miss Craigie' here.


Biography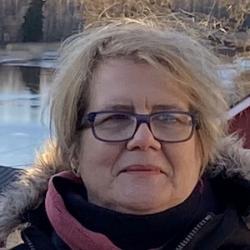 Lizzie Thynne is a film-maker and writer on media and film and is Professor of Film at Sussex University. Her feature documentaries include 'On the Border', 2012 (on her Finnish mother's history), JMP Screenworks 4 and Brighton: Symphony of A City (Brighton Festival 2016/Symphonic Visions, Metier 2018) and Playing a Part: The Story of Claude Cahun (2005). She is Principal Investigator on Jill Craigie: Film Pioneer, funded project (2018–22). Thynne's films often explore women's life histories, particularly those who worked in cultural production and her articles on her work in this field, and on her practice-led research within it, have appeared in the Journal of British Cinema and Television History, History of Photography, Papers of Surrealism, Feminist Review and in edited collections.
https://www.jillcraigiefilmpioneer.org/independent-miss-craigie/