News
News
Tadhg O'Sullivan and Yvonne McDevitt. Thur 31 Mar, 17:15-18:30. FSM Auditorium.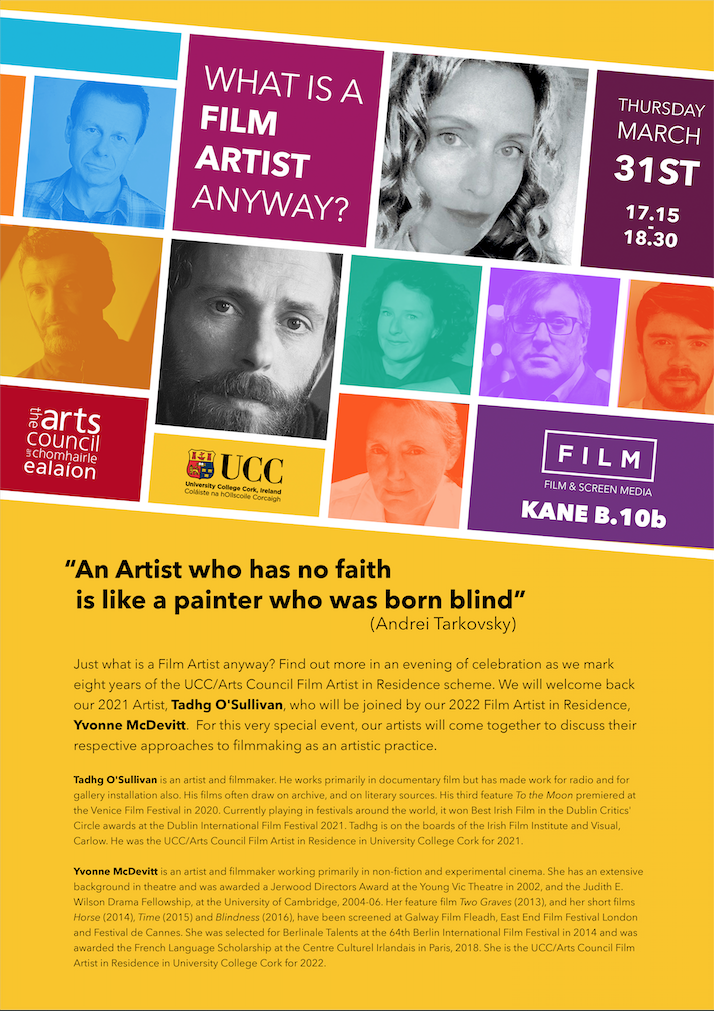 "What is a Film Artist Anyway?"

"An Artist who has no faith is like a painter who was born blind" (Andrei Tarkovsky)
Just what is a Film Artist anyway? Find out more in an evening of celebration as we mark eight years of the UCC/Arts Council Film Artist in Residence scheme. We will welcome back our 2021 Artist, Tadhg O'Sullivan, who will be joined by our 2022 Film Artist in Residence, Yvonne McDevitt. For this very special event, our artists will come together to discuss their respective approaches to filmmaking as an artistic practice.
Bios:
Tadhg O'Sullivan is an artist and filmmaker. He works primarily in documentary film but has made work for radio and for gallery installation also. His films often draw on archive, and on literary sources. His third feature To the Moon premiered at the Venice Film Festival in 2020. Currently playing in festivals around the world, it won Best Irish Film in the Dublin Critics' Circle awards at the Dublin International Film Festival 2021. Tadhg is on the boards of the Irish Film Institute and Visual, Carlow. He was the UCC/Arts Council Film Artist in Residence in University College Cork for 2021.
Yvonne McDevitt is an artist and filmmaker working primarily in non-fiction and experimental cinema. She has an extensive background in theatre and was awarded a Jerwood Directors Award at the Young Vic Theatre in 2002, and the Judith E. Wilson Drama Fellowship, at the University of Cambridge, 2004-06. Her feature film Two Graves (2013), and her short films Horse (2014), Time (2015) and Blindness (2016), have been screened at Galway Film Fleadh, East End Film Festival London and Festival de Cannes. She was selected for Berlinale Talents at the 64th Berlin International Film Festival in 2014 and was awarded the French Language Scholarship at the Centre Culturel Irlandais in Paris, 2018. She is the UCC/Arts Council Film Artist in Residence in University College Cork for 2022.
Thursday March 31st, 17.15-18.30.
Film and Screen Media auditorium, Kane building basement, Room B10.B
All are welcome to attend!