News
News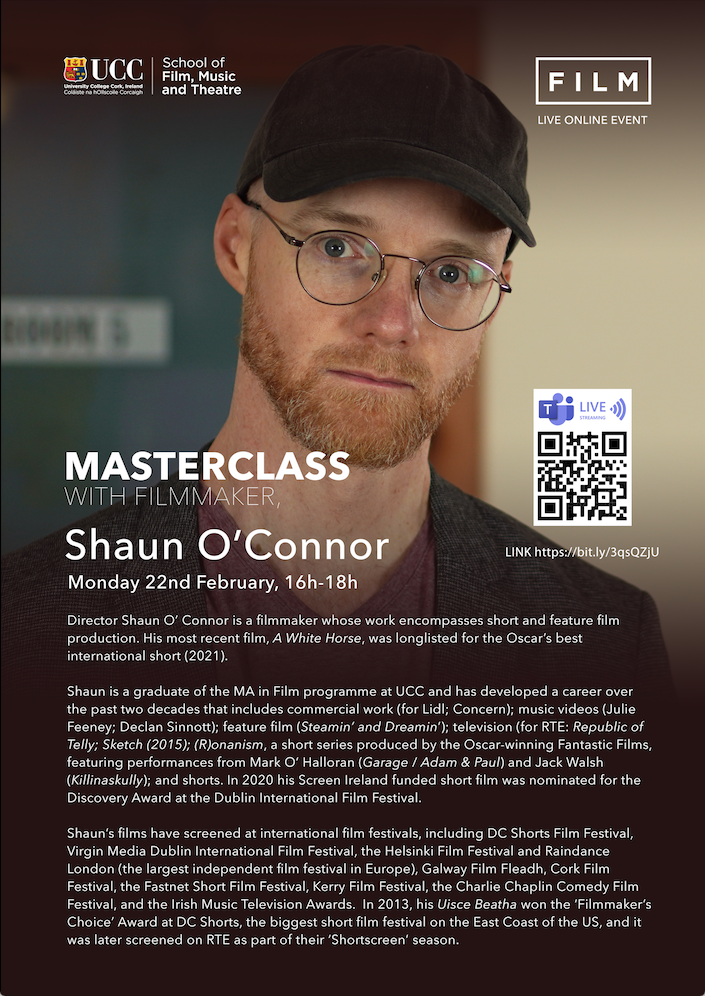 Masterclass with writer-director Shaun O'Connor. Monday 22nd February, 16h-18h, live session via MicrosoftTeams: https://bit.ly/3qsQZjU
Director Shaun O' Connor is a filmmaker whose work encompasses short and feature film production. His most recent film, A White Horse, was longlisted for the Oscar's best international short (2021).
Shaun is a graduate of the MA in Film programme at UCC and has developed a career over the past two decades that includes commercial work (for Lidl; Concern); music videos (Julie Feeney; Declan Sinnott); feature film (Steamin' and Dreamin'); television (for RTE: Republic of Telly; Sketch (2015); (R)onanism, a short series produced by the Oscar-winning Fantastic Films, featuring performances from Mark O' Halloran (Garage / Adam & Paul) and Jack Walsh (Killinaskully); and shorts.
In 2020 his Screen Ireland funded short film was nominated for the Discovery Award at the Virgin Media Dublin International Film Festival.
Shaun's films have screened at international film festivals, including DC Shorts Film Festival, Virgin Media Dublin International Film Festival, the Helsinki Film Festival and Raindance London (the largest independent film festival in Europe), Galway Film Fleadh, Cork Film Festival, the Fastnet Short Film Festival, Kerry Film Festival, the Charlie Chaplin Comedy Film Festival, and the Irish Music Television Awards. In 2013, his Uisce Beatha won the 'Filmmaker's Choice' Award at DC Shorts, the biggest short film festival on the East Coast of the US, and it was later screened on RTE as part of their 'Shortscreen' season. Shaun is also the recipient of several grants and bursaries.