News
News
Fringe Film Festival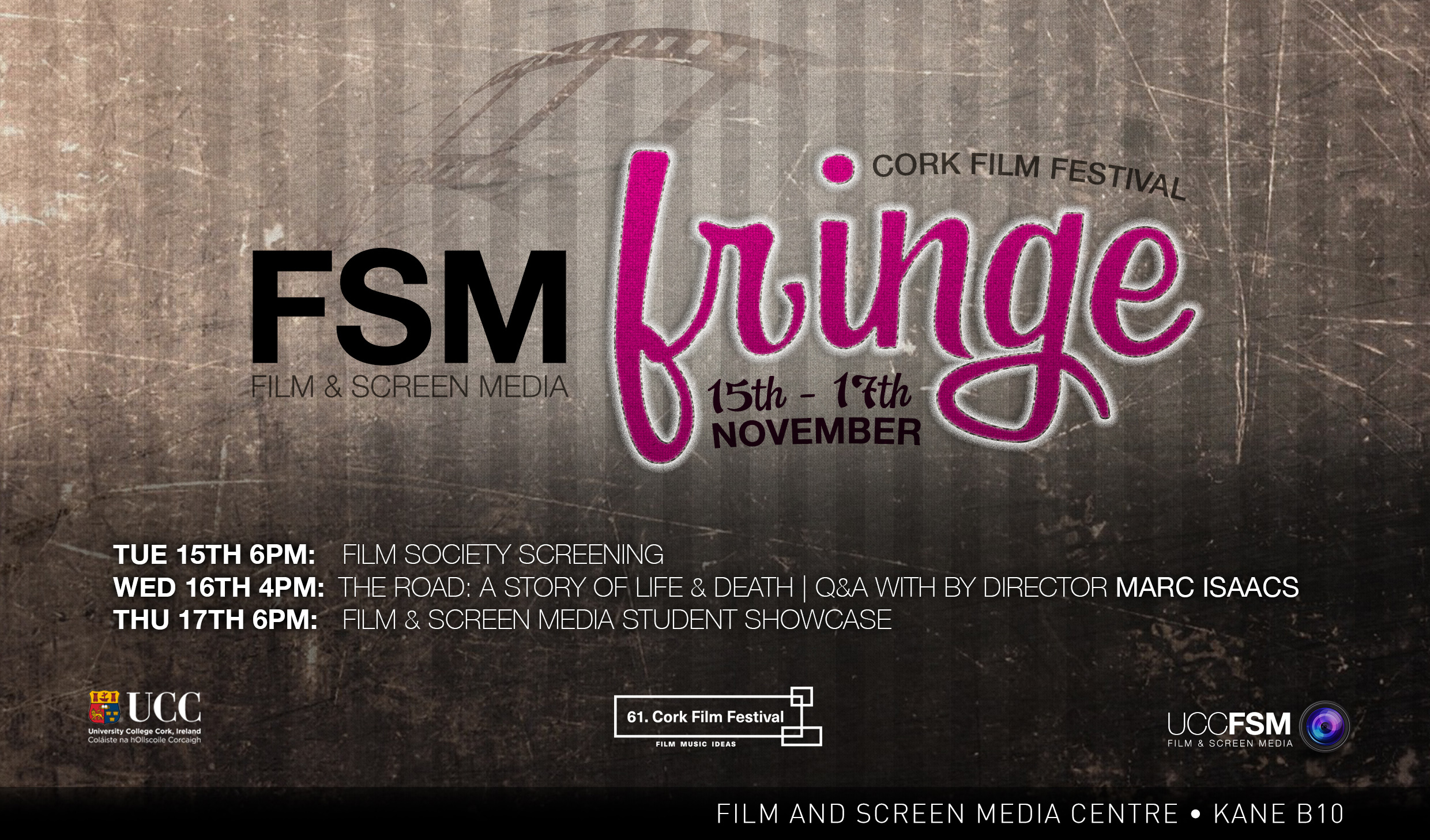 15, 16 and 17 November, UCC
UCC Film and Screen Media
are proud to present our very first Fringe Festival which will take place during the week of the Cork Film Festival 2016.
This exciting event includes the following programmes:
TUE 15 • 6PM
A Film Society Screening Night
A range of short films made by students from all departments in UCC and selected and curated by the Film Society.
Programme to follow.
WED 16• 4PM
Screening of The Road: A Story of Life and Death (Marc Isaacs, 2003, 1h 15m)
Followed by Q&A with director Marc Isaacs
Since 2001, Marc Isaacs has made more than fifteen creative documentaries for the BBC and Channel 4. His films have won Grierson, Royal Television Society and BAFTA awards as well as numerous international film festival prizes. In 2006, Marc had a retrospective at the prestigious Lussas Documentary film festival in France and his work has been included in numerous documentary books and academic studies. In 2008, Marc received an honorary doctorate from the University of East London for his documentary work. Marc is a guest tutor at numerous universities and film schools in the UK and overseas including, the London Film School and the National Film and Television School. He also teaches part time at Royal Holloway University. His latest film, The Men Who Sleep In Trucks, is currently available to view on the BBC I-player.
THU 17 • 6PM
UCCFSM Student Showcase
A programme of short films showcasing the incredible work created by the students undertaking a BA in Film & Screen Media at UCC including:
- An Audition Among Friends | 10 min 42 sec | Director: Seán Anthony Hayes
- Body | 8 min 45 sec | Director: Marley McCallum
- First Lesson | 8 min 9 sec | Director: Taidgh Richards
- Grá | 10 min 25 sec | Director: Aoife O'Neill
- HBO Babies | 3 min 11 sec | Director: William O Donovan
- Imaginary Compulsions | 6 min 12 sec | Director: Oisin O'Drisceoil
- Number Cruncher | 8 min 59 sec | Director: Matthew Butler
- Beautiful Boy | 15 min 39 sec | Director: John Gleeson
- Sessions | 11 min 0 sec | Director: Sean Hannon


All Welcome!