News Archive 2020
News Archive 2020
Prof Cryan Receives Major EU funding to assess the effects of Pesticides on Health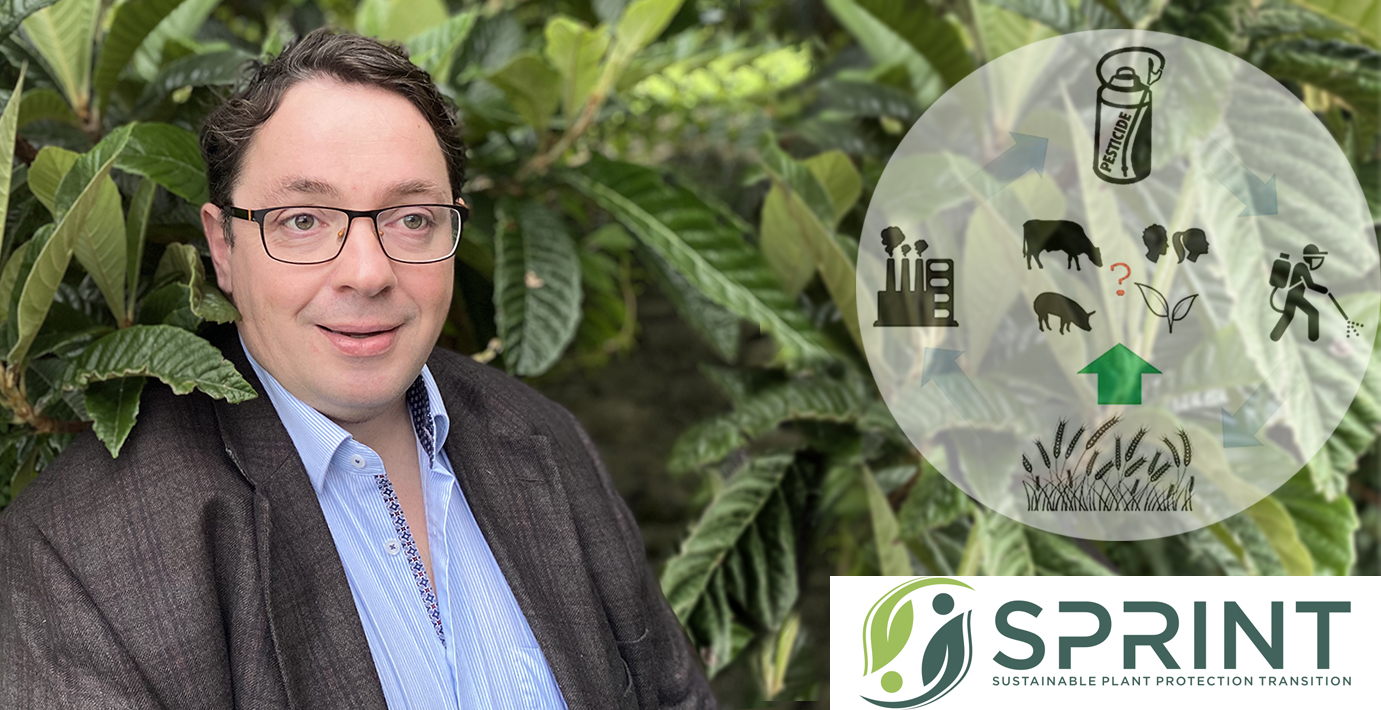 Professor John F. Cryan and colleagues at University College Cork's APC Microbiome Ireland have been awarded over €730,000 in research funding as a part of the European Commission's Horizon 2020 Research and Innovation programme, which aims to understand the fundamental impact of plant protection products such as pesticides on the gut microbiome of animals and humans with a particular focus on the gut-brain axis.
Farming systems in Europe rely strongly on the use of pesticides to secure yields and food safety in plant production and animal husbandry, using an average 340,000-370,000 tons of active substances annually. However, the risks associated with this over reliance of pesticides in relation to human and animal health is still relatively unknown. Indeed, from an environmental and health perspective, it is concerning that pesticide residues are commonly found in soil, water, crops, food and feed, animals and humans.
The newly launched SPRINT project (Sustainable Plant Protection Transition: A Global Health Approach), consists of a consortium of research institutes from 11 European countries alongside colleagues in Argentina and the UN's Food and Agriculture Organisation (FAO). SPRINT will develop a Global Health Risk Assessment Toolbox to evaluate the impact of pesticides on human health and the adverse effects on plants, animals and ecosystems.
SPRINT will pool the knowledge and data from across Europe to find ways to improve the sustainable use of pesticides. Working with farmers and policymakers, researchers will find ways to support a transition to more sustainable plant protection.
Find out more about SPRINT here: https://sprint-h2020.eu/
The SPRINT project and the research work Prof Cryan and the APC team was recently the subject of a feature article in the Irish Examiner which explored the collaborative work of the SPRINT consortium 'Study to probe link between pesticides and our physical and mental well-being'. In this article Prof Cryan describes the importance and the aims of the SPRINT project, "Understanding the influence of pesticides and other plant protection products on the microbiome, which is an important aspect of the SPRINT project, is crucial for all aspects of health," adding that his team is looking to extend this knowledge by linking any influence pesticides may have on the gut microbiome and how it subsequently "talks" to the brain.
Irish Examiner link here: https://www.irishexaminer.com/farming/arid-40049855.html
Link to APC Microbiome Ireland: https://apc.ucc.ie/sprint/?fbclid=IwAR1uggBcgpbggsnUNQD1CoTIuyakCFisKnpN3iQIc3-GWziZlItAgW_LcQQ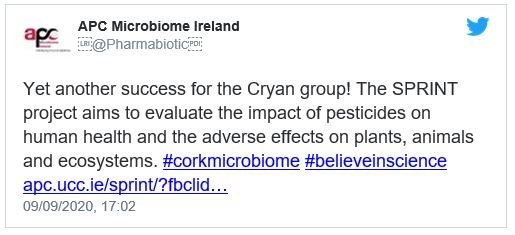 #corkmicrobiome #believeinscience apc.ucc.ie/sprint/?fbclid…