News 2014
News 2014
Science for All 2014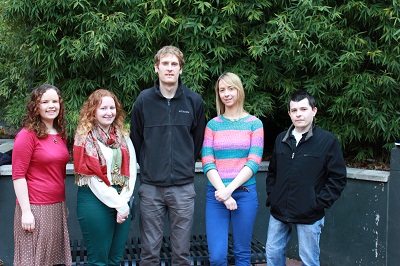 The aim of this competition, now in its 10th year, is to encourage young scientists to communicate their research to the general public in an easily understandable manner, without using jargon.
The competition is jointly organised by the College of SEFS and the APC and is part of the postgraduate module in Science Communication and Outreach, PG 6014.
The competition is open to postgraduate students in the Colleges of SEFS & Medicine & Health.
Schedule for 2014 competition
March 6th – Competition Training and Information Session: Oral and written science communication and presentation skills
Speakers: Prof W. Reville, Mary McNulty, Careers Office & Julie Dorel, Marketing & Communications, Tyndall National Institute
Time: 9:00 – 12:00
Venue: BHSC302
March 13th- Videoing of Competitors giving DRAFT presentations
Time: 14:00 – 18:00
Venue: BHSC_225
March 14th – Closing date for receipt of 200 word abstracts (by email to c.buckley@ucc.ie)
March 19th – HEATS
Time: 9:00 – 14:00
Venue: BHSC G05
April 9th – FINAL
Time: 19:00
Venue: Boole 2 lecture theatre (preceded by reception for finalists, supervisors, judges & their families)
Enquiries by email to Catherine Buckley c.buckley@ucc.ie or by telephone 4903362