News 2013
News 2013
Dr Edmond Byrne Awarded the Institution of Chemical Engineer's Morton Medal for Excellence in Chemical Engineering Education
Dr Edmond Byrne Awarded the Institution of Chemical Engineer's Morton Medal for Excellence in Chemical Engineering Education
Dr Edmond Byrne was awarded the Institution of Chemical Engineer's Morton Medal for excellence in chemical engineering education in London recently from IChemE president Judith Hackett CBE.
Dr Byrne, from the School of Engineering, is the first academic from Ireland to be bestowed this biennial award which has a global and distinguished reach. The medal was established in honour of Professor Frank Morton, the first professor of chemical engineering at what is now the University of Manchester, and who was instrumental in the establishment of what at the time became known as UMIST.
Dr Byrne has an extensive research and publication record in the field of chemical engineering education and engineering education for sustainable development (EESD) and chaired the 3rd International Symposium for Engineering Education (ISEE) at UCC in 2010. He has an MA in Teaching & Learning in Higher Education from UCC and is a recipient of the UCC President's Award for Excellence in Teaching. He is chair of the College of SEFS Teaching Learning & Student Experience Committee.
The photograph below shows Dr Byrne being presented with the Frank Morton Medal from incoming IChemE president Judith Hackett, who is also chair of the GB Health and Safety Executive.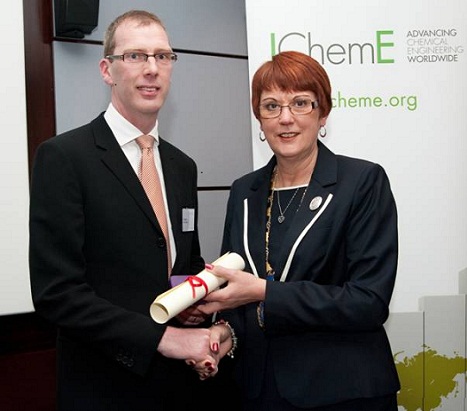 ‌