Sir Rowland Blennerhassett
Sir Rowland Blennerhassett
Sir Rowland Blennerhassett LLD, President, Queen's College Cork, 1897-1904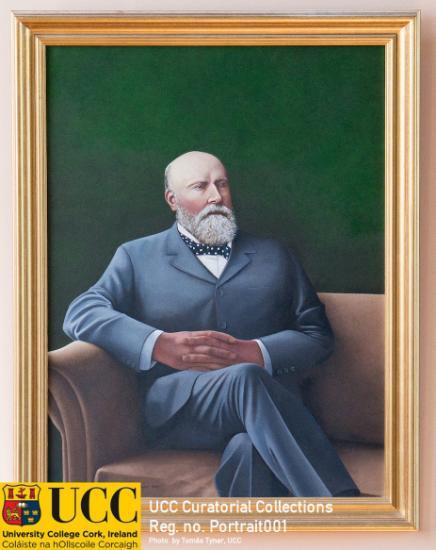 Sir Rowland Blennerhassett (1839-1909)[1] was born in Blennerville, Co. Kerry, and was the son of Sir Arthur Blennerhassett, 3rd Baronet and his wife Sarah Mahony. Rowland succeeded his father as baronet in 1849 as a child. He was educated at Downside School, Stonyhurst College and matriculated at Christ Church, Oxford, but because of his religion left without taking a degree. He then studied at Université Catholique de Louvain, where he took a doctorate in political and administrative science, and at Munich (1864) and Berlin. When he returned to the United Kingdom he started 'The Chronicle', a political and literary publication of liberal Catholicism. Blennerhassett sat as a Liberal Member of Parliament for Galway from 1865 to 1874 and Home Rule member for County Kerry from 1880 to 1885. He was High Sheriff of Kerry in 1866.
His speeches in the House of Commons on Fawcett's Irish university bill in 1871, and on Gladstone's Irish university bill of 1873, which he supported, showed an intimate knowledge of European universities, which can also be seen in his first annual report as President of Queen's College Cork.[2] In 1872 he moved the second reading of a bill for the purchase of Irish railways. In regard to the land question he anticipated the legislation of 1903 in a confidential memorandum, dated April 1884 (afterwards printed), suggesting the appointment of a commission to convert large tracts of Irish land into peasant properties by buying the estates of landlords willing to sell, at twenty-two years' purchase of the judicial rent.
As President of Queen's College Cork, Blennerhassett made strenuous representations to government to increase funding for new subject chairs, additional teaching facilities and modernizing the College infrastructure to accommodate electricity and telephone systems. However, these efforts were unsuccessful. Blennerhassett's short presidency was characterised by deep-seated student discontent, coupled with internal institutional tensions. Unfortunately he did not take up permanent residence at the President's house on campus. In 1904 he retired from the Presidency.
After leaving Cork, Blennerhassett continued to be active in Irish public affairs. He contributed regularly to The Times and The Daily Telegraph and was a Justice of the Peace. In 1901 he was awarded an Honorary Doctorate (LL.D) by the Royal University of Ireland and in 1905, he was appointed to the Privy Council of Ireland.
He met and married Countess Charlotte Julia von Leyden (1843-1917) in 1870. She published biographies of Madame de Staël, Talleyrand and Newman. They had two sons, Arthur C. F. B. Blennerhassett (5th baronet) and William L. Blennerhassett (6th baronet), and a daughter, Marie Carola Franciska Roselyne, who married Baron Raphael d'Erlanger.
Sir Rowland Blennerhassett died in 1909 at London and was buried at Downside, Stratton-on-the-Fosse, Somerset. An extensive obituary was published in The Times (23 Mar 1909).
The portrait of Sir Rowland Blennerhassett is on display in the Aula Maxima, UCC.
Select bibliography of the publications of Sir Rowland Blennerhassett
Speech on the second reading of the bill relating to university education in Ireland, 10th March, 1873. London: P. S. King, 1873
'The Land Question in Europe', Fortnightly Review 36 (1881), 238-252
Peasant proprietors in Ireland: memorandum. Privately printed, 1884.[3] Reprinted in the Contemporary Review 47 (Jun 1885), 866-881
'Ireland 1837-1887', in The reign of Queen Victoria: a survey of fifty years of progress, edited by Thomas H. Ward, vol.1 (London: Smith, Elder, & Co., 1887)
'Failure of Constitutional monarchy in France', New Ireland Review 1 (Mar 1894), 4-17; (Apr 1894), 96-105
University Education in England, France and Germany, with special reference to the needs of Ireland. Inaugural Address at Queen's College, Cork. London: John Murray, 1898
'Introduction' to The Bernstoff Papers: the life of Count Albrecht von Bernstoff, by Karl Ringhoffer. London: Longmans, 1908
Papers
Boole Library, UCC [Special Collections, U.33]: 'Lecture delivered in Cork by Sir Rowland Blennerhassett on Sir Walter Scott, 1902'
Cambridge University Library, Department of Manuscripts [Add. Ms 7486 and Add Ms 8119]
Bodleian Library, Oxford [Ms. Eng. c. 4036, fols. 191-2; & 4037, fol. 2]
St Andrews University Library [NRA 26993 Ward]
References
[1] Further reading: James Quinn, 'Blennerhassett, Sir Rowland', Dictionary of Irish Biography (2009); Denis Gwynn, 'The origins and growth of University College, Cork', University Review 2:3-4 (Autumn-Winter 1960), 45-6.
[2] The report of the President of Queen's College, Cork, for the session 1897-8 (Dublin: HMSO, 1898), published separately as, University Education in England, France and Germany, with special reference to the needs of Ireland. Being the Inaugural Address delivered at Queen's College, Cork (London: John Murray, 1898).
[3] UCC: https://library.ucc.ie/record=b1183502; JSTOR: https://www.jstor.org/stable/10.2307/60229808
© University College Cork