Park and Ride
Park and Ride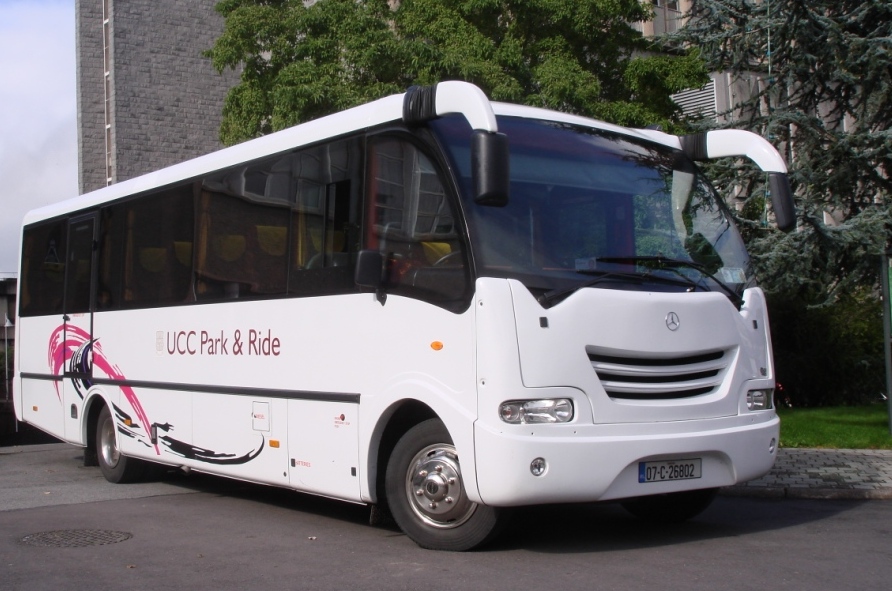 UCC Park & Ride
In 1999, UCC became the first University in Ireland to operate its own Park+Ride scheme.
At present, there are three car parks available for UCC P+R:
Pouladuff Road (near the N40 South Ring Road, Togher exit)

Dennehy's Cross (PCB sports grounds, single shuttle services only)
Black Ash (near N40, at Kinsale Rd roundabout, Term time only)
Shuttle buses operate frequent services from the Main Campus (Boole entrance) on College Road and Brookfield (outside gate). In the morning and evening peaks, the service also includes UCC's Lee Maltings Complex (Tyndall) on Dyke Parade / Prospect Row (using the bus stop on Dyke Parade/Mardyke St., opposite the Granary Theatre).
Both Pouladuff and Dennehy's Cross car parks are open all year, while Dennehy's Cross operates during the summer months as a Park & Walk facility only (approx 5 mins walk to Brookfield, 10-15 minutes to Main Campus). Black Ash is linked to UCC only during Term times.
P+R facilities are open to all UCC staff and students (ID spot checks by security staff may occur). Parking and the use of the shuttle buses are free of charge.
Pouladuff

Dennehy's Cross

Black Ash

Opening Hours

All Day, Mon-Fri,

Closes at 22:00

08.00 - 22.30,

Mon-Fri

07.30 - 19.30

Spaces

200
180
As required

Shuttle Bus

08.300 - 18.30

Every 15 (30 off-peak) mins

Extra services at a.m. peak

07.55 only

(No shuttles during summer)

09.30 - 14.00 (Mon-Thu Only)

Returns until 18.30

Every 15 (off-peak 30) mins

Only during Term
Black Ash tickets: Drivers please pull a ticket on entry. Get the ticket stamped by the UCC bus driver and exchange that ticket on return at the Black Ash counter for a free egress ticket.
Park and Ride Timetables
Park & Ride Timetable
Please see below for the Park & Ride Timetable for the 2023-2024 Academic Year
Details of Park & Ride Services.
A JPEG version of the timetable for AY2023-2024 is shown below. Please note that services to Black Ash have resumed.