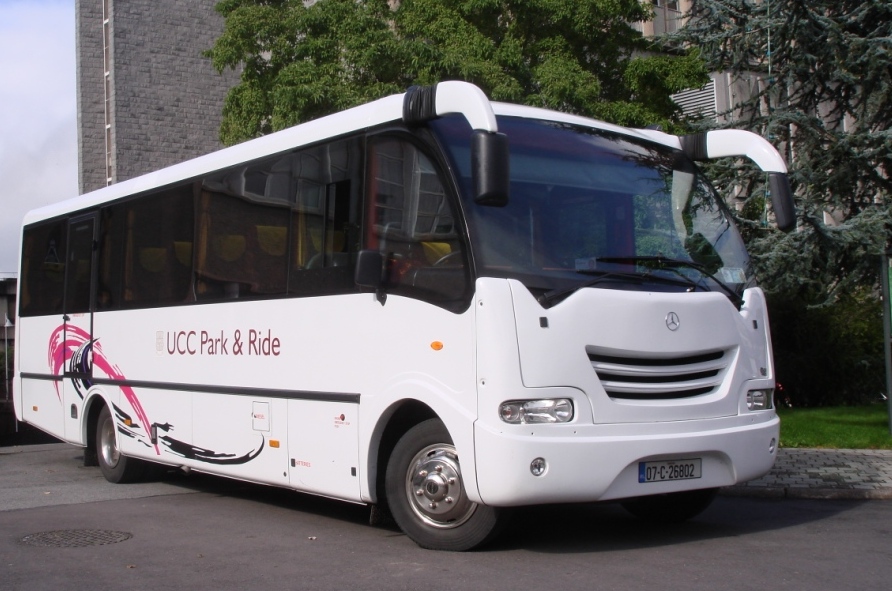 UCC is the first University in Ireland to operate a Park & Ride scheme. At the moment there are two car parks available:
Dennehy's Cross (PCB sports grounds)

Pouladuff Road (near the South Ring Road)
Download the Park and Ride - Map 2012/2013 (53kB)
Shuttle buses operate frequent services from inside the Main Campus entrance at College Road. Since September 2006, the service also includes UCC's Lee Maltings Complex on Dyke Parade/ Prospect Row (using the bus stop on Dyke Parade/Mardyke St.)
Both car parks are open all year, while Dennehy's Cross operates during the summer months as a Park & Walk facility only (approx 5 mins walk to Brookfield, 10-15 minutes to Main Campus).
P&R facilities are open to all UCC staff, students (ID spot checks by security staff may occur). Parking and the use of the shuttle buses are free of charge.
Pouladuff
Dennehy's Cross
Opening Hours:
all day
8.00 - 22.30, Mon-Fri
Spaces
250
180
Shuttle Bus

8.00 - 18.30
every 15 (30 off-peak) mins
extra services at a.m. peak

7.55 only
(no shuttles during summer)
Term 2016/2017
Effective from January 16th 2017 Park and Ride Information
Effective from Monday, 16th January buses will run every 15 mins from Pouladuff P+R to Main Campus via Brookfield (morning & evening peaktimes = every 10mins).
There will be morning and evening peak services to Tyndall / LeeMaltings (incl. morning set-down at the Honan Chapel for Main Campus).
Services will extend to Black Ash P+R from 9.25am on, Monday to Thursday only.
Dennehy's Cross will operate as a Park and Ride at 7.55am only.
Mid-morning and mid-afternoon breaks for the drivers will result in buses every 30mins during that time.
This timetable will operate for the 2016 - 2017 academic term.
Download 2016-2017 Schedule below:
Easter Timetable - April 2017
*Timetable subject to change at the discretion of the University