Collections
Collections
Portrait, Mark Hathaway (1960- ), 'Sir Rowland Blennerhassett'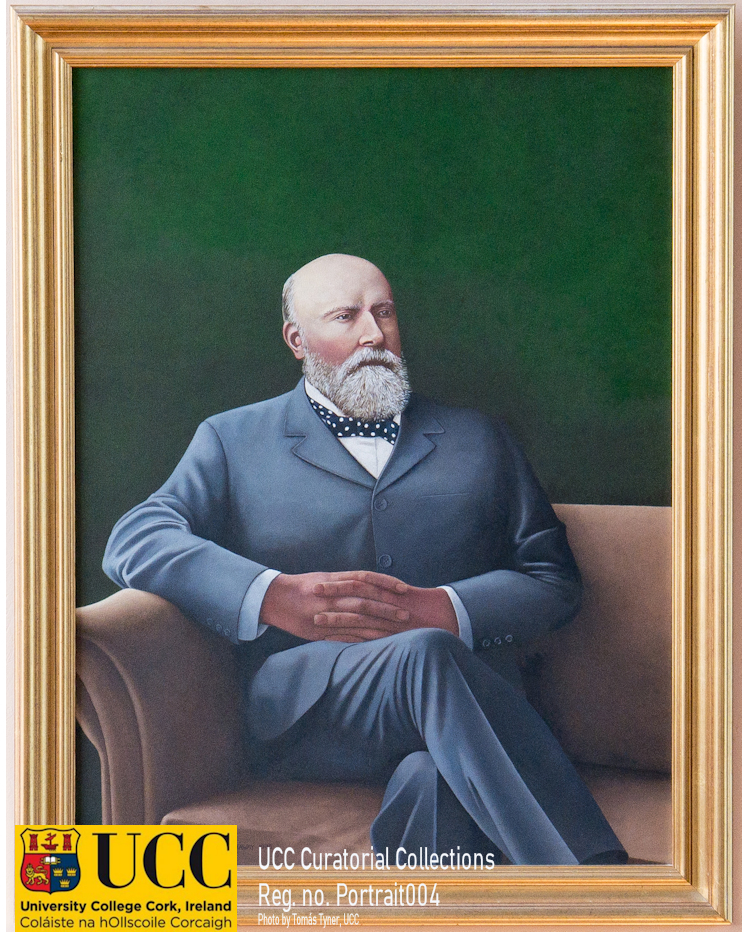 Painting in oil on canvas, framed, of Sir Rowland Blennerhassett (President, Queen's College Cork, 1896-1904).
Ref: UCCHS.Portrait004 © University College Cork
Portrait, Sir Rowland Blennerhassett. Mark Hathaway, British. Oil on canvas. 1995. Signed bottom centre left 'MARK HATHAWAY'. University College Cork.
Sir Rowland (President, Queen's College Cork, 1896-1904) is seated in the corner of a sofa, wearing a lounge suit, with hands clasped at the front.
Artist: Mark Hathaway (1960- )
Provenance: Commissioned by UCC in 1995.
More about the artist
Hathaway was born in Hull, Yorkshire, in 1960. His family moved to Cork in 1970 when his father, Brian J. Hathaway was appointed Professor of Inorganic Chemistry at UCC. He was educated at Cork Grammar School and Ashton Comprehensive, Cork, followed by studies at the Crawford School of Art (1977-82). Hathaway has had solo exhibitions at the Sirius Art Centre, Cobh (1994, 1995, 2001 and 2004), a two-man exhibition at the Triskel Arts Centre, Cork (1983), and a three-man exhibition at the Solomon Gallery, Dublin (1983). He is a regular exhibitor in group exhibitions in the Sirius Art Centre in Cobh, and the Cork Arts Society (The Lavit Gallery) in Cork. In 1987 UCC commissioned Hathaway to paint the mural on the stairs leading down to the Boole Lecture complex on the UCC main campus. Hathaway has works in public collections including Crawford Art Gallery, University College Cork, University of Limerick and the Office of Public Works.
Read more about Sir Rowland Blennerhassett here
Sources
'Cobh exhibition', Southern Star 19 August 1995, p.4
'Mark Hathaway Fine Art' (webpage). Online at http://homepage.eircom.net/~markhathaway/ (accessed 3/2/2021)
National Irish Visual Arts Library (NIVAL), NCAD, Artists Database. Online at http://www.nival.ie/collections/artists-database/view/artist/name/hathaway-mark/ (accessed 3/2/2021)
© University College Cork 2021