Collections
Collections
Portrait, J. H. Scully RHA (c.1860-1935), 'Sir Bertram C. A. Windle'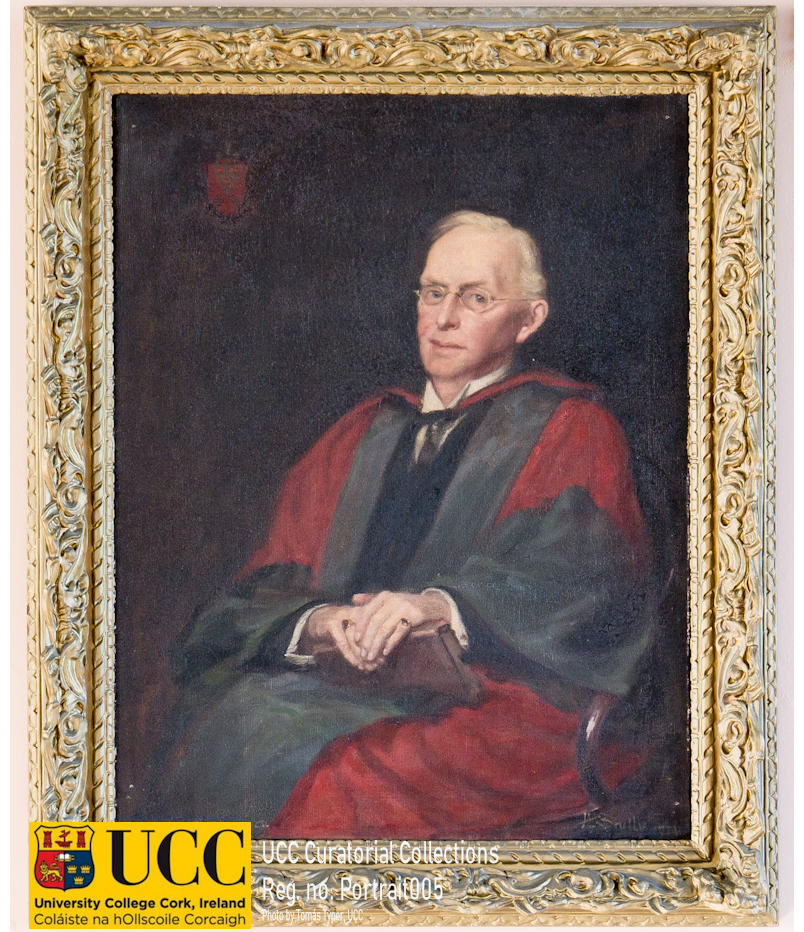 Painting in oil on canvas, framed, of Sir Bertram C. A. Windle (President, Queen's College, Cork, 1904-1908; President, University College, Cork, 1908-1919).
Ref: UCCHS.Portrait005 © University College Cork
Portrait, Sir Bertram C. A. Windle. J. H. Scully RHA, Irish. Signed. Oil on canvas, 1919. University College Cork.
Sir Bertram C. A. Windle (President, Queen's College, Cork, 1904-1908; President, University College, Cork, 1908-1919) is seated, wearing an academic gown. The sitter is holding a book with both hands on his lap. A faint coat-of-arms is visible in top left corner.
Artist: Joshua Henry 'Harry' Scully RHA (c.1860-1935)
Provenance: The Windle Presentation Committee was formed in October 1919 to seek donations from past and present members of the Governing Body, the teaching staff, officers and students towards the portrait and gifts to Sir Bertram and Lady Windle.[1] The portrait was painted during November 1919 not long before Sir Bertram's departure from UCC for Canada. He wrote, 'It has been quite a push [to pack], especially as I am having my portrait painted, a presentation one for the college, with replica for my wife, and the artist insists on six hours per week—two hours on each of three mornings—a dreadful thing, and never in my life have I sat still doing nothing (except perhaps in a train) for so long, and even in a train one generally reads, which I can't do on account of the pose.'[2] The portrait was presented to UCC on November 14 1919 and Sir Bertram 'expressed the wish that the portrait should be hung in the Examination Hall [now Aula Maxima] of the college.'[3]
More about the artist
Harry Scully was born c. 1860, son of Joshua and Maria Jane (née Davidson) Scully.[4] In 1871 he was living at Ardingly, Sussex as a pupil.[5] Harry began his studies in accountancy in Cork but moved to study art. In 1879 he was a prize-winner at the Cork School of Art.[6] He passed the Second Grade examinations in 1881.[7] Then he moved to London to study at Heatherley's (founded in 1845, now the Heatherley School of Fine Art).[8] Noted alumni of Heatherley include Burne Jones, Greenaway, Rossetti and Sickert. For many years he visited Cornwall becoming part of the Newlyn group.[9] In 1888, for example, he exhibited several watercolours at Cork, including 'A street in Newlyn', 'A monk', and 'An afternoon siesta'.[10] After a short period in mainland Europe, he returned to Cork and set up a studio for the teaching and practice of landscape painting and portraiture. He exhibited widely particularly at the Royal Hibernian Academy, of which he was an Academician. In the 1901 and 1911 Censuses of Ireland he was living with family in Cork. Scully had his studio at Nelson (Emmet) Place, in the house where once Richard Sainthill lived and Daniel Maclise painted. Scully was to exhibit a total of ninety-six portraits and landscapes of Cork, Brittany, Normandy, Cornwall and other rural areas at the Royal Hibernian Academy, showing each consecutive year from 1893 until 1911, when he ceased to exhibit for a period of twenty years; he re-emerges as an exhibitor at the Academy in 1931 and the following year, when he showed for the last time.[11]
Scully then moved to live at Orpington, Kent. He died aged 77 at St Bartholomew's Hospital in London following a street accident on 21 July 1935. His death was reported in the Cork Evening Echo.[12] He left his estate to his niece Maysie Connell (probate granted in 1936). Several of his works are in the collection of the Crawford Art Gallery, Cork.
References
[1] 'University College, Cork. Sir Bertram Windle's departure', Cork Examiner 30 October 1919, p.4.
[2] Monica Taylor, Sir Bertram Windle: a memoir, p.290.
[3] Taylor, p.291. See article for full coverage of the occasion, 'Sir Bertram Windle. Function at University College', Evening Echo 15 November 1919, p.3.
[4] Joshua Scully and Maria Jane Davidson were married at the church of St Ann Shandon on 24 January 1854 (GRO Group ID 3240042). Joshua's occupation was 'vintner'. According to the 1901 Census Maria was born in County Tyrone.
[5] England and Wales Census 1871 (familysearch.org).
[6] 'Cork School of Art', Cork Examiner, 23 December 1879, p.4.
[7] 'Cork School of Art', Cork Examiner 16 August 1881, p.3.
[8] 'Death of Cork artist. Mr Harry Scully', Evening Echo 29 July 1935, p.7.
[9] Melissa Hardie, Artists in Newlyn and West Cornwall, 1880-1940: dictionary and source-book, p.268.
[10] 'Mr Harry Scully's pictures', Cork Daily Herald 26 May 1888, p.8.
[11] Ann M. Stewart. Royal Hibernian Academy of Arts: index of exhibitors and their works 1826-1979, vol. 3, p.140.
[12] 'Death of Cork artist. Mr Harry Scully, Evening Echo 29 July 1935, p.7.
Sources
Cork Daily Herald, Cork Examiner, Evening Echo
Cornwall Artist Index, https://cornwallartists.org/cornwall-artists/joshua-henry-scully (accessed 2/2/2021)
Crawford Art Gallery, 'Cork Art History (1876-1900) ', https://web.archive.org/web/20140206033027/http://www.crawfordartgallery.ie/1876-1900.html (accessed 2/2/2021)
Melissa Hardie, Artists in Newlyn and West Cornwall, 1880-1940: dictionary and source-book (Bristol: Art Dictionaries, 2009)
Ann M. Stewart, Royal Hibernian Academy of Arts: index of exhibitors and their works 1826-1979 (Dublin: Manton, 1986)
© University College Cork 2021