Lord Puttnam Scholarship
Lord Puttnam Scholarship
The Puttnam Scholars programme offers six students the opportunity to work with Lord David Puttnam, Oscar winning producer of films including Chariots of Fire, The Mission, The Killing Fields and Midnight Express, former Digital Champion (appointed by the Irish Government) and leading figure in the creative industries. This prestigious scholarship programme offers a unique opportunity for students and represents a new model of industry mentorship.
The selected students will become Puttnam Scholars for a period of one academic year. During the year the Puttnam Scholars will work together on a team project and will be required to attend a series of 6 video conference mentoring and coaching sessions with Lord Puttnam. The Puttnam Scholars and jointly produce a short film which they will screen as part of a presentation to Lord Puttnam and invited guests at the end of the academic year.
Read the UCC News Story here or follow on Twitter or check out our other photos.
Puttnam Scholarship recipients
Elinor Dolliver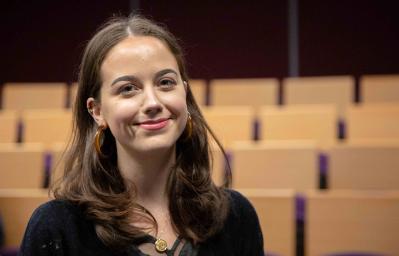 "My name is Eli Dolliver, I'm 22 years old, and I'm a final year film student of the BA in Film and Screen Media here in UCC. I live and work in Cork with my sisters and mother, my dog Moose, and my cat Púca. I have a deep and passionate love for film, from independent art house cinema and hard hitting documentaries to sci-fi, horror, and monster movies. I take a minor in English, where my studies in Shakespearean, Victorian, and Anglo-Saxon literature all inform my filmmaking and storytelling practice."
Lucy Creedon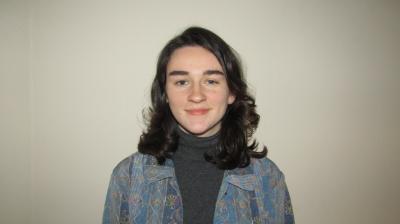 'I am in my Final Year of Bachelor of Arts degree at UCC, doing a Major in English and a minor in the History of Art. I have always possessed a keen interest in both English literature and creative writing. However, it was not until college that this enthusiasm developed to include the visual arts via my History of Art modules, the film modules I selected as part of my English major, and the camera that I was given last Christmas. I am extremely excited to be involved in the Puttnam Scholarship!'
Andy Killian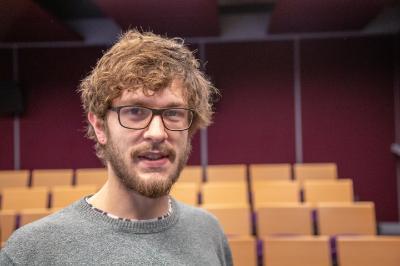 I am a final year civil engineering student from Cork, disciplining in the environmental stream. From a young age I have always invested the majority of my time in all things creative. Classically trained in piano and self-taught in guitar, I began composing music at the age of thirteen, and from here started producing music. I'd consider myself a multi-instrumentalist, playing drums for a band 'Pretty Happy' and guitar for another called 'Selkies'. I am also self-taught in bass guitar and synth, out of necessity to utilize these instruments in my own compositions. I also have a great interest in acting, starring in local bands' music videos and college student short films.
My acknowledgeable accomplishments to date are all composition and production related, including self-producing an EP (2017) and an album (2018) under my own name, and another short EP under the alias "Glassy Overture" (2018). Under this alias I managed to win the 2018 UCC Singer-songwriter competition. I have also produced two singles with Pretty Happy (2017, 2018) and was the master engineer for Selkies' debut EP (2018).
After graduating from my Bachelor's degree, I plan to do a masters in either film scoring or music production, to turn my passion into a career in the Creative Industries.
Oisin O'Driscoll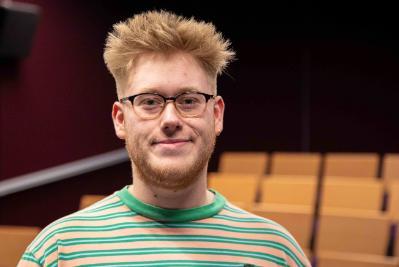 O'Driscoll Oisín is 22 years old, born and raised in Fermoy, County Cork. Coming from a creative family background of designers and musicians he went on to study Film and Screen Media in UCC and is a recent graduate. During his studies he focused his interests in film and developed skills in screenwriting and directing with the help from the fantastic staff in the Film Department. His films to date have focused on alienation, individual social standing in modern Ireland and gender issues. He is delighted to have gained the opportunity to further his passion for film and ultimately help him reach his screenwriting goals through the awarding of the Puttnam Scholarship.
Ben Whyte O'Callaghan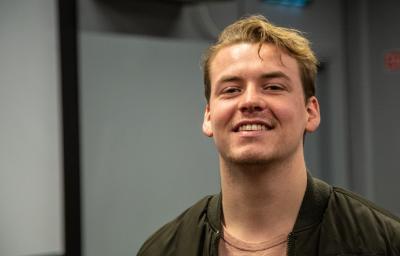 Ben Whyte O'Callaghan is 21 years old born and bred In Blackrock, County Cork. Ben comes from a sporting family, with his father representing Cork in Gaelic Football and his mother representing Ireland in athletics. Although Ben did have an interest in sport, his true passion was creativity and story writing. Due to his interest in short story writing from a very early age and being introduced to the world of film through classic westerns from his grandfather, Ben went on to study Film and Screen Media in UCC and is now in his final year. His main interest is in screenwriting and hopes to continue developing this skill within the industry in the future. After spending a year in Germany and working on several projects there, Ben hopes to move abroad again when he is finished in UCC to experience and work in the film industry in another country once again. Ben was absolutely thrilled to receive the Puttnam scholarship, as he feels it could bring him one step closer to achieving his goal of becoming a screenwriter in the future. He's extremely honoured and excited to be under the support and guidance of Lord Puttnam over the coming weeks and is greatly looking forward to working with the other scholars.
Liam Fleming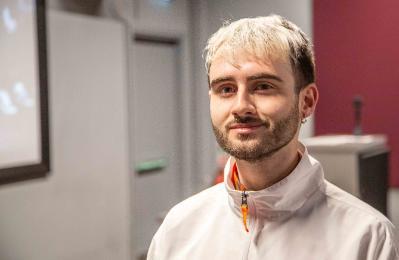 Liam Levaro Fleming
I'm from all over the shop; I was born in the USA, swiftly moved to Limerick, before moving to Torrevieja, Spain, for a large chunk my childhood, and finally I moved back to Limerick in time for secondary school, and I've yet to adapt to the weather.
I've always considered myself a creative but my outlets during secondary school were limited to art class and acting on the weekend. I have also always been into technology, mostly thanks to a bit too much time spent playing computer games, but this interest went equally under-stimulated in school.
I ended up studying digital humanities & I.T. in UCC so that I could nurture these two neglected passions of mine - creativity and technology - which I have come to discover are deeply intertwined with one another.
Most recently I've returned from my 3rd year abroad in Nanyang Technological University, Singapore, where I was mostly studying interactive media modules like game design and immersive sound, while also dabbling in animation & film-making.
While I've recently been forced to shift focus to the impending doom that is final year I'm still finding solace in creativity through audiovisual class projects, my FYP, and now above all through being a Puttnam scholar.