Undergraduate College of SEFS Student Change Applications
Undergraduate College of SEFS Student Change Applications
Undergraduate College of SEFS Student Change Request Information Chart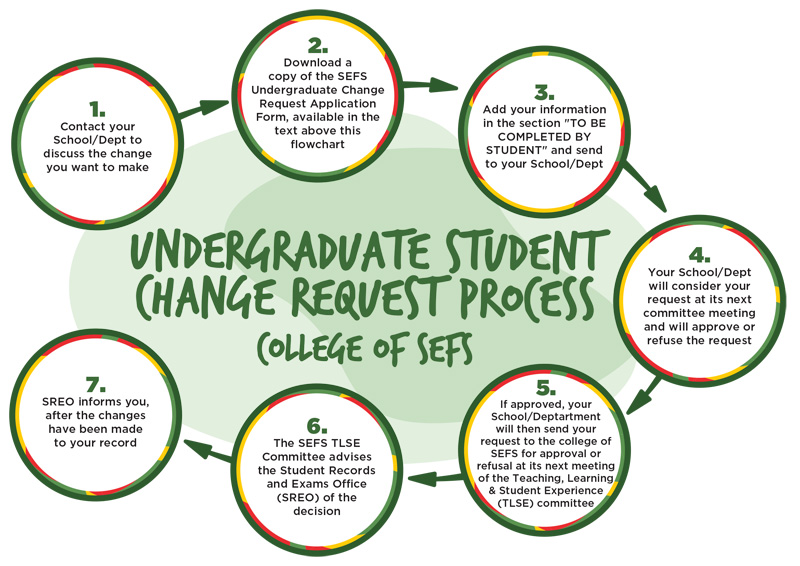 Examples of student change requests include:
Taking a leave of absence.
Taking additional modules.
A change of module(s)/subject (outside the university closing date).
Getting exemptions (e.g. if you have already covered material on one of your modules through another course/module, you may not need to do it again).
Replacement of course (e.g. studying abroad for a year).
The first step towards requesting a change is that you should make contact with the relevant School/Department to discuss the the change you would like to make. Contact the School/Department administration office for details of who you should discuss the change with. Details on how to contact the relevant Schools can be found here:
After consultation with the relevant academic unit you then need to submit a completed application form to your School/Department, to formally request the change. This form can be found here:
Withdrawal from a SEFS Course
If you are a SEFS student and you wish to withdraw from your programme the following should be noted:
For First Year students wishing to withdraw from UCC you need to contact Noirin Deady the First Year Co-ordinator Meet the First Year Experience Coordinator | University College Cork (ucc.ie)
For Withdrawals beyond First Year, in the first instance you need to contact the academic unit where your programme is anchored to discuss your case and for advice– contacts are below.
If after discussing with the relevant people in your academic unit and you still wish to withdraw you need to complete the attached Withdrawal Form and return to sefstlse@ucc.ie