PSRL
PSRL
Professional Skills for Research Leaders
Professional Skills for Research Leaders is an online programme designed to help individual researchers enhance their approach to leadership, management and engagement. It will enable you to identify a range of strategies and opportunities to establish yourself as a research leader, from writing compelling and competitive funding applications to managing relationships with team members and collaborators.
Quotes and photos from over the years .....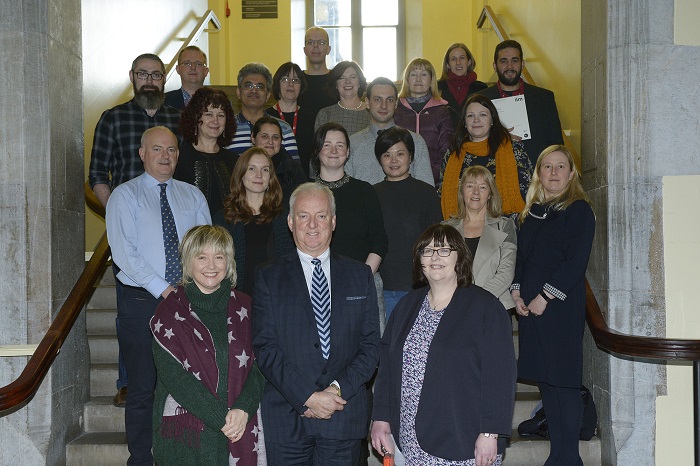 "Got a very comprehensive insight/awareness of responsibilities a research leader is facing, to themselves and to others. And also, to read and hear and see that even successful senior PI's are recounting similar issues to me."
"I recently attended a conference and was much more strategic in identifying who I met and what purpose was attached to seeking them out. Before the course I would have applied an ad hoc approach."
"I have worked in relative isolation and have been focused on individual goals to date. This course has shown that I need to raise my head up out of the sand a bit.....hand over work that could be of benefit/learning to junior members and to collaborate more to strengthen my research...leading to greater opportunities..."
Quotes from the Class of 2016
"I genuinely feel like PSRL provided me with the "time out" I needed to take stock of my career, my approach to research and, leadership."
"I believe I have learned a lot from this course. Specifically, the team management and people management skills, how to interact with senior researchers in my area, what is important in collaborative research and how to progress my own career goals."
"The most important learning from this course for me was to develop a strategic approach towards developing one's career. The course will definitely help me in my future decisions and choices."
Selection of photos from the UCC/ILM Certification Ceremony 2016
Quotes from the Class of 2015
"I understand much better the importance of paying attention at all different aspects of my career, especially management, collaboration and communication. I also have a much better understanding of the process of writing research grants. I will continue working on refining these skills, starting from the resources given in this course."
"I felt this was an excellent course that was very well delivered. This course came at the right stage in my career. I loved the interaction amongst our class and the course tutors, who were very knowledgeable. I would highly recommend this course to future Senior Post Docs and Research Fellows."
"I've learned the importance of reflecting on my career and I now have the tools to progress my career. There are some aspects of the course which I can immediately implement - such as the tips for attaining funding and communicating my research. Other topics will prove more useful in the future as situations arise."
Take a look at the Epigeum Case study on UCC's implementation and roll out of Professional Skills for Research Leaders
Selection of photos from the UCC/ILM Certification Ceremony 2015