Collections
Collections
Architectural model, Gormol Displays, 'Kane Building architectural model'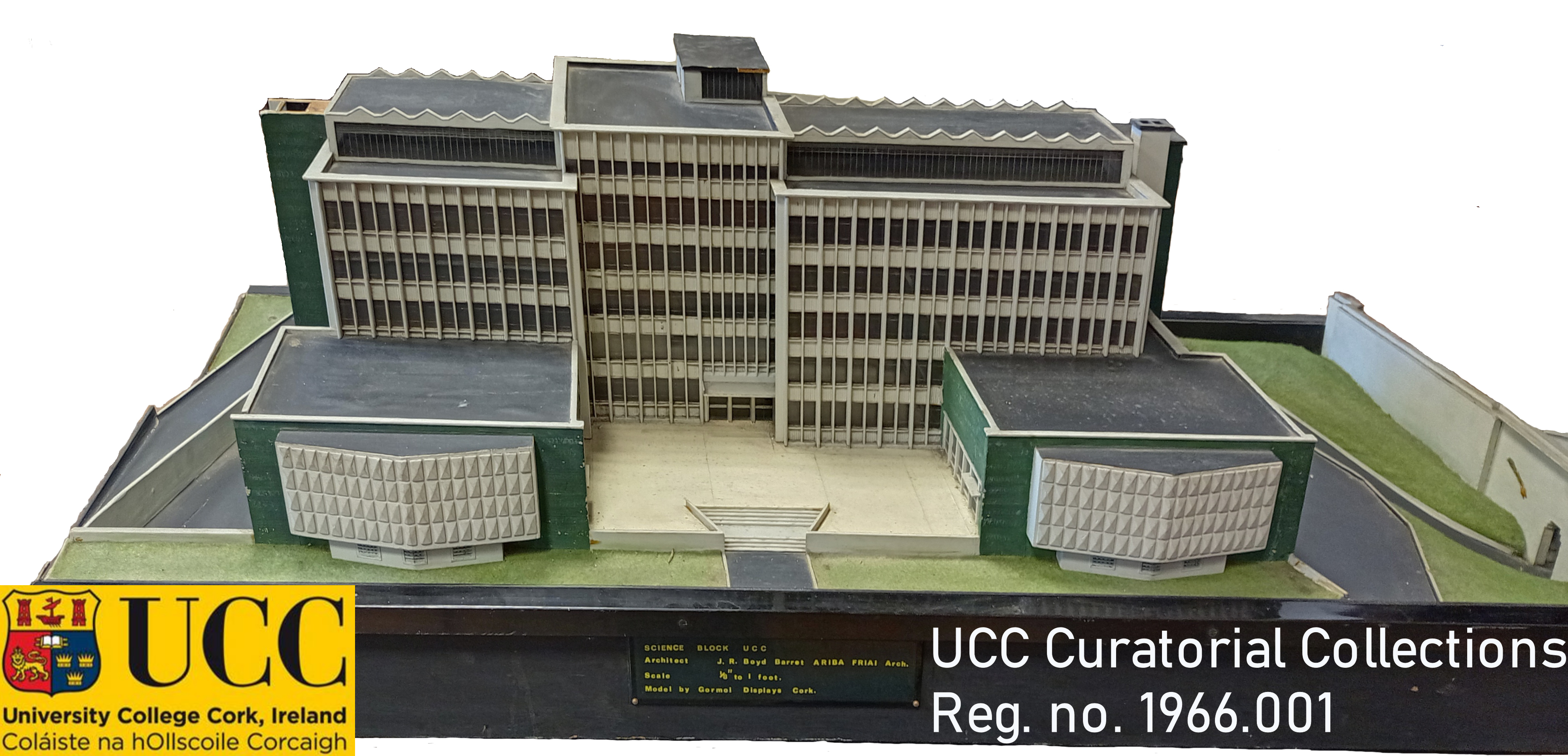 Wood, metal, mixed media: 'Architectural model of the Kane Building', 1966, architectural model.
Ref: UCCHS.1966.001 © University College Cork
Maker: Gormol Displays, Cleve Hill, Blackrock Road, Cork
Inscription: "SCIENCE BLOCK, U.C.C. Architect: J. R. Boyd Barrett ARIBA FRIAI Arch. Scale: 1/8" to 1 foot. Made by Gormol Displays, Cork."
Dimensions: (max) W 149 cm, D 68 cm, H 49 cm
Provenance: Created as a display model for the client, University College Cork.
This architectural model is a 'final model' (also called a presentation or display model), which represents the design result and serves as a communication tool between the architect and a client. These can depict different materials, and can provide a guide for various costs.
The RTÉ Newsbeat programme (watch online) shows the model in the window of the President's Office in December 1966 (at 2:51 mins). Construction started after the Government sanction of funding of £1.5m in January 1967. The building includes two large lecture halls, which helped to relieve congestion in the Arts Faculty that up to that point only had access to the lecture theatres in the West Wing and Dairy Science (now Geography) Building. The building also housed the Department of Chemistry, a Department of Mathematical Science, and a large-scale department of Experimental Physics, which then included a small nuclear physics laboratory. The new building also included libraries for the departments in the building, thus relieving congestion on the main library that was still located in its original position in the North Wing of the quadrangle. The model shows a car park at the southern end of the building in the basement but this was not built and was replaced by the Kampus Kitchen.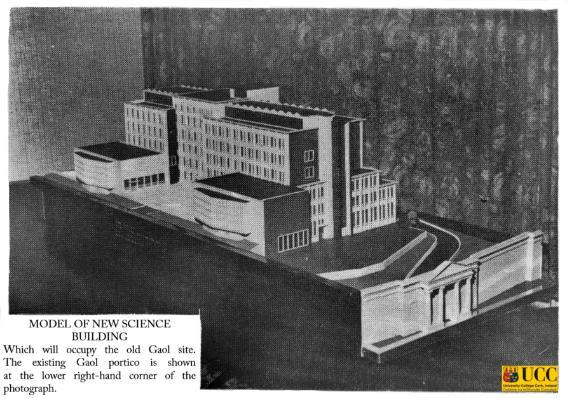 Photograph of the model in 1967.
It was estimated that the construction would finish in early summer of 1970 but owing to various difficulties it was not finally completed until the following year and the building entered into full use in the autumn of 1971. A short history of the journey towards the building and its construction is available to read here. For many years known as the Science Building, it is now the Kane Building named after Sir Robert Kane FRS, the first President of Queen's College Cork.
Further reading about architectural models
Juliane Wattig, 'Conserving Architectural Models: Behind the Scenes in the Research Institute Conservation Lab', Iris blog, Getty Conservation Institute (July 2013)
R. J. Models, 'Architectural Models: the Ultimate Guide'