Collections
Collections
Figures, Séamus Murphy RHA (1907-1975), 'Bob and Joan'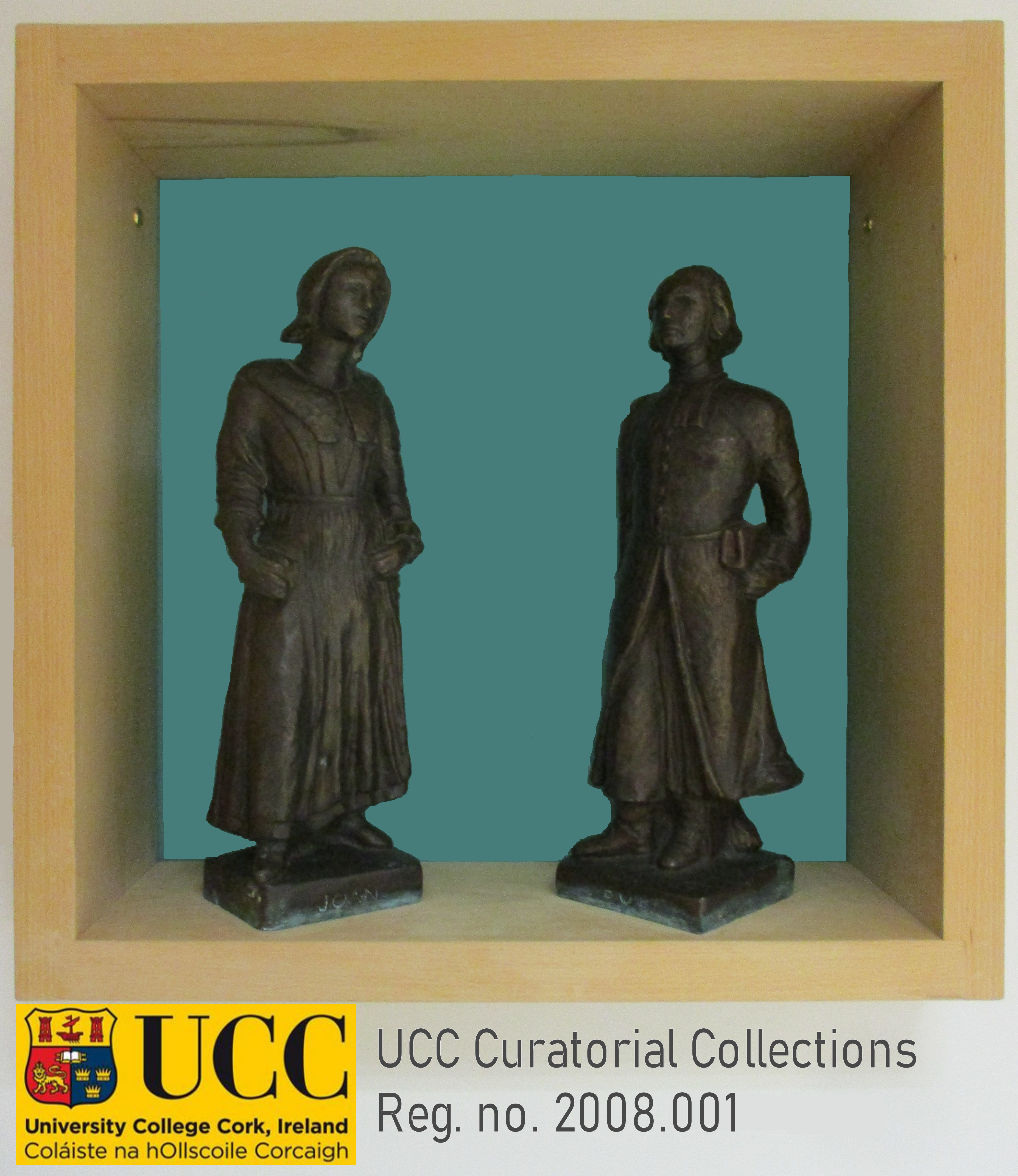 Bronze: 'Bob and Joan', c.1960, figures, 48H, signed by Séamus Murphy
Ref: UCCHS.2008.001 © University College Cork
Sculptor: Séamus Murphy RHA (1907-1975), Irish.
The names are incised into the base of each figure. Initials 'DAF' (Dublin Art Foundry) (maker) on right-hand side of base of Bob; 'S MURPHY' (sculptor) on right-hand side base of Joan.
The plaster casts of these figures were donated by the family of Séamus Murphy to the Crawford Art Gallery – CAG.2484 and CAG.2485.
Commissioned by Dr John B. Kearney, a medical graduate of UCC and obstetrician, in c.1960. Kearney was a patron of the arts and member of An Chomhairle Ealaíon / The Arts Council. For many years these sculptures were located in his consulting rooms.
See Peter Murray (ed.), Seamus Murphy (1907-1975) Sculptor (Kinsale: Produced by Gandon Editions for the Crawford Art Gallery, 2007), number 417 (p.275), no photo.
Date: c.1960 (bronze)
Background
Popularly known as 'Bob and Joan', these statues of a boy and a girl are modelled after the original, life-sized lead figures of the same names, which once stood on the pillars of the Green Coat Hospital.[1] The Trustees of the charity ordered that "Two Charity-Boxes to be fix'd up in the Schools, at the Foot of the Figures of Two Charity Children dress'd in their proper Habits, those remarkable Words of our Saviour (Naked and ye cloathed me) inscrib'd on a Label held by the Boy, and (In as much as ye have done it to the least of these, ye have done it unto me) written on a Scroll in the Hand of the poor Girl".[2] This charity, founded in 1715, and operating until the 1940s, offered elementary education to poor Cork Protestant children – usually twenty boys and twenty girls – under the age of 12 and also ran an alms-house for eighteen elderly women. The institution was demolished in 1955 and the statues, which are now over 300 years old, are on display in the lower part of the belfry of St Ann's Church, Shandon.[3] Both figures show the remains of the original paint, which depicts the green-coat uniforms of the school.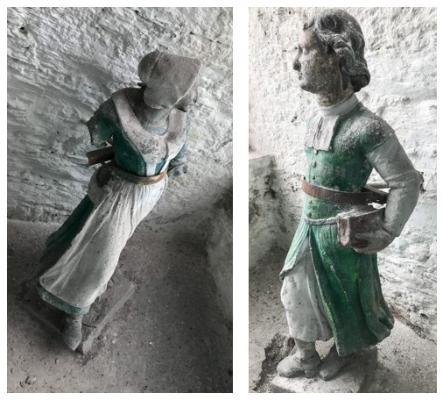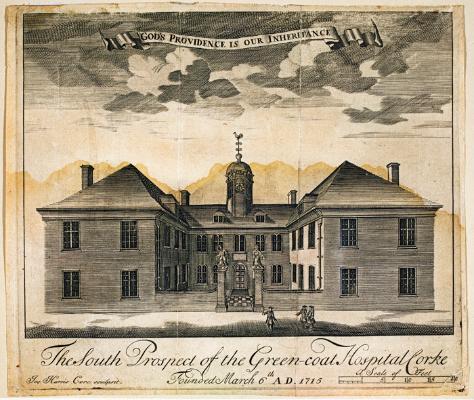 Engraved plate showing the front of the Green Coat Hospital, Cork. Frontispiece of Pietas Corcagiensis. Or, A view of the Green-Coat Hospital: and other charitable foundations, in the parish of St. Mary Shandon, Corke: shewing the several steps that have been taken, in erecting and supporting those charities (Cork: Printed by Samuel Terry, MDCCXXI [1721])[4]

The charity school was located in the left-hand wing where the School Master and Mistress also lived. In the right-hand wing there was an alms-house for 18 elderly housekeepers of the parish.[5] A library was also located on the school side of building where the Trustees of Green Coat Hospital held their meetings (the minute books survive and can be seen at the Boole Library, UCC, and the Representative Church Body Library, Dublin). When the building was demolished the library was transferred to St Luke's Church but is now accessible in the Boole Library, UCC (in a collection named 'Green Coat School'). A benefactor also contributed towards the construction of a gallery in Shandon Church where the children sat.[6]
Photograph of the Green Coat Hospital and statues with Shandon Church nearby (Lawrence Collection, National Library of Ireland).[7]
Provenance
This pair was commissioned c.1960 by Dr John B. Kearney, a medical graduate of UCC (MB 1940, MD 1942, MAO 1943) and obstetrician, who was also a patron and supporter of the arts. For many years these sculptures were located in his consulting rooms. Gift of Dr John B. Kearney to the Cork Heritage Park in 1991; when Cork Heritage Park, Bessboro, Blackrock, closed c.2008 Dr Éamon Lankford offered the figures to UCC.
Artist
Séamus Murphy was born on 15 July 1907 at Greenhill, Burnfort, near Mallow, Co. Cork, but moved with his family to Cork city when he was very young. He received his early education in Cork. He then became an apprentice stone-carver at John A. O'Connell's Art Marble Works, Watercourse Road, Blackpool, where he specialised in architectural and foliage carving. He was also attending the Crawford School of Art in Cork city centre at this time. In 1931 he was awarded the Gibson Bequest Scholarship and exhibited at the Royal Hibernian Academy exhibition. In 1932-33, he studied in Paris at the Académie Colarossi and at the Académie de la Grande Chaumière. He returned home in 1934 and opened his studio at the Watercourse Road. Murphy was elected associate of the Royal Hibernian Academy in 1944 and a decade later became a full member. In 1964 he was appointed RHA Professor of Sculpture and became a member of the Arts Council of Ireland in 1973. The National University of Ireland conferred him with an honorary LLD in 1969.
His exhibitions included: Salon de Printemps, Société des Artistes, 1933; a group exhibition at UCC in 1935; World Fair, New York, 1939; solo exhibition in Cork Public Library, 1956; joint exhibition with artist William Harrington, 1967; Adare, Co. Limerick, 1973; exhibited at ROSC '75, Cork; as well as at the Royal Hibernian Academy. A retrospective exhibition was held in 1982 at the Crawford Municipal Gallery of Art, Cork, and at the Douglas Hyde Gallery, TCD. His memoir Stone Mad, first published in 1950, remains in print, and in 2013 was chosen as Cork's Favourite Book.
Séamus Murphy married Maighread Higgins (daughter of sculptor Joseph Higgins (1885-1925) and Katherine Turnbull), with whom he had two daughters and one son. He died in Cork on 2 October 1975 and is buried in Rathcooney cemetery, north of Cork city.
The RTÉ website has several online films that feature Séamus Murphy:
'Sculpting in Cork' (1965)
'Stone Mad' (1969)
'Working with stone' (1973)
See also: 'A home for sculpture in Cork' (1967)
References
[1] See the statues in place in a photograph taken by a member of the Cork Camera Club: https://digital.corkpastandpresent.com/Documents/Detail/cork-camera-club/2182 (accessed 8/3/2023).
[2] Pietas Corcagiensis, p.30.
[3] http://www.shandonbells.ie/history.html (accessed 20 July 2021).
[4] Three copies at UCC: https://library.ucc.ie/record=b1318678.
[5] Pietas Corcagiensis, p.36.
[6] Pietas Corcagiensis, p.26.
[7] The photograph shows the Green Coat Hospital on the right with Shandon Church in the centre: http://catalogue.nli.ie/Record/vtls000337545 (accessed 20 July 2021)
Sources
Pietas Corcagiensis. Or, A view of the Green-Coat Hospital: and other charitable foundations, in the parish of St. Mary Shandon, Corke: shewing the several steps that have been taken, in erecting and supporting those charities (Cork: Printed by Samuel Terry, MDCCXXI [1721])
Michael V. Conlon, 'Some old Cork charities', Journal of Cork Historical and Archaeological Society vol. 48, no 167 (1943), 86-94 (88-89)
Seán P. Donlan, 'Maule, Henry', Dictionary of Irish Biography
Samuel Lewis, Topographical Dictionary of Ireland, 2nd edition (London: S. Lewis and Co., 1846), vol. 1, p.423
Peadar McCann, 'Cork city's eighteenth-century charity schools: origins and early history', Journal of Cork Historical and Archaeological Society vol. 84, no 240 (1979), 102-111 (106-111)
Rebecca Minch, 'Murphy, Séamus', Dictionary of Irish Biography
Peter Murray (ed.), Séamus Murphy (1907-1975) Sculptor (Kinsale: Produced by Gandon Editions for the Crawford Art Gallery, 2007)
Seán Ó Coindealbháin, 'Schools and schooling in Cork city', Journal of Cork Historical and Archaeological Society vol. 48, no 167 (1943), 44-57 (46)
Charles Smith, The ancient and present state of the county and city of Cork (Cork: Printed by John Connor, 1815), vol. 1, pp386-88
© University College Cork 2021