News & Events
News & Events
UCC Community Reflects on 2021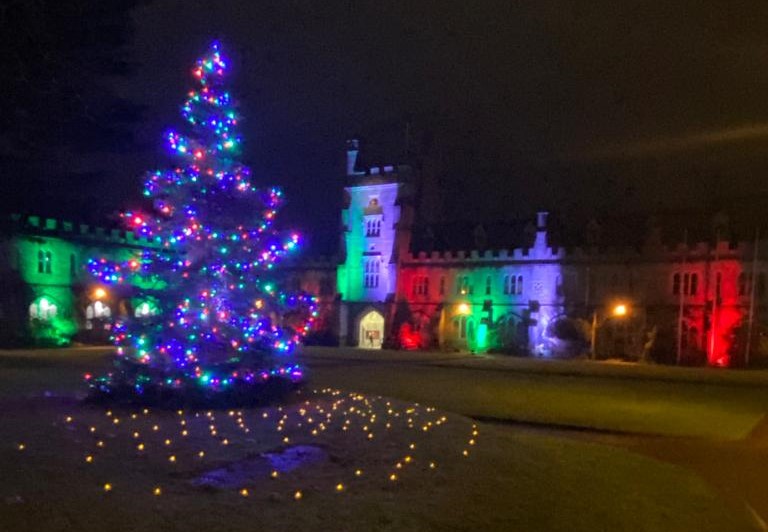 As UCC comes to end of year, the President, John O'Halloran, the Chaplaincy and the UCC Community reflect on what 2021 has meant.
Speaking on the Lights of Remembrance Ceremony held on Monday 20th December, President O'Halloran said:
"While we have achieved much together, I am acutely aware that members of our community have suffered bereavements or ill health during the year. As we cannot come together in person due to the current restrictions, I would like to invite you to a Lights of Remembrance Ceremony today Monday 20th December from 12pm to 1pm. Representatives from the wider UCC community will be present to light candles and take a moment to reflect on the grief and loss felt by so many and to pay tribute to those who have supported us throughout the year. For those on campus, reusable candles will be available from staff in the Visitors' Centre tent at the Honan Plaza and can be placed at a dedicated space on the Main Quad. A reflection book will be available to sign in the Visitors' Centre tent and a video recording can be viewed on the UCC YouTube channel. This has been one of the more challenging periods in our history and it is important to reflect and remember. A candle will be placed at my office window, as an expression of solidarity and hope as we look forward to a brighter future."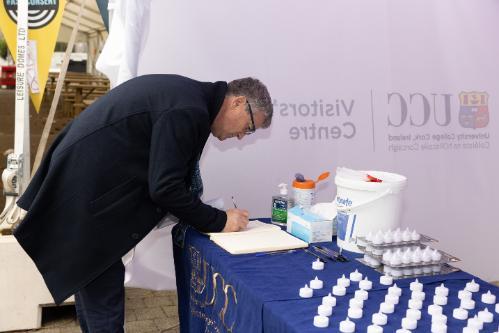 President John O'Halloran at the Lights of Remembrance Ceremony
Many thanks to Wellbeing and Development and Buildings and Estates, in particular Pat Cotter, General Services Officer and Susan O'Mahony, Staff Wellbeing & Developer Advisor for bringing this all together.
Speaking on the Remembrance held in the Honan to remember all those in the UCC community who have passed on in 2021, Ger Dunne OP and the Chaplaincy team:
"The chaplaincy team have recorded a remembrance event which was filmed in the Honan Chapel to honour the 28 members of the student and staff community at UCC who have died during the past year. The video is an opportunity for all of us to remember them and thank them for their contribution to the life of UCC.
Our thanks to Professor John O' Halloran (President, UCC), JP Quinn (Director, Visitors Centre), Mary Horgan (Department of Human Resources), Avril Hutch (Director of EDI unit), Barra O Donnabhain (Department of Archaeology), Asha Woodhouse (President, Students Union, UCC) members of the UCC chaplaincy team, Ruth McDonnell and Stephen Bean (Film Services, UCC)."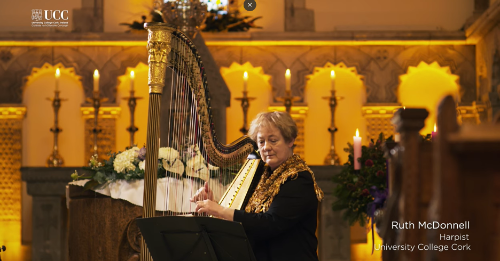 Ruth McDonnell, harpist, in the Honan Chapel
We in the EDI Unit wish for all of our community a safe and happy winter break and a better, brighter 2022.