RW2022 Events Running All Week
RW2022 Events Running All Week
Soundseekers Audio Festival - full listing
The Soundseekers Audio Festival is delighted to announce its first-ever broadcasting launch from the 21st of February until the 21st of March 2022. In partnership with a network of 18 community radio stations across Ireland, Refugee, Asylum & Migrant communities, The Broadcasting Authority of Ireland (BAI), the Irish Research Council, and University College Cork.
The Soundseekers Audio Festival will officially have its broadcast launch on Monday 21st February on UCC 98.3 FM @5pm in University College Cork as part of UCC's Refugee Week 2022. UCC 98.3 FM will continue to play Soundseekers programming from 5 pm each day until Thursday 24th February and will continue to broadcast until the 21st March.
The festival involved creating a platform for creative expression and working with asylum-seeking communities in Europe in Digital and Community Radio Broadcasting Skills over a two year period. The fruits of which have culminated into a body of creative multimedia and FM broadcasting works.
To celebrate audio and cultural diversity, the festival will showcase over 30 documentaries (200 minutes) created and produced by Refugee, Asylum and Migrant communities seeking refuge in Europe. Program themes include identity, memory, faith, mental health, social justice, LGBTQ, gender violence, environment, global displacement & borders, and unaccompanied minors. A variety of creative approaches are used to tell these important stories such as poetry, story-telling and documentation.
We invite Irish audiences to tune into their local community radio station in Ireland for FM broadcast or visit your local community radio stations' Facebook and Twitter accounts for online listening. We also invite international audiences to listen through Irish community radio stations online, the www.thesoundseekers.com website and Youtube @TheSoundseekers.
The festival aims to engage audiences and raise awareness around global issues on the local, national and international front concerning the complexities of seeking asylum in Europe.
Other Broadcasting partners include UCC 98.3FM, Dublin City FM, Dundalk FM, Athlone Community Radio, 92.5 Phoenix FM, Erris FM, Claremorris Community Radio, CRY FM, Flirt FM,
Connemara Community Radio, Wired FM, Liffey Sound 96.4FM, Tipperary Mid West Radio, Near 90FM, Community Radio Castlebar, Cork New Life Media,
Dundalk FM, Liffey Sound 96.4 FM, Dublin South FM, West Limerick 102FM
The Soundseekers Audio Festival is part of a PhD research project which is ethically approved by University College Cork. It centres around creating and utilizing community media and social media platforms for under-represented voices and seeks to contribute towards changing the negative mainstream narrative around those that seek asylum in Ireland and Europe by creating alternative narratives. Upon completion, producers who participated in the training program received Digital Badge accreditation from University College Cork. Imagery available on request.
Contact Festival Coordinator
Kathy O' Hare
Twitter @TheSoundseekers
Youtube @TheSoundseekers
Facebook @Atthesoundseekers
Interview with Eric Ehigie of the Black and Irish Movement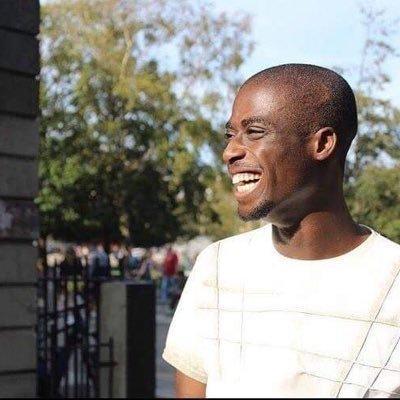 Eric Ehigie of the Black and Irish Movement talks to Dr. Gertrude Cotter, UCC, on the theme of being Black and Irish. Eric lived in the Direct Provision system as a child. His family now have Refugee status and he is a third year law student at UCG and political coordinator of Black and Irish. Eric offers a personal insight into how racism can curtail personal and collective dignity. He talks about how hardship kickstarted a journey away from his family's homeland in search for greener pastures in a land other than their own. As modern Ireland attempts to allow others to embark on a similar journey, Eric talks about how the refugee experience of his family and friends, calls for them to extend empathy to those who hope to find a home here. Racism he says is antithetical to the essence of Irishness. Our responsibility is to dig deep and recognise our common experiences with migrants and minorities in this country; to recognise the common humanity that we and others in our country are derived from, and to act accordingly. It's not a 'them' and 'us' situation, it's an Irish situation. Our response should be reflected in our personal lives, our education system, the workplace, government, and every facet of the country. Eric and Diana Siwela of MASI (the Movement of Asylum-Seekers in Ireland) will also run an online Anti-Racism workshop as part of UW0012 Praxis module in Development and Global Citizenship Education on the 23rd February - contact Dr Gertrude Cotter for more information.
How I See My Identity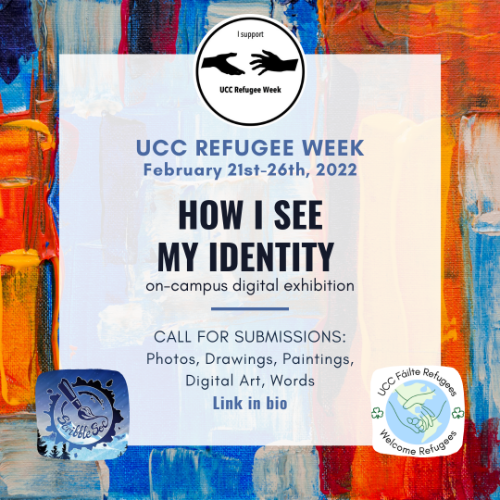 UCC Fáilte Refugees Society and UCC Scribble Society are proud to be bringing a digital art exhibition to UCC Campus for Refugee Week 2022 (21st-26th of February). Whoever you are and wherever you may be in the world, we are inviting you to submit your digital artwork in response to the theme: how I see my identity. The work will be displayed digitally in the Boole Library, and it will also be projected at different locations and during different events on campus throughout the week. You may choose to share a photo, a painting, a drawing, or any visual media that can be uploaded to our online submission form. Find the link in our bio, or send us a message for further queries. We cannot wait to bring the shapes and colours of your identity to UCC Campus this Refugee Week!