RW2022 Live Events - Thursday
RW2022 Live Events - Thursday
Global Teaparty
Learning to Live
The Learning to Live project was an Erasmus+ funded initiative that aimed to support migrant and refugee students in Higher Ed in Europe. The Irish team created a web-hub which we hope will be a useful "one-stop shop" resource for staff and students in higher education who are looking for resources to support vulnerable migrants. In addition, we undertook a qualitative piece of work speaking to students concerned and hearing their perspectives. The Learning to Live team look forward to telling you all about this innovative project.
Sanctuary Scholarships 2022
Join us for an information session on the 2022 Sanctuary Scholarships for undergraduate degrees starting in 2022/23.
Anne-Marie Curtin, coordinator of the degree scholarships application process for Sanctuary UCC will be on hand in the Hub Active Learning Space (G12) on Thursday 24th from 13:00-14:00 to answer your questions.
Soundseekers Audio Festival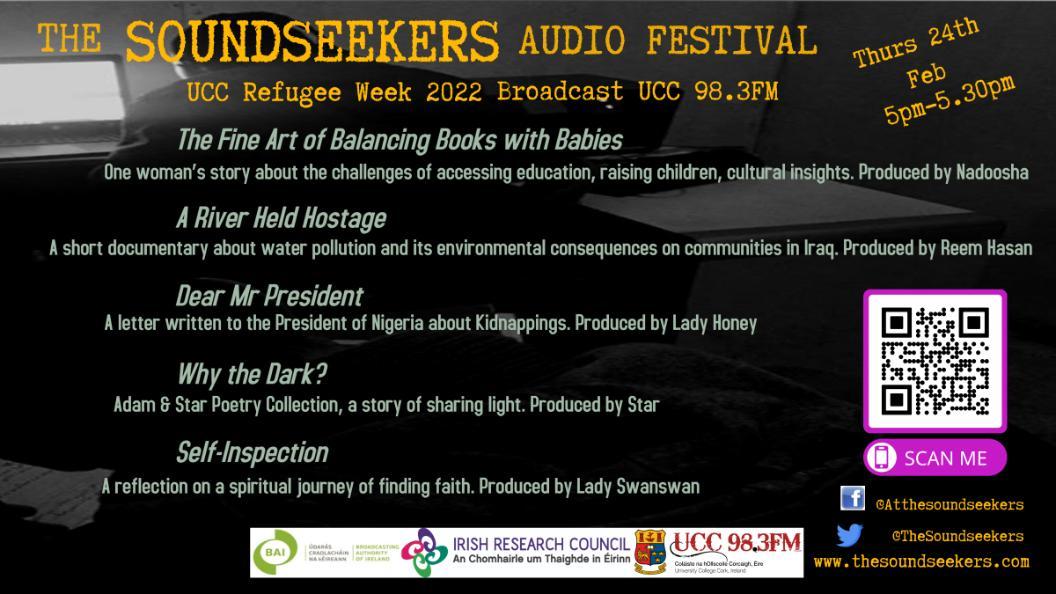 UCC Refugee Week Conference 2022
UCC Fáilte Refugees Society proudly present the 4th Annual UCC Refugee Week Conference. This year's conference will bring together asylum seekers, activists, and organizations to discuss the theme of Irish identity today and as they see it in the future. Confirmed speakers are:
Pearl Natasha - Zimbabwean-Irish Singer-Songwriter
Izzedeen Alkarajeh - CEO of Izz Café
Deborah Oniah - Lawyer, Writer, PGDip Trauma Studies UCC Sanctuary Scholar and Dialogue Facilitator
Amanda Adewole -Creative Director of Black & Irish
Dr Naomi Masheti - Director of the Cork Migrant Centre
John Lannon - CEO of Doras, Valerie Linehan - Operations Manager of Translate Ireland
Dr Eileen Hogan UCC Lecturer in Social Policy, Secretary and Vice-Chairperson of the Board of Directors of Youth Work Ireland Cork
Tickets are free however there will be an option to donate to the participating organisations on arrival.