News & Events
News & Events
First Conferrings of the UCC Sanctuary Scholarships Degree Programme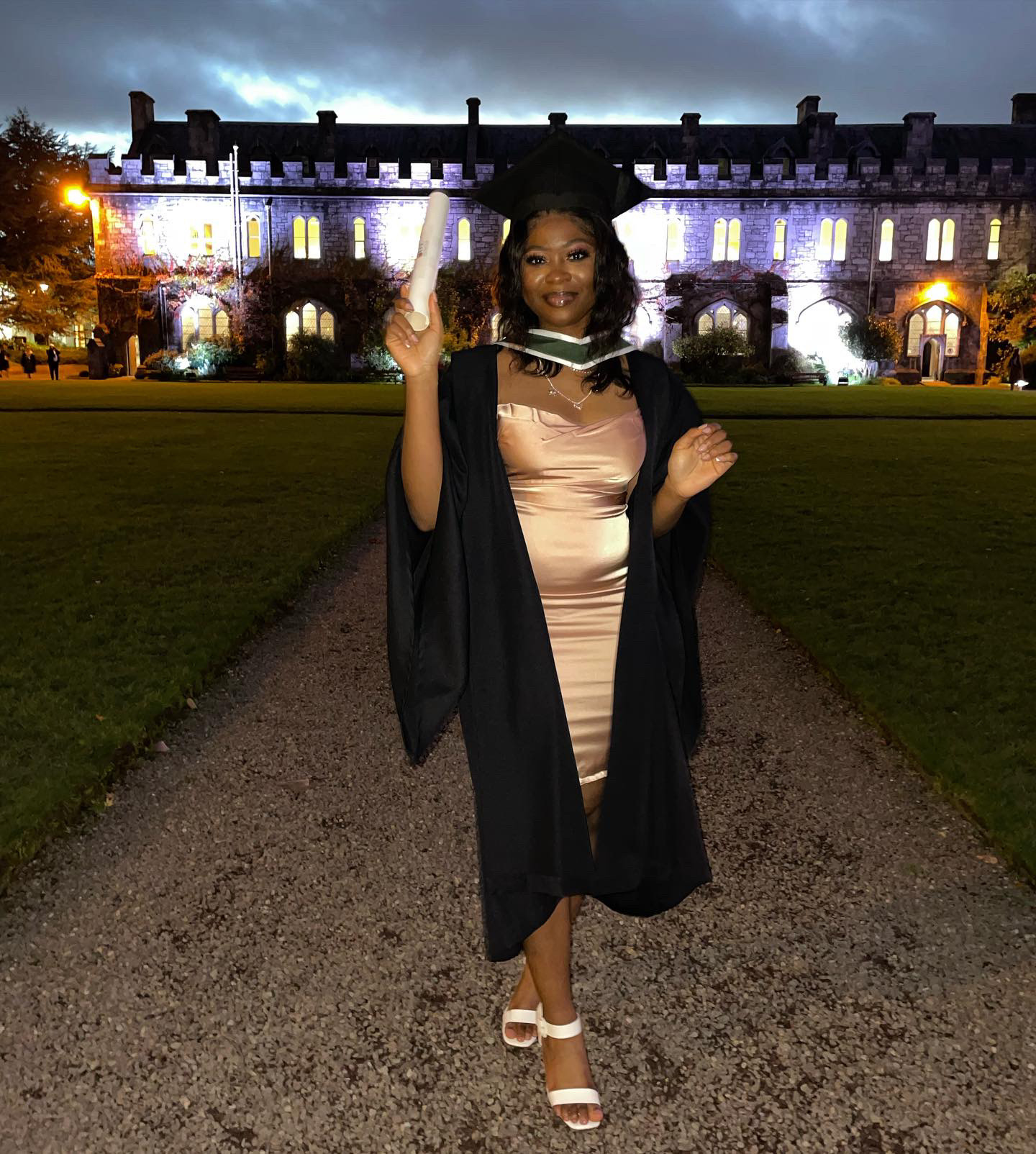 The first UCC Sanctuary Scholarship recipients to be conferred with undergraduate degrees speak about their experience.
In 2018, UCC was awarded University of Sanctuary status by Universities of Sanctuary Ireland. Since then 28 people have been offered Sanctuary Scholarships for undergraduate degrees through a competitive process, designed and faciliated jointly by the EDI Unit and the University of Sanctuary Working Group, which helps finance their undergraduate studies in UCC. We are delighted to note that the first of these degree students have now graduated and they reflect below on their time in UCC.
One student (who wishes to remain anonymous): First of all, I have to say I am extremely proud to be part of the first batch of the sanctuary program. Last month, I have successfully graduated and I can finally call myself a UCC graduate. I've decided to do Arts at UCC because of my strong and keen interest in languages and most importantly it offers tremendous subject flexibility for me to experiment with. I must really emphasize that I had spent three fruitful, enriching and enjoyable years in UCC. Apart from the academic part, I enjoyed joining different societies where you get to connect with people from different people with diverse knowledge and cultural background and also to earn precious memories during your college years. Last but not least, I really appreciate the opportunity given by the UCC sanctuary scholarship scheme and provide students that are socially background disadvantaged to have an equal chance to access higher education. The scholarship is truly a life-changing, eye-opening opportunity for me to access higher learning and to start my personal career in Ireland. I want to extend my greatest gratitude to all the EDI committee members and scholarship organizers that have contributed to make this prestigious scholarship opportunity a reality and for making the continuous effort to maintain the sanctuary scholarship initiative throughout these years and beyond. I honestly believe the UCC sanctuary scholarship would be the ultimate beacon of hope for students from difficult backgrounds and circumstances, giving them an opportunity that they rightfully deserve to access third level education and to be truly immersed in their education experience without barriers.
And from another (pictured):
My name is Diekololaoluwa Prophecy Amujo. I recently graduated from University College, Cork (UCC), where I studied and obtained BA (Hons) Applied Psychology, a three-year programme.
Looking back now, I remember having a hard time deciding what course I wanted to put down on my CAO form. Back then, all I wanted was to study a course that would allow me to pursue a career that would enable me to help other people. So, I filled in Applied Psychology as my first choice and other similar courses at UCC in my CAO form. I didn't know which of my options I was going to be offered, I wasn't sure if I would even reach the points criteria at the time for my first choice, but I still held on to hope that I would get it.
You can imagine how happy I was when I received an offer to study Applied Psychology at UCC because it meant I was on the way to achieving my dreams. Still, I was also nervous because I didn't know what to expect from university life.
However, when I got to UCC, I started to meet many friendly people and began to adapt to life at the university. There is no doubt that UCC made me feel comfortable. I did not feel out of place once; I truly felt like I belonged at UCC. Within a few weeks, I quickly adapted to student life because of multiplicity of factors such as the fantastic friends I met and forged cordial relationship with at UCC, the friendly and supportive staff, and the top-rate support services provided in the university. All the various support systems made my undergraduate student journey at UCC easier, so I can genuinely say I enjoyed the three years I spent in the university studying for BA (Hons) Applied Psychology.
Applied Psychology was a fascinating course. The modules varied every year; it opened my eyes to the different specialities in psychology and helped me to realise how all-encompassing the field of psychology is. I have learned so much about myself and others due to this course.
I am happy I obtained an honours degree in Applied Psychology at UCC, one of the prestigious, world-class, and research-intensive universities in the world, three years later. I could not have entirely accomplished my academic dream at UCC without the exceptional support that I received from some specific UCC staff such as Dr Karl Kitching, Olive Byrne, Anne-Marie Curtin, including my lecturers in the School of Applied Psychology, and my dissertation supervisor, Dr Angela Veale. Also, I received great support and kindness from Dr Siobhan O'Sullivan in the School of Applied Social Studies and her family, and many others. Thank you all for being part of my success journey at UCC.
Finally, I now work at a mental health residential centre that houses people with various mental health issues. I love my job as it gives me an opportunity to offer services, gain knowledge and experience working with people experiencing mental health problems. It is a rewarding and interesting job; I feel delighted knowing I'm part of a fantastic team of multi-disciplinary healthcare professionals doing their best to help people get better. I have a plan to build my career by pursuing a postgraduate degree in mental health and clinical psychology. I hope to come back for my master's degree very soon.
We are delighted to be able to announce that our accreditation as a University of Sanctuary has been renewed for another three years. Congratulations to Dr Dug Cubie and all in the University of Sanctuary Working Groups, and all involved in offering Sanctuary scholarships in UCC! We look forward to working with and for more students like Diekolola and all of our scholarship recipients and wish them all good fortune and every success in the future!
For more on this story contact:
ediunit@ucc.ie