News
News
Professor Michel Schellekens working with Professor Donald Knuth (Stanford University)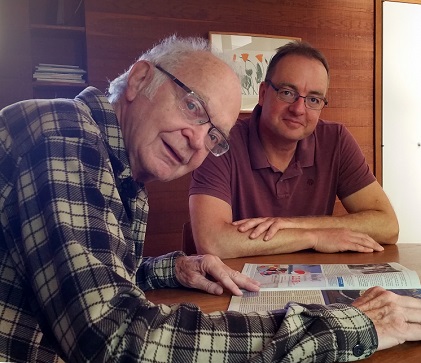 Prof. Michel Schellekens has completed a sabbatical stay at Stanford University
Michel Schellekens has completed a sabbatical stay at the Stanford University, Department of Computer Science (theory group, research host: Don Knuth). He worked in the department as Visiting Associate Professor in the periods of May 15 - Aug 31 2017 and April 15 - Aug 15, 2018. He has been awarded a Fulbright Scholarship during which he will complete another stay at Stanford (April 5 - Aug 31, 2018) to continue his research on Algorithmic Design Automation. The work has led to a series of results, being reported in journals, and he is preparing a book on the topic. He will visit Cambridge in Nov 15 - Nov 19, 2018 to start a research collaboration with Marcelo Fiore and recently received an invitation to present a talk as semi-plenary speaker at the SUMTOP2019 conference in Capetown (July 2019).
More of Donald Knuth: Read New York Times article Click Here
The New York Times published an article within their Profiles in Science section naming him as: "The Yoda of Silicon Valley"