News archive 2017
News archive 2017
Department welcomes Erasmus students from the Netherlands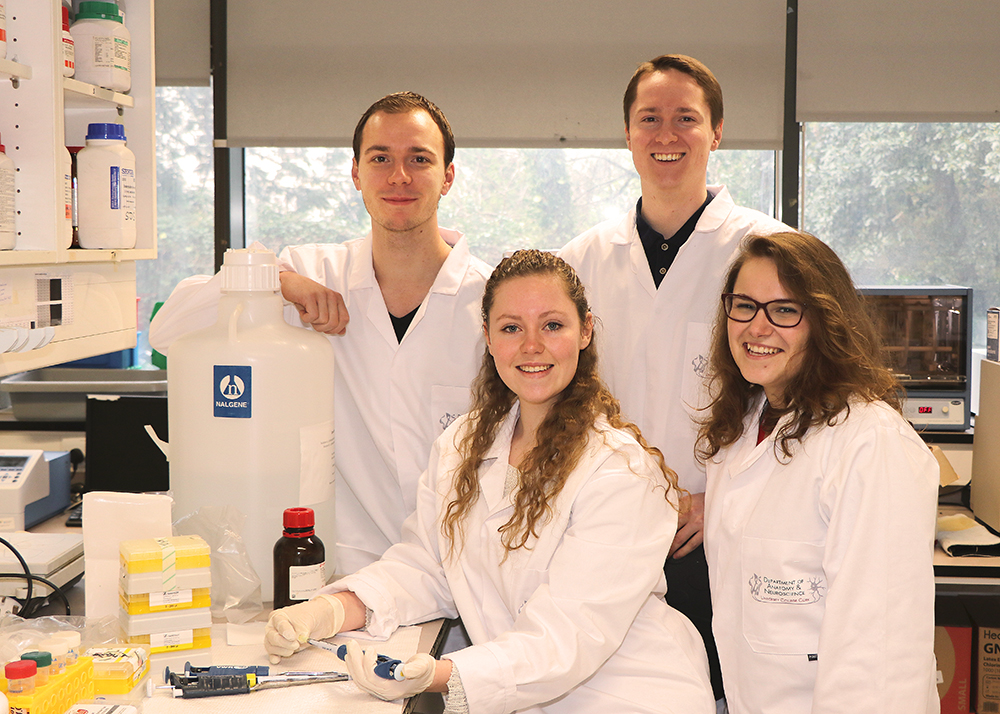 The Department would like to welcome four Dutch students who have recently begun six month internships in the Department of Anatomy & Neuroscience.
Lucas van Leuven and Anouk Sesink both students of Biology and Medical Laboratory Research at the Avans University of Applied Sciences in Breda are enjoying their time in Cork. Lucas a fourth and final year BSc student is delighted to catch a glimpse of the big world of research and is currently busy learning new techniques and researching the gut-brain axis in Harriet Schellekens' group. Anouk has joined Dr. Siobhain O'Mahony's group for her internship and is investigating the impact of probiotic supernatant on the brain-gut axis in a rat model of maternal separation, relevance to visceral pain. In her free time she is happily exploring the Irish Countryside.
Yannick Ruhl is in the final year of a two year masters of Biomedical Sciences at the University of Amsterdam. For his internship at the UCC he will be looking at antibiotics, microglia and their role in pain perception, as an extension of the gut-brain axis research conducted at the APC, under supervision Dr Kieran Rea in Prof. John Cryan's lab. In his spare time Yannick thoroughly enjoys exploring the Wild Atlantic Way.
Barbara Merckx is a Pharmacy master degree student at the University Utrecht, and in her time in the Department of Anatomy and Neuroscience she is working on a stress resilience project with Anand Gururajan in Prof Cryan's lab, investigating the mRNA expression of FKBP5, CRFR1 and CRFR2 in mice after stress exposure. While in Ireland Barbara is keen to enjoy the beauty of West Cork and she also enjoys zumba dancing and cooking.
(Photo B.Riedewald)