News 2021
News 2021
Brian Corbett, Tyndall National Institute receives prestigious award from Institute of Physics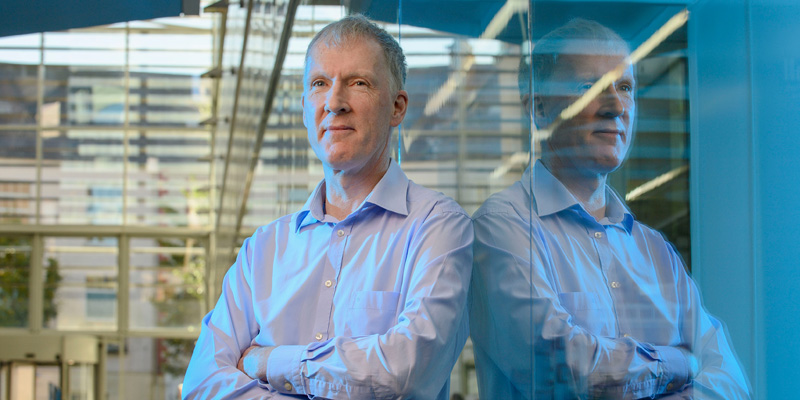 Brian Corbett, a world-leading researcher from Tyndall National Institute, UCC and IPIC, the SFI Research Centre for Photonics, has been awarded the 2021 Institute of Physics Katharine Burr Blodgett Medal and Prize.
The gold medal has been awarded for his identification and creation of breakthrough innovative photonic device technology solutions that have driven the development and growth of several startups, and major innovations by multinational companies.
On awarding the prize, the Institute of Physics (IOP) said:
"Brian Corbett has raised visibility of Ireland's high impact technology ability significantly on the world stage. He is an outstanding recipient for the Katharine Burr Blodgett Medal and Prize."
The Institute of Physics (IOP) is the professional body and learned society for physics, and the leading body for practising physicists, in the UK and Ireland. Its annual awards proudly celebrate physicists at every stage of their career and reflect the wide variety of people, places, organisations and achievements that make physics such an exciting discipline.
Brian Corbett has always demonstrated leadership in innovation and technology. He invented the technology that enabled the establishment of Eblana Photonics (2001) to commercialise a scalable laser manufacturing technology which drives down the cost of high-performance, single-wavelength lasers for diverse mass market applications. His work helped launch Firecomms, the first ever Irish startup to be acquired by a Chinese Corporation (ZJF). The acquisition included a €5 million investment in Firecomms' engineering team in Cork, resulting in the growth of the team to ~30 today. He was also key to attracting X-Celeprint to establish their global headquarters in Tyndall in 2013, with X-Celeprint's CEO accrediting the decision to the capabilities and vision of Corbett and his team. The company is developing and licensing patented Micro-Transfer-Print technology – a cost-effective and scalable manufacturing process for integrating microscale photonic devices onto silicon-based structures.
Brian Corbett's record as a game changer was further confirmed with the acquisition of InfiniLED in 2016 by Facebook. Based on his patented microLED technology, InfiniLED was founded in 2010 to commercialise this low-power technology, known as ILED display, that delivers the most energy-efficient and high-brightness displays. Throughout, Brian has supported InfiniLED from incubation, through funding rounds and ultimately to acquisition. Facebook's investment in Cork has grown to over 100 mainly physics-skilled scientists and engineers to develop Corbett's technology into one of the world's best augmented reality platforms.
Not only is his work with startups and SMEs critical to the development of the Irish entrepreneurial and enterprise ecosystem, his partnerships with multinational companies have ensured enduring and fruitful relationships with companies such as Intel (as recognised by their 2013 Outstanding Researcher Award) and Seagate. Through his leadership and vision, more companies will spin out and grow – one is currently targeted on superluminescent LEDs.
On receiving his 2021 IOP award, Brian Corbett said:
"I am truly honoured to receive this recognition and humbled to join all the previous prestigious winners of the IOP Katharine Burr Blodgett Medal and Prize, which recognises contribution to the application of physics in an industrial and commercial context."
Congratulating this year's Award winners, Institute of Physics President, Professor Sheila Rowan, said:
"On behalf of the Institute of Physics, I warmly congratulate all of this year's Award winners.
"Each and every one of them has made a significant and positive impact in their profession, whether as a researcher, teacher, industrialist, technician or apprentice.
"Recent events have underlined the absolute necessity to encourage and reward our scientists and those who teach and encourage future generations. We rely on their dedication and innovation to improve many aspects of the lives of individuals and of our wider society."