News 2019
News 2019
Dr Pat Meere wins UCC Leadership Award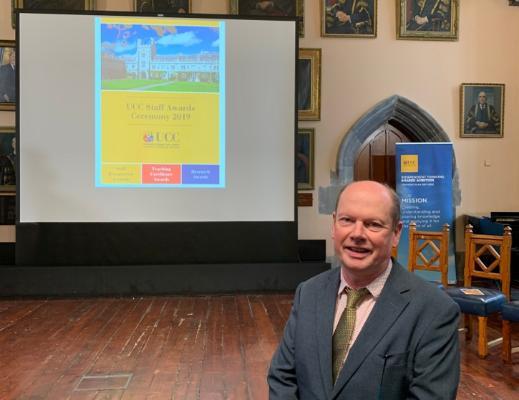 BEES scientists and Head of the Discipline of Geology received a UCC Leadership Award at the recent UCC Staff Recognition Awards Ceremony.
On the occasion of the awards ceremony it was noted that Pat has led by example in Geology and has made crucial and strategic changes that have allowed the growth and development of the subject area.
One such example is the MSc in Applied Environmental Geology, planned and implemented by Pat. It is a highly popular, industry relevant masters that leads directly to graduate employment and the development of this type of course over a short period of time demonstrates Pat's leadership skills and how he holds the insight and the tenacity that it takes to make it work. Additionally, Pat's understanding of people's requirements and their concerns allows him to foster tremendous loyalty amongst his co-workers.
The impact on Geology is clear, he has fostered a happy place for people to work and for students to progress and is one that has an atmosphere which welcomes new ideas and facilitates and leads to the ability for positive changes to happen. His tireless hard work, diligence clear leadership and empathy are a magnificent example for all who work with him in the School of BEES.
Well done to all @UCC staff who were recipients of Staff Recognition Awards tonight. Especially Dr Pat Meere of BEES who recieved an Outstanding Leadership Award.#teamBEES https://t.co/hYxnn5tvYI

— School of BEES, UCC (@uccBEES) October 10, 2019