News 2019
News 2019
Agricultural Science Degree Programme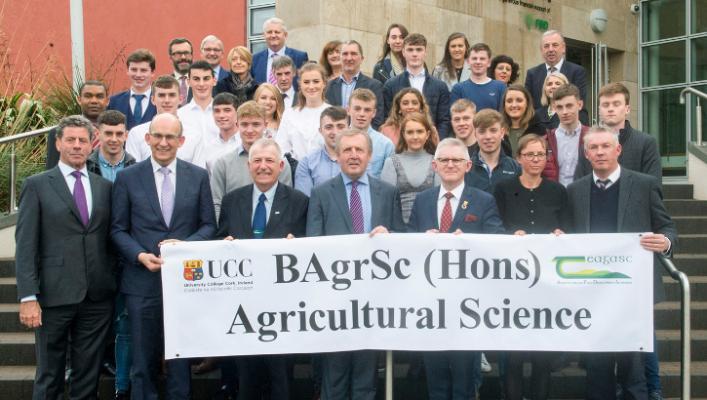 The Agricultural Science degree programme was launched at an event held at Teagasc Moorepark last week.
The innovative new Bachelor of Agricultural Science degree was first launched on 8th September 2018, and welcomed its first intake, of 22 students, on 9th September 2019. Demand for places on the course was high, with a CAO entry requirement of 478 points. The degree is delivered by UCC in partnership with Teagasc, and emphasises knowledge-based teaching and research to support graduates for the Agricultural and Agri-food industry.
At the event, Minister Michael Creed commented: "This degree will provide graduates with a strong foundation in the core scientific, economic and sustainable principles underpinning Irish pasture-based farming. It will equip future leaders of the industry with the skills needed to drive the future of the Irish agriculture and food sector."
Speaking in Moorepark last week, President of UCC, Patrick O'Shea said: "There has been a deep collaboration between UCC and Teagasc over several years. Both institutions share a mutual wish to contribute to the long term development of the Irish agri-food industry. The degree will be delivered in the School of Biological, Earth & Environmental Studies at UCC, and in the Animal & Grassland Research Centre in Teagasc Moorepark, allowing students to learn and experience the excellence of both UCC and Teagasc."
New Degree in Agricultural science launchedhttps://t.co/ptFevqRVQZ

— Farmers Journal (@farmersjournal) November 2, 2019
Professor Gerry Boyle, Director of Teagasc, said: "This is an exciting time in Irish agriculture with opportunities and challenges facing the sector. The best and brightest graduates will be needed in the industry in the future and I am confident this degree will equip students with the scientific, technical and business skills needed to prosper. This new BAgrSc will further strengthen our excellent collaboration with UCC under the Teagasc/UCC Strategic Alliance."
Rain hasn't dampened our spirits here in @teagasc Moorepark where today, @DairygoldCo_Op will award 2 bursaries to students of our new @UCC @teagasc degree in Agricultural Sciences - congratulations to all of our new students as they embark on such a special collaborative course. pic.twitter.com/RQkLWdiifH

— Food Institute UCC (@UCCFoodInstitut) November 1, 2019

The programme focuses on practical skills, the scientific basis of agriculture, and on supporting students to gain skills in farm management, business acumen and modern farm technology over their four years of study. Students take a range of science modules in first and second year, including an Agricultural Science module taught throughout the year at Teagasc, by Teagasc staff. Students will also undertake a 26-week placement in their third year, which will provide them with a tangible experience of working in modern Irish agriculture. All in all, the degree combines practical training and experience with a strong scientific background.
The first intake of 24 students took place in September 2019 https://t.co/K13vMktqf7

— AgriLand (@AgrilandIreland) November 2, 2019

The degree is anchored in the School of Biological, Earth & Environmental Studies (BEES) at UCC, and in the Animal & Grasslands Research Centre in Teagasc Moorepark, allowing students to learn and experience the excellence of both UCC and Teagasc. A number of Teagasc senior research staff are Adjunct Professors in the School of BEES, and Professor Frank Buckley, Dr Stephen Butler and Dr Lawrence Shalloo represent Teagasc on the Board of Studies for the degree. Students also benefit from the input of staff from across the university, including the Cork University Business School (CUBS), the UCC Food Institute, and various Schools within the College of Science, Engineering and Food Science (SEFS) which deliver the modules taken by students throughout the degree. This is in addition to the leadership provided by the degree co-ordinator, Professor Astrid Wingler, Head of Plant Science in the School of BEES.
Speaking at the launch in UCC in 2018, then European Commissioner for Agriculture and Rural Development Phil Hogan said "As a UCC graduate and former chair of the college Macra na Feirme branch, I am very proud to participate in the launch of this exciting new degree programme. "The possibilities are endless for agricultural science graduates, both in Ireland and abroad: they may become farmers, or farm advisers; they may code or build better machines; they can build new Irish companies and brands: and whatever they choose, they will contribute to keeping our rural areas vibrant."
Professor Gerry Boyle, Director of Teagasc, said: "The Irish dairy industry is in an exciting time of significant expansion, presenting challenges and opportunities for enthusiastic, young, highly skilled graduates. This degree will equip future leaders of the dairy industry with the scientific, technical and business skills needed to drive future expansion and competitiveness. This new Programme will further strengthen our excellent collaboration with UCC under the Teagasc/UCC Strategic Alliance and is further evidence of our commitment to collaborate with the university sector to help deliver the skills and innovation needed by our agri-food sector."
Professor John O'Halloran, Deputy President and Registrar of UCC, said: "University College Cork is committed to supporting a strong agri-food sector through the provision of talented graduates. We are very enthusiastic about delivering this important degree through translating our agri-food research into a connected curriculum to enable the future graduates to face the challenges of this dynamic global industry."