News and Events
News and Events
UCC hosts Traveller Equality and Justice Community event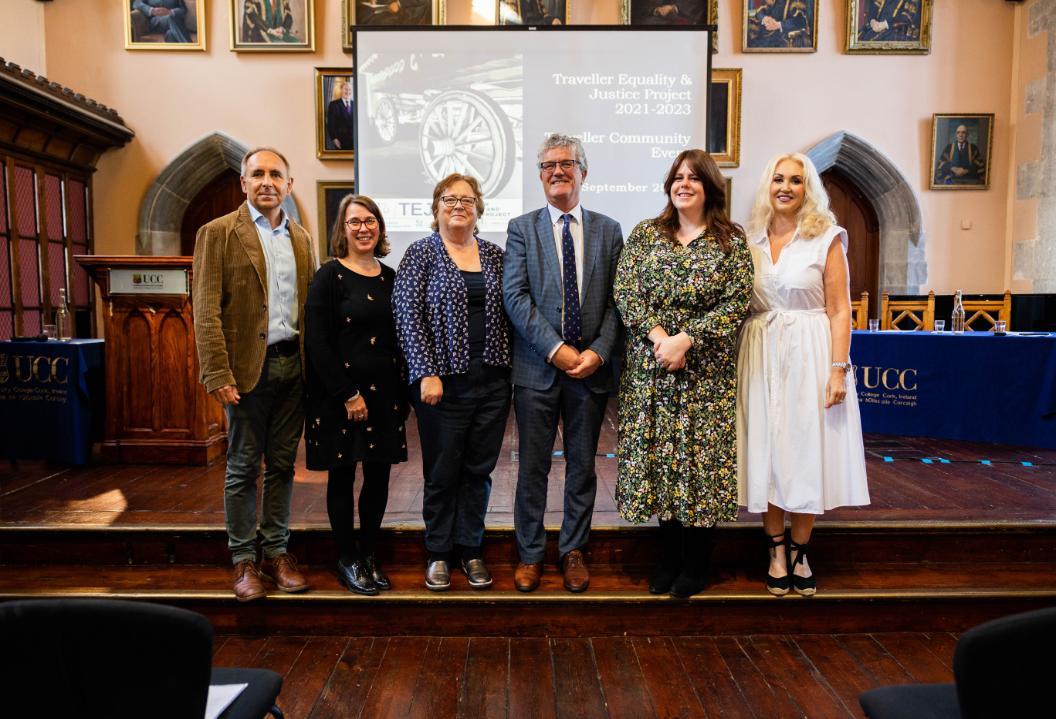 UCC hosted a Traveller Equality and Justice Community event on Thursday, 21 September 2023. The event brought together Travellers, legal professionals, and academics to explore the issues faced by Travellers and highlight work to achieve more equitable future for all.
The event was an opportunity to recognise and celebrate the strength and resilience of the Traveller Community and their commitment to securing their rights.
The Traveller Equality & Justice Project (TEJP) is an innovative collaborative project between UCC School of Law and the Free Legal Advice Centre (FLAC), based within the Centre for Criminal Justice & Human Rights and funded by an EU Rights Equality and Citizenship Award 2021-2023.
At the event, Dr Fiona Donson and Dr Samantha Morgan Williams, shared an update on findings and outputs from 2021-2023 TEJP project.
Dr Fiona Donson said:
"The TEJP is a proud community development focused project. In working for and with Travellers we adopt a 'nothing about us, without us' participatory research approach. We are delighted to welcome our six Traveller Community Group partners back to UCC to hear more about their perspectives and to explore access to justice."
Dr Samantha Morgan Williams said:
"Today, we welcome the opportunity to hear about the reality of the discrimination that many Travellers continue to experience in their efforts to secure their right to equal treatment and access legal services."
Dr Brigid Quilligan, Project Manager, Kerry Travellers Health and Community Development Project, outlined the experiences of Travellers fighting to secure their rights and the need for State reform to ensure access to equal processes for all. Dr Quilligan said:
"The TEJP is an example of a Community led and embedded legal initiative which is so vital for Traveller victims of discrimination. As Travellers we experience discrimination every day and having access to legal information and support is critical to allow us as Travellers to stand up, and challenge it."
Marc Willers KC, Garden Court Chambers, shared insights into his own work and the role of lawyers in advancing access to justice for Travellers. Marc is well known for his representation of Gypsies, Roma and Travellers and has appeared in many leading cases relating to human rights, civil liberties and discrimination. Marc is the co-editor of 'Gypsy and Traveller Law'.
Eilis Barry, Chief Executive of Free Legal Advice, Adjunct Professor, UCC Law School, addressed access to justice and its role in combatting discrimination, calling for the need for increased access to equality litigation.
In highlighting the barriers to justice that Travellers face in seeking to challenge their right to equal treatment under the Equal Status Acts 2000-2018, the TEJP addresses the 'rediscrimination' that many Travellers experience attempting to secure justice.
Learn more about the Traveller Equality and Justice Project here