News Archive
News Archive
Lewis Glucksman International Fellowships Announced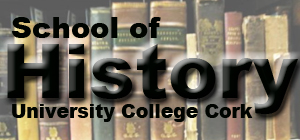 Lewis Glucksman International Fellowships Announced
The School of History is pleased to name the recipients of the 2011-2 Lewis Glucksman International Fellowships. These fellowships, which are funded by the Department of Arts, Heritage and the Gaelteacht, were created in honour of the extraordinary contribution to Irish cultural life and to Ireland-US relations made by the late Lewis Glucksman.
Lewis Glucksman was a New Yorker of Hungarian-Jewish extraction. He was best known in Ireland as a philanthropist and patron of the arts, along with his wife Loretta. Their generosity bears comparison with that of Sir Alfred Chester Beatty, Sir Hugh Lane and Sir Alfred and Lady Beit, who - like them - made Ireland their adopted home. They established a home in Ireland, first in Limerick, later in Cork, and applied their energies to fundraising and philanthropic projects, using their financial resources and a network of wealthy and influential contacts to fund projects including the Lewis Glucksman art gallery at University College Cork and the Millennium wing at the National Gallery of Ireland, among others. Lewis Glucksman received an honorary doctorate from the National University of Ireland in 2002, and in 2005 his wife Loretta, chairwoman of the American Ireland Fund, was awarded an honorary fellowship by the Royal College of Surgeons in Ireland. Lewis Glucksman also served as a trustee of New York University, as a member of the advisory committee of the National Treasury Management Agency in Ireland, and as chairman of the Cork University Foundation.
The International Fellowship scheme was announced by the then Minister for Arts, Sport and Tourism John O'Donoghue in November 2006, and has operated with funding from that Department (subsequently redesignated the Department of Arts, Heritage and the Gaelteacht) on annual basis since the Autumn of 2007. In the intervening years a total of ten postgraduates from University College Cork and New York University have spent some or all of an academic year at the partner university, pursuing research across a range of topics relating to Irish, British, European and American history in the early modern, modern, and contemporary periods.
In this, the final year of the scheme, three more promising postgraduates have been selected as recipients of the scheme. From University College Cork, Mr Steven O'Sullivan and Mr Greg Foley have been chosen following a competitive selection process to travel to New York, while Mr Max Mischler has been selected by NYU to make the return journey. Their expenses, including flight, accommodation, conference and living costs, are all covered by the scheme, and the School of History, University College Cork, wishes to acknowledge the on-going generosity of the Minister for Arts, Heritage and the Gaelteacht in the financial support given to the scheme.