MA in Medieval History: Culture, Text, Image
MA in Medieval History: Culture, Text, Image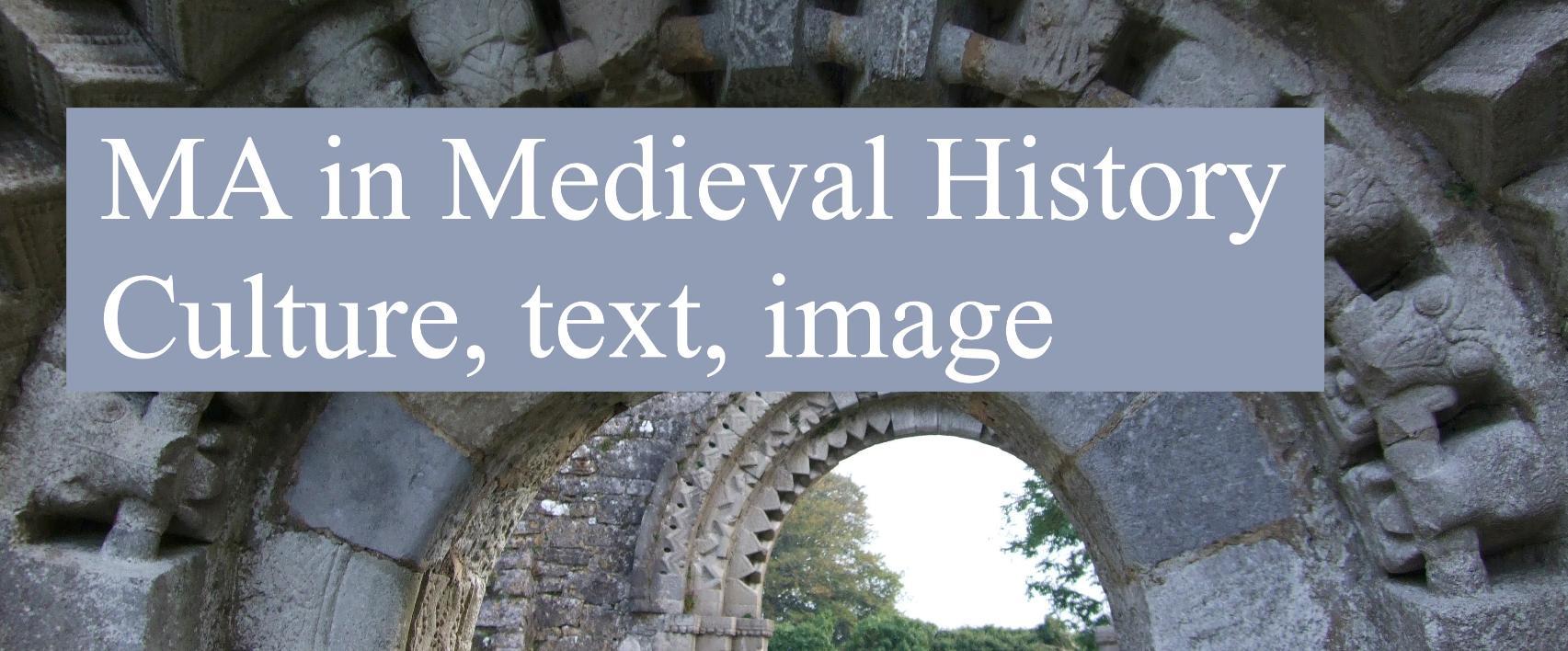 What is this programme about?
Our taught one-year MA in Medieval History focuses on the cultural history of the Middle Ages from early to late medieval times and explores Ireland's history in a wider European context. Our key interests cover: cultural contact between Ireland, Britain, continental Europe and the Near East; religious encounters between Christianity and Islam; gender and models of sanctity; identity formation; space and travel; geographical and social marginality.
We introduce students to a wide range of medieval sources that include texts, images, material objects, landscape and architecture. These sources are encountered through a variety of teaching methods: lectures, seminars, site visits and work placements.
We explore a range of topics, sources and approaches, while tailoring our programme to students' individual interests.
What will I study?
In the Autumn and Spring teaching periods, you will take a number of courses (with the option to take instruction in Latin) that explore major themes in western medieval culture and are intended to equip you with the key skills of the medieval historian. Teaching is research-led; classes focus on a range of sources, both literary and visual.
HI6094 (10 credits) Historical Contexts for Medievalists discusses fundamental turning points and transformations in the history and culture of medieval Western Europe; it consists of seminars and a field trip.
HI6090 (10 credits) The Insular World in Text and Image discusses selected sources of fundamental importance for understanding the medieval history and culture of the Insular world; it consists of seminars.
HI6091 (10 credits) Skills for Medieval Historians explores and evaluates historical sources available to medieval historians and enhances students' employability and transferable skills through practice-based teaching; the module consists of seminars, group work on the online exhibition and a masterclass.
All students have the opportunity to take an introductory Latin course (LT6001), or a Latin project (LT6005). Students who decide not to take Latin can choose from a number of selected options in consultation with their Supervisor and the MA Co-ordinator
HI6100 History Dissertation (45 credits)
Students work closely with an academic supervisor to complete a 20,000 word minor dissertation on an agreed topic of their choosing.
What skills will I learn?
The course will equip you with the essential skills that enable you to understand and interpret the history and culture (written and visual) of the past. It will introduce new and innovative methodologies that bring fresh insights into medieval times, and that allow us to reconstruct in considerable detail how people understood their world, and how they lived their lives.
There are courses that explore and apply research methods, and also courses that train you in how these methods and skills can be used by graduates in their working environment. You will also be guided in how to conduct research, and in how to present your findings both orally and in writing.
We collaborate with internal and external partners, who include the staff of UCC's Special Collections, CELT (Corpus of Electronic Texts), Cork City Museum, the Waterford Museum of Treasures and the National Museum of Ireland.
Further Contact Information
Course Coordinator
Dr. Damian Bracken,
School of History,
U.C.C.
+353-21-490 2950
d.bracken@ucc.ie

School Administrator
School of History
University College Cork
+353 (0)21 4902755 history@ucc.ie