News Archive
News Archive
Applications for PhD programme in Digital Arts and Humanities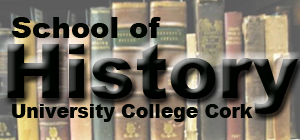 Applications for PhD programme in Digital Arts and Humanities
University College Cork invites applications for 5 four-year funded doctoral studentships on selected topics with the structured PhD programme in Digital Arts and Humanities (DAH). Successful candidates will be registered with the full-time inter-disciplinary structured PhD programme co-ordinated with an all-Irish university consortium. Candidates will pursue their individual research agendas within the program, related to specific project areas, for which they will develop proposals which they provide during the application process.
Subject areas:
Currently fellowships are available in History, English and Music. See http://www.ucc.ie/en/cacsss/grads/grep/dah/ for specifics. While applications are open for any project, funding is available for projects related to the following collections within the university library: http://www.earlynewsnet.org/LIBRARY_PROJECTS_WEB/index.htm
What is DAH?
The ever-evolving developments in computing and their performative and analytical implications have brought about a quantum leap in arts and humanities research and practice. Digital Arts and Humanities is a field of study, research, teaching, and invention at the intersection of computing and information management with the arts and humanities.
The DAH Structured PhD programme will create the research platform, the structures, partnerships and innovation models by which fourth-level researchers can engage with a wide range of stakeholders in order to contribute to the developing digital arts and humanities community world-wide, as participants and as leaders.
Programme Structure
Candidates will complete core, training and career development modules, including main modules shared across the consortium and others institutionally-based. The overall aim of the taught modules are threefold: 1) to introduce students to the history and theoretical issues in digital arts/humanities; 2) to provide the skills needed to apply advanced computational and information management paradigms to humanities/arts research; 3) to provide an enabling framework for students to develop generic and transferable skills to carry out their final research projects/dissertations.
Year 1 of the four-year programme includes core and optional graduate education modules delivered in Dublin, Cork, Galway and Maynooth. These modules provide a grounding in essential research skills and transferable skills together with access to specialist topics. In years 2 and 3 work on PhD research projects is supplemented with access to elective modules. Year 3 features practical placements in industry, academic research environments or cultural institutions.
University College Cork has a strong track record in Digital Humanities and has been a pioneer in the development of digital tools for language study and historiography. The College of Arts (CACSSS) has particular strengths in European and Irish history, Renaissance Studies, English language and literature, Music and musicology, among others.
For further information contact:
Brendan Dooley
Professor of Renaissance Studies
b.dooley@ucc.ie