Courses we offer
Courses we offer
The Food Industry Training Unit offers a range of courses designed to update skills, help people develop their careers and operate more effectively. Our goal is is to deliver higher calibre, informative and engaging content that will help people develop personally and professionally. If you would like to find out more about our Diploma, Certificate, short or bespoke courses please contact a member of our team. If you would like to stay up to date with the different courses and events on offer please join our mailing list by clicking on the button at the bottom of the page.
Click on this link for our latest brochure FITU Brochure 2023
Certificate and Diploma Courses
Click on the boxes below to view our accredited part-time courses which range from Level 7 Diploma to Level 9 Postgraduate Certificate.
Complete Short Course List for 2023/2024
If you don't see what you are looking for then just contact us using the details below and we can discuss a bespoke option tailored to your needs.
Cancellation Policy
We understand that from time-to-time unexpected events arise which may cause you to have to cancel your place on our course/programme. If you find yourself in this situation, we ask that you make contact with us as soon as possible so another participant may be offered a place on the course/programme.
Please see below details relating to our cancellation policy:
Cancellations or withdrawals made 14 days or more in advance of the course/programme will be offered a full refund of the course costs. Cancellations made up to 7 days in advance of the course/programme will receive a 50% refund of the course costs. Cancellations which are made less than 7 days in advance of a course/programme, or during the programme, will not receive any refund of the course/programme costs. In the event that the Food Industry Training Unit (UCC) cancels a course/programme, 100% of the course costs will be refunded.
This policy applies regardless of invoicing in advance or after a course.
Symposiums, Conferences and Meetings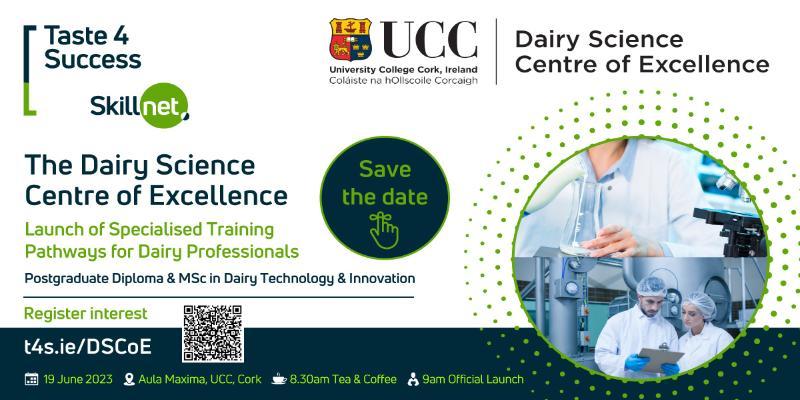 19th JUNE 2023 at 8:30 in Aula Maxima, University College Cork

UCC and Taste 4 Success Skillnet are delighted to welcome you to the launch of the new post-graduate Diploma and MSc qualifications in Dairy Technology and Innovation.

These new programmes, through the Centre of Excellence, provide pathways for dairy talent to access life-long, work-integrated professional development opportunities in an innovative, blended, flexible format using a unique model of stackable qualifications. This builds on the success of the post-graduate Certificate in Dairy Technology and Innovation, codeveloped with Teagasc and delivered since 2016.

This initiative integrates academic excellence and industry needs to spearhead talent across the dairy sector.

With a focus on value-add, these programmes are designed to support the dairy sector in developing the skilled professionals required to meet the rapidly evolving challenges and ambitions of sustainable, science-based innovation over the next decade.

Dairy is Ireland's largest indigenous industry, employing 85,000 people, contributing €16bn in economic value across the island, supporting the sustainable nutrition needs of millions of consumers globally.

UCC is the number one University for Dairy Science in Ireland and the Dairy Science Centre of Excellence, within the School of Food and Nutritional Sciences, as part of the College of Science, Engineering and Food Science aims to integrate existing strengths and develop leadership in dairy science research, education and training.

Taste 4 Success Skillnet is co-funded by Skillnet Ireland and network companies. Skillnet Ireland is funded from the National Training Fund through the Department of Further and Higher Education, Research, Innovation and Science (DFHERIS).

This is a shared registration form in collaboration with UCC and Taste 4 Success Skillnet.
Organising Committee:
Prof Seamus O'Mahony, Lecturer in Food Science, School of Food & Nutritional Sciences, UCC
Ms Nadia Grasso, Programme Manager, FITU
Ms Colette Crowley, Programme Manager, FITU
Dr Joanne Uí Chrualaoich - Manager, FITU
Ms Bridie Corrigan Matthews (Network Manager, Taste 4 Success Skillnet)
Ms Breda Barber (Taste 4 Success Skillnet)
For further details or information contact:
Nadia Grasso, ngrasso@ucc.ie
AEDIL General Assembly 11-12 September 2023
IMGC international annual symposium September 2023
SDT Autumn conference 2023 23-24 November 2023 "Digitialisation in Dairy"
For further information on organising your conference or event with the Food Industry Training Unit, please contact:
Dr Amy-Jane Troy, amyjane.troy@ucc.ie