Short Course - Cheese Science & Technology
Short Course - Cheese Science & Technology
The next course will take place from the 14th to 16th February 2024
The course is part-funded by Taste4Success Skillnet (see Course fee section below)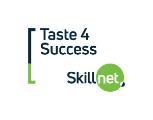 Introduction
This intensive course will provide participants with knowledge of the principles of the science of cheese manufacture and ripening in addition to covering yield efficiency, processed cheese, cheese as an ingredient, and the acceleration and control of ripening. This course will span the range from introductory to advanced topics.
Who should attend
Cheese manufacturers
Quality personnel
Research and development personnel
Food graduates who need a refresher course
Knowledge of food science would be beneficial.
Course Programme
The topics covered in this course will include the following:
Cheese as a product
Dairy chemistry – casein, whey proteins, fat
Milk pre-treatment
Rennet gelation, syneresis
Starters and acidification
Cutting, cooking, whey drainage
Curd Treatment
Ripening; overview and control, microbiology
Metabolism of lactose, lactate, citrate
Lipolysis
Proteolysis
Amino acid catabolism
Acceleration and control of ripening
Yield efficiency
Processed cheese
Cheese as an Ingredient
The Leader Trainers
Paul McSweeney is a Professor of Food Chemistry in University College Cork, Ireland and also the University's Vice-President for Learning and Teaching. The overall theme of his research is dairy biochemistry with a particular emphasis on cheese ripening and flavour development. He is the co-editor of 15 books and over 275 research papers and reviews. He was awarded the Marschall Danisco International Dairy Science Award (2004) and a higher doctorate (DSc) on published work by the National University of Ireland. Professor McSweeney teaches most of UCC's main undergraduate course in fermented dairy foods and has taught graduate-level courses in cheese science in universities and research institutes in Mexico, Argentina, Turkey, Italy, South Africa, Czech Republic and Finland
Dr Tim Guinee recently retired as a Principal Research Officer at Moorepark Food Research Centre (MFRC), Teagasc, Ireland. He graduated with a B.Sc. in Dairy Science and a Ph.D. in Dairy Chemistry from University College Cork. He worked as a Senior Researcher Scientist in commercial R&D in Ireland, Germany and US on various aspects of cheeses (natural, processed, analogue types) and applications of milk protein ingredients in cheese and fermented milk products. He joined Teagasc, which succeeded An Foras Taluntais, in 1987.The overall theme of his research is in food chemistry and technology with particular interest in the structural, rheological, and functional characteristics of composite high-protein matrices, and the exploitation of this knowledge in food manufacture, assembly and formulation, with particular emphasis on cheese and fermented dairy-based products. He has extensively studied the influences of various factors on the properties of these products, including milk composition, processing treatments, gelation conditions, added ingredients (proteins, biopolymers), and ageing. He is co-author of over 100 scientific publications, and 3 books on various aspects of cheese. He is an editorial board member for International Dairy Journal, and Adjunct Professor at the College of Science, Engineering and Food Science, University College Cork.
David Waldron is a Chief Technical Officer in the School of Food and Nutritional Sciences, UCC, with responsibility for the practical education of students in dairy science and technology since 1998. He is also involved in postgraduate and industry-focused research. Over the past decade, David has developed and delivered industry training courses and workshops for Irish and international industry.
Digital Badge Award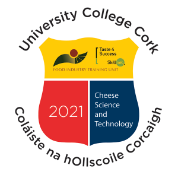 Upon successful completion, you will be awarded a digital badge which can be used to support your CV and e-portfolio. A digital badge is an award which recognises your accomplishment in completing an unaccredited course and is referred to as a micro-credential. By taking part in the in-course activities and successfully completing the in-course questions you will qualify for a digital badge in Cheese Science and Technology. The badge can be downloaded and included on CVs, shared via email or included on your e-portfolio (for example on LinkedIn). When a person or employer clicks on your digital badge they will see the specific details of the course, the process by which the course was given and if the course was successfully completed. Digital badges can be used to illustrate continued professional development and can supplement existing qualifications.
Course fee
The fee is €990, which includes tuition, course manual and catering. This course is part funded by Taste4Success Skillnet who will provide €295 of the fee to eligible participants.

Other relevant courses
Other courses which may be of interest to you are: