Short Course - Rejuvenate
Short Course - Rejuvenate
REGISTRATION NOW OPEN FOR THIS FULLY FUNDED PROGRAMME - CLICK HERE TO REGISTER
Rejuvenate will commence on Tuesday 10th October 2023
Online class, every Tuesday, for 10 weeks
There are no fees for this course as it is fully funded by Taste4Success Skillnet
Introduction
Significant numbers of highly educated, experienced, professional women take a career break for a variety of reasons, planning to return to the workforce when the time is right.
However, women 'returners' face significant obstacles when they decide to return to paid employment. Employers and recruitment agencies can be reluctant to employ people without current work experience and many women don't make it past the CV screening process.
University College Cork, in conjunction with Taste4Success Skillnet, recognised the value of encouraging professional women to return to their careers and developed an innovative programme called Rejuvenate to support them in their quest.
Developed by Dr Joanne Uí Chrualaoich and Caroline Seacy MA Mkt, Rejuvenate commenced in 2019 and has been highly successful in helping women return to paid employment.
There are no fees for this course as it is fully funded by Taste4Success Skillnet.
Schedule
Date: Weekly from October to December.
Time: 9.30am - 12pm every Tuesday morning
Venue: Online - Participants will need a computer with a good WIFI/Broadband connection
Why Rejuvenate?
Do you want to return to work but worry that your skills are out of date? Do you lack the confidence to apply for jobs?
Many women fear returning to the workplace, having taken time out to care for family, been made redundant, taken a career break, faced ill health or for one of a myriad of other reasons that life can throw at us.
A loss of confidence, loss of flexibility and worries about relevance of skill-sets are often cited as common reasons for women to postpone or avoid seeking a return to paid work.
Added to this, the feeling of "out-of-dateness" is a concern for many highly skilled women.
Would you like to return to the workforce?
If so, Rejuvenate may be the course for you. It has been specifically designed to help women build their confidence again and to learn practical job hunting skills and techniques to help in their job search and subsequent re-entry into the workforce.
This fully funded course offers a small group of women the opportunity to explore the mechanics of returning to work, alongside some reflective activities to help you plan for your career progression into the future.
Course Programme
Topics include:
Self-assessment and Training Needs Analysis, Professional Motivation
Strategies to build Confidence, Resilience and Assertiveness
Professional Network Development
Mentoring and Active Career Management
Key job searching skills – CVs, Cover Letters, Interview Preparation, Working with Job Agencies
Digital Skills - LinkedIn, Social Media Management and Zoom
Working in a Team and Balancing Work and Life
A project - Career Action Plan - Completion date to be finalised
Ingrid Seim
Contact Details:
Position:
Programme Manager Rejuvenate
Ingrid is an experienced coach, speaker, trainer and facilitator and the founder of Avenues Consultancy & Coaching. She has a master's degree in Coaching and Positive Psychology from University College Cork, where she currently guest lectures, and is one of the founding members of the Positive Coaching Lab at the School of Applied Psychology.
Ingrid has developed several courses on the topics of leadership, wellbeing, resilience, and work-life balance and regularly writes, lectures, facilitates workshops and gives talks in this field. She is the creator of The No Guilt Solution to Managing it all, a coaching program tailored to women who want to set themselves ambitious professional goals while still retaining a balanced and fulfilled life. Ingrid provides an extensive catalogue of bespoke talks, workshops and trainings for organisations and individual clients, including the 16-week female leadership program SUSTAIN. While passionate about female leadership Ingrid works with all types of audiences to identify strategies for change in ways that broadens perspectives and encourages creative solutions when dealing with transitions, strategic decision-making, and challenging situations.
Ingrid is also the 2023 President of Network Ireland Cork, part of a national not-for profit organisation dedicated to the professional and personal development of women.
Areas of expertise include:
Organisational and Personal Wellbeing
Female Leadership
Work-life Balance
Resilience Building and Individual Growth
Impostor Syndrome
Strengths Based Coaching
Leadership Development
Positive Organisational Psychology
Change Management
Emotional Intelligence
ingrid@avenues.ie
https://www.linkedin.com/in/ingrid-seim/
Ingrid will be joined by a number of other guest lecturers during the delivery of this programme.
Testimonials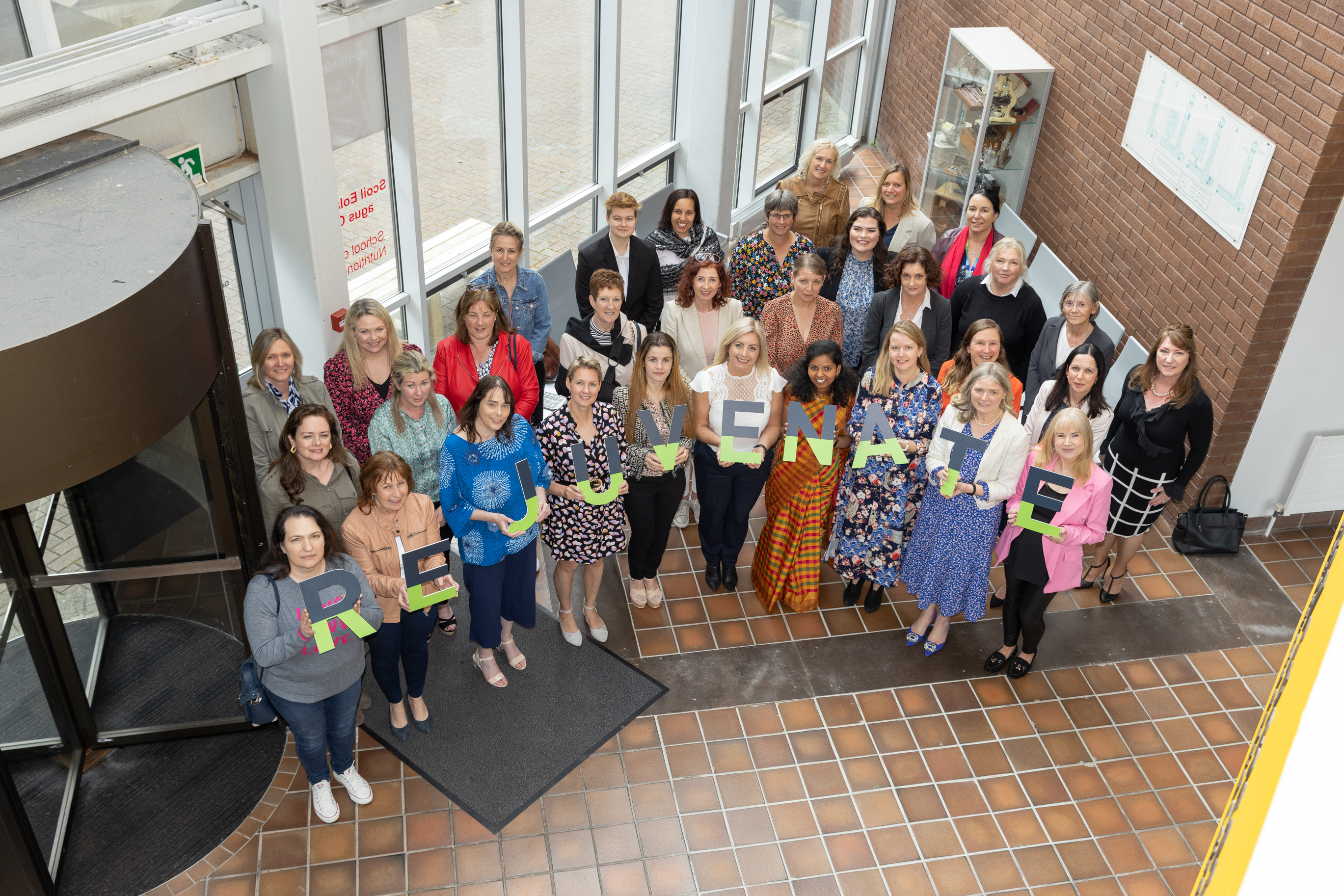 The inaugural Rejuvenate course was held in Cork in Autumn 2019. Rejuvenate has run online since then and feedback from all participants has been very positive.
"I got my confidence back both in myself and in my ability to re-join the workforce. I would strongly advise anyone in the position to do the Rejuvenate course to grab the opportunity with both hands". 2019 Participant
"The Rejuvenate programme has been a hugely positive experience in my life, the support and encouragement received has been invaluable. It has given me a new lease of life and the focus and determination to build a new career. Advice on CVs, interview skills and presentations has been fantastic". 2019 Participant
"A must for any woman who has stayed at home to mind their children, it is a journey of rediscovering your potential. An inspiring course". 2019 Participant
"For the first time in probably 10 years, I actually began to think of returning to the workforce because the course gave me the confidence to realise it was a possibility". 2020 Participant
"The course content was extremely appropriate to my needs and was delivered in an easy to digest manner. Meeting with women in the same situation was invaluable in letting me know I wasn't alone and in giving me confidence. The trainers were extremely knowledgeable and managed to balance a caring and warm approach with encouragement and just the right amount of tough love". 2023 Participant
"I have learnt to view my career break in a more positive light and how to approach it within my CV and cover letter. I feel more focused on the future and feel that I have a good plan to keep me on track". 2023 Participant
Caroline Seacy speaks about Rejuvenate to PJ Coogan in Cork 96FM's Opinion LIne
Read the lifestyle magazine for Kerry - CONNECT, Taste4Success Skillnet and University College Cork launch Rejuvenate 2020
Hear what participant Colette Kealy had to say during her Radio Interview with KCLR - just click through to 42:45: https://soundcloud.com/kclr96fm/kclr-live-thursday-8-october-2020-part-two
Or read Colette's interview in Agriland here.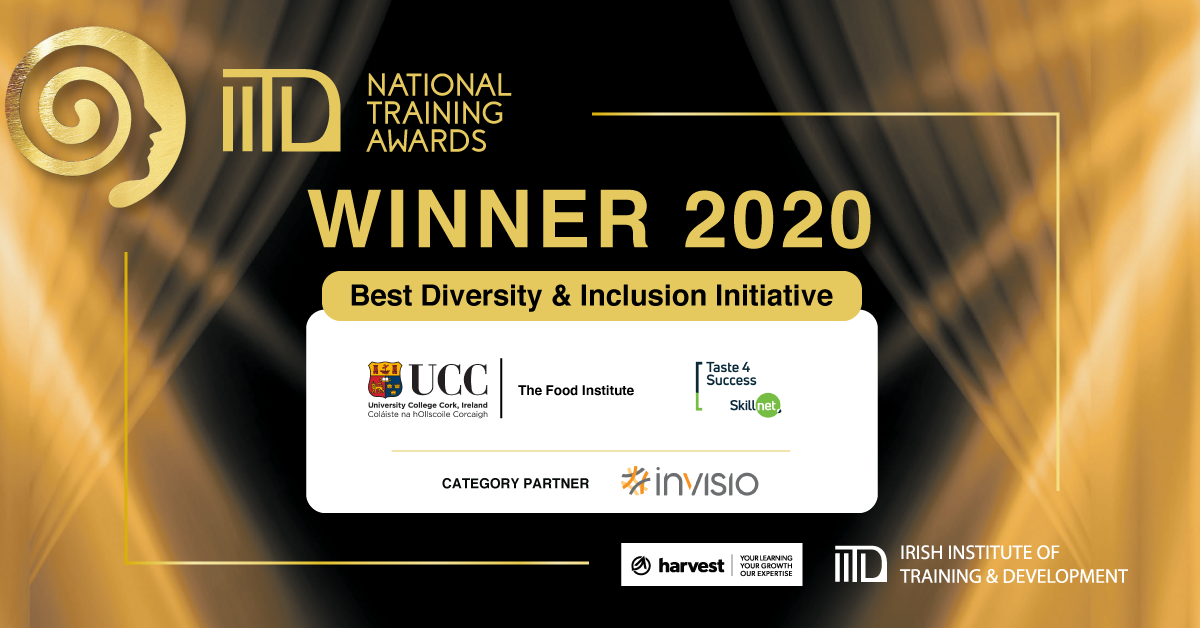 University College Cork and Taste 4 Success Skillnet were delighted to receive the IITD Best Diversity and Inclusion Award 2020 for our Rejuvenate Programme, which recognised an outstanding and innovative initiative developed by Dr Joanne Uí Chrualaoich and Caroline Seacy MA Mkt, focused on ensuring full access to and participation in the workplace for all.
Registration and Further Information
The registration form for the 10th of October start date is available here.
Further Information
Rejuvenate 2023 is run fully online, enabling women from around the country to participate.
Additional information about Taste4Success Skillnet and Rejuvenate 2023 is available by visiting the Taste4SuccessSkillnet website.
We would love to hear from you and will answer any queries you may have.
Email Ingrid Seim at ingrid@avenues.ie or Dr Amy-Jane Troy at amyjane.troy@ucc.ie for further information.
We always experience significant demand for this free Rejuvenate Programme so we recommend that you complete and submit your application form as soon as possible once registration opens.