Short Course - Concentration and Drying
Short Course - Concentration and Drying
Please note that this course will take place online on 20th and 21st February 2024.
Introduction
This course has been designed to introduce course attendees to the principles of concentration and drying technologies utilised in dairy industry, and the factors which can affect final product quality and functionality. Attendees will get to know the different methods for concentration and drying of dairy and food ingredients such as membrane filtration, evaporation and spray drying. This training will be especially valuable to anyone involved with dairy operations, design, quality testing and/or projects dealing with concentrated dairy streams.
Who Should Attend
Production staff and plant operators, supervisors and team leaders wishing to upskill
Technical and quality personnel
R&D and NPD personnel
Graduates who need a refresher course
Programme Content
Milk composition
Seasonality
Milk quality and testing at intake
Primary dairy processing technologies
Heat treatment of milk
Cleaning In Place
Membrane processing
Fundamentals of evaporation
Evaporation technologies
Principles of spray drying
Spray drying technologies
Powder technologies and properties
Digital Badge Award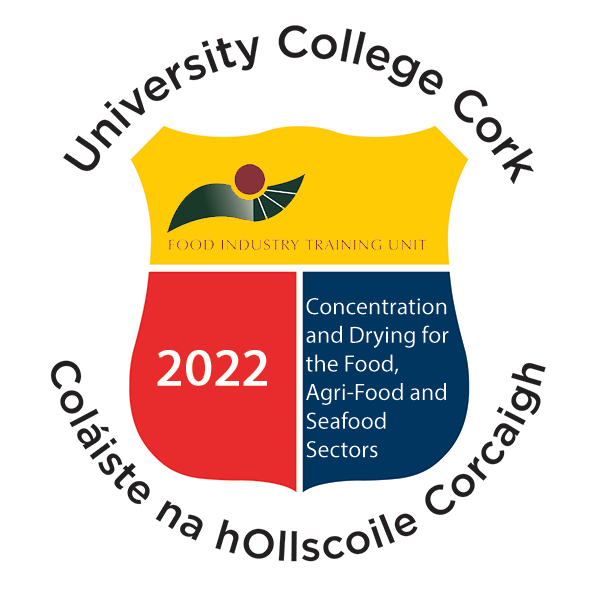 Upon successful completion, you will be awarded a digital badge which can be used to support your CV and e-portfolio. A digital badge is an award which recognises your accomplishment in completing an unaccredited course and is referred to as a micro-credential. By taking part in the in-course activities and successfully completing the in-course questions you will qualify for a digital badge. The badge can be downloaded and included on CVs, shared via email or included on your e-portfolio (for example on LinkedIn). When a person or employer clicks on your digital badge they will see the specific details of the course, the process by which the course was given and if the course was successfully completed. Digital badges can be used to illustrate continued professional development and can supplement existing qualifications.
Lead Trainers
Dr Tom O'Callaghan graduated from UCC with a BSc in Food Science in 2014 and PhD in Science in 2018. In 2017, Tom took up the position of Research Officer in Teagasc Moorepark Food Research Centre. Tom joined University College Cork in May 2020, as College Lecturer in Food Science and Technology within the School of Food and Nutritional Sciences. Tom's research has focused on food chemistry, nutrition and processing technologies across the supply chain. Tom is a Principal Investigator with Food For Health Ireland and the Dairy Processing Technology Centre and is an Academic Collaborator with VistaMilk, an SFI research centre.
Professor Seamus O'Mahony is a Lecturer in Food Science at University College Cork and leads the Food Ingredients Research Group within the School of Food and Nutritional Sciences. The research interests of the group are focused on four main platforms: (1) ingredient development and functionality, (2) powder technology and engineering, (3) formulation science and technology and (4) bio-functional food ingredients. He has published over 130 peer-reviewed scientific papers, 15 book chapters and edited or co-authored 3 books over the last 10 years and has secured >€7m in competitively won research funding since joining UCC. Dr O'Mahony holds an MA in Teaching and Learning in Higher Education and works closely with the UCC Food Industry Training Unit in developing and delivering research-led training courses.
Nial Mullane is a UCC graduate of Dairy Science and has 35 years' experience across several blue-chip companies in both the UK and Ireland in soft drinks manufacture with Coca Cola, aseptic packaging of juices, milk, and sauces with Tetra Pak and both liquid UHT and powdered infant formula manufacture with Wyeth Nutrition. He has held project management, validation, and senior operation management roles in these companies. Nial has been a CIP champion for many years and frequently lectures in University College Cork, and is a Director of Northstar Training and Advisory.
Course Fee
The cost of the course is €650.
Please note: Partial funding may be available for eligible participants.
Registration
Click here to register, or for further information please contact:
Clair Hoare
Special Projects Manager
Food Industry Training Unit
School of Food and Nutritional Sciences College of Science,
Engineering and Food Science,
University College Cork
email: clairhoare@ucc.ie