News
News
University Scholarships for BT Young Scientist and Technologist Winners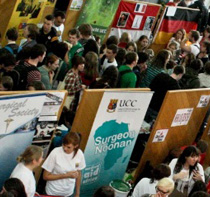 Leaving Certificate cycle students who win the individual or group categories at this year's BT Young Scientist and Technologist of the Year exhibition will receive €1,000 scholarships, payable on entrance to University.
The overall winner of the competition will receive a €2,000 scholarship. This is the first time that such scholarships have been offered to winners of Ireland's long-running science fair for secondary school students. This year's exhibition features 550 student projects on topics as diverse as Global Warming and Changes in Irish Grass Growth Patterns and the development of a prototype citizen monitoring water quality test kit.
The exhibition will be held in the RDS, Dublin from January 7th-10th, 2015. Members of the public will be able to visit the competition on Thursday, January 8th.