News Archive 2022
News Archive 2022
Don't miss: BSc Neuroscience Graduate Rehan Ali's 'Water Under the Bridge' short film - World TV Premier, Virgin Media One on Friday 4th March 2022
Having premiered to a full house and received an 'amazing reaction' at the Lighthouse Cinema as part of the International Dublin Film Festival last Saturday February 26th Rehan Ali's 'Water Under the Bridge' short film will have its World TV premier on Virgin Media One at 11:00pm this Friday night 4th March 2022.
Rehan Ali's powerful film 'Water Under The Bridge' captures the unique journey of Bilal who has just arrived in a small Irish town. Protesting his father's warnings, he leaves the confines of Direct Provision to venture into this new world for the first time. Here he meets three local teens and their interaction is the catalyst to a self-realisation that could change everything. After surviving so much, can Bilal overcome this new struggle?"
Having left Pakistan with his own family when only six years of age and spending a large portion of his life as a Direct Provision resident in Carrick-on-Suir, residing at the Bridgewater House hostel, Rehan's film though fictional is hugely authentic.
Rehan Ali completed his BSc Neuroscience degree exams in May 2021 shortly after he won the 2021 Virgin Media Discovers & Screen Ireland Short Film Competition. The prize of a production budget of €30,000 to bring his script to life on screen as a 10-minute short film was announced live on Virgin TV by award-winning director and screenwriter Lenny Abrahamson. It was a dream come true for Rehan who said that 'he has always wanted to be a writer and filmmaker.'

Director and Writer Rehan Ali on set with Script Supervisor Ben Goddard
The completed film 'Water Under The Bridge' was initially to be filmed in the summer of 2021. But due to Covid-19 restrictions, the making of the film was postponed until late September 2021, coinciding with Rehan beginning a MSc Bioinformatics degree in UCC. September was a busy month for Rehan, juggling studies with directing his film. The film was shot completely in Carrick-on-Suir, the town Rehan considers to be his home and so is incredibly special to him. Covid guidelines including social distancing and mask wearing for all crew, except for cast, as well a strict testing regime, made filming challenging, but Rehan said of this time that he was 'just delighted to finally be on location with a fantastic cast and crew'.

Left: Rhys Mannion playing Ryan and Holly Sturton playing Niamh. Right: Peter Obidiran playing Bilal
Rehan was 'determined to cast as the protagonist someone who would understand and reflect the story of the film', so when Peter Obidiran, a childhood friend, from Carrick-on-Suir with his own relationship with Direct Provision and Bridgewater House, auditioned for the lead role, Rehan was astonished by his perfect fit to portray the character of Bilal. Rehan suggests that a positive to the postponing of shoot was that novice actor Peter Obidiran used the time to work with actor coach Maria Clancy developing his acting skills to deliver an incredible performance in the film.

Left: Oran Treacy playing Scott Right: Peter Obidiran (Bilal), Holly Sturton (Niamh), Rhys Mannion (Ryan) Pictures by Luke Brabazon
Actor and fellow UCC graduate Oran Treacy plays the role of Scott in the film. Rehan came across Oran during the search for cast for the Puttnam Scholarship short film project which he completed last year and reached out to him to audition for the role of Scott, a lead character in the film. After watching Oran's audition it became clear that the perfect Scott had been discovered.
Actor Holly Sturton plays the part of local teen Niamh, and Rys Mannion plays her friend, Ryan. Holly most recently filmed the role of Beatrix in the Netflix adaptation of Soman Chainani's 'The School For Good And Evil' which is due to come out sometime this year. Rhys can next be seen in 'It Is In Us All' which will have its world premiere at the South by Southwest (SXSW) film festival in Austin, Texas later this month. Other actors in 'Water Under The Bridge' include Derek Ugochukwu who has recently finished directing his own film 'You're Not Home' and Ian Lloyd Anderson known for his role as Dean in Love/Hate. Holly Sturton and Rhys Mannion portray young locals, Niamh and Ryan, in the film. Derek Ugochukwu portrays Bilal's father. Ian Lloyd Anderson portrays the role of a security guard at the Direct Provision Hostel.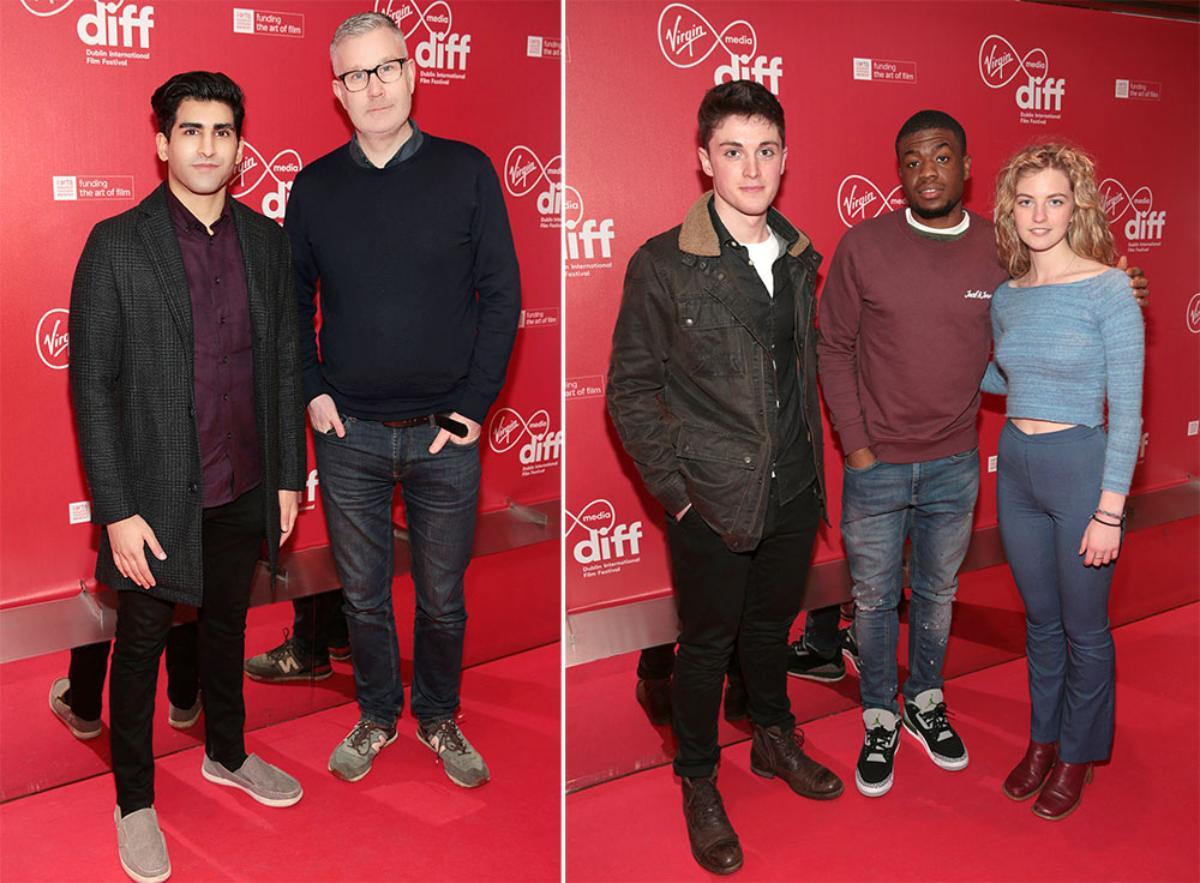 Left: 'Water Under The Bridge' writer and director Rehan Ali at the premiere of 'Water Under The Bridge' at the Lighthouse Cinema as part of the International Dublin Film Festival last Saturday with his mentor, director Frank Berry. Right: Rhys Mannion, Peter Obidiran and Holly Sturton - Pictures by Brian McEvoy
World Television Premiere
Professor Aideen Sullivan Head of Department of Anatomy and Neuroscience and Dr Siobhain O'Mahony BSc Neuroscience Director, congratulated Rehan on his fantastic achievement, and along with the staff and students of the Department of Anatomy and Neuroscience are looking forward to tuning in to Virgin Media One at 11:00pm on Friday Night 4h of March 2022 to see Rehan Ali's prize winning film 'Water Under The Bridge' have its World TV Premier.
Congratulations Rehan!
Links:
For more on this story contact:
News item B. Riedewald