News archive 2017
News archive 2017
Prof John Cryan awarded UCC Research Communicator of the year 2017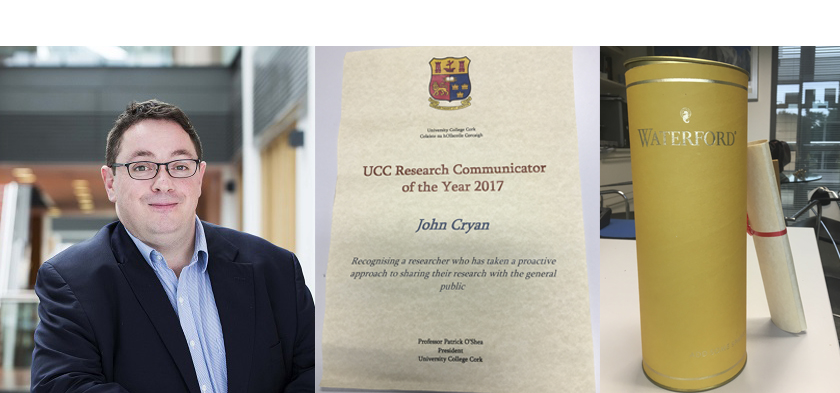 Congratulations to Professor John F. Cryan, Department of Anatomy & Neuroscience/APC Microbiome Institute, winner of the 'UCC Research Communicator of the year 2017' award. The UCC Research Awards Programme for 2017 awards were presented by UCC President Professor Patrick O'Shea at the UCC Awards Ceremony held last Thursay 5th October in the Aula Maxima.
Prof Cryan said "I am really chuffed to receive this award. The ability to communicate our research to our peers and to the public & policy makers is really important and not an option in this day and age. It is something that we promote both within the Dept. Anatomy & Neuroscience and in the APC Microbiome Institute for Researchers at all stages of their careers".
The UCC Research Awards Programme was established to recognise the extensive contributions made by UCC researchers across all fields. They recognise and celebrate those UCC researchers who have made exceptional and very influential research contributions, pushing boundaries, enhancing knowledge, and raising the national and international research profile of the University.
This year, nine awards were presented across seven categories: Early-Stage Researcher of the Year, Research Communicator of the Year, Research Supervisor of the Year, Research Support Person of the Year, Research Team of the Year, Researcher of the Year, and the Career Achievement Research Award. The Research Communicator of the Year was a new award and Prof John Cryan is the first recipient.
The standard of nominations received this year was outstanding and it proved very difficult for the Research Awards Selection Committee to reach their final decisions.
The awardees for 2017, whose achievements were celebrated at the UCC Awards Ceremony last night, are:
Early-Stage Researcher of the Year 2017
Dr Cara Levey – Department of Spanish, Portuguese and Latin American Studies
Dr Maria Cahill – School of Law
Research Supervisor of the Year 2017
Dr Fatima Gunning – Photonics Systems Group, Tyndall National Institute
Professor Josephine Hegarty – School of Nursing and Midwifery
Research Communicator of the Year 2017
Professor John Cryan – Department of Anatomy & Neuroscience/APC Microbiome Institute
Research Support Person of the Year 2017
Julie Donnelly – Tyndall National Institute
Research Team of the Year 2017
GENOVATE – ISS-21/College of Arts, Celtic Studies and Social Sciences/College of Business and Law/College of Medicine and Health/Equality Committee/UCC Research Support Services
Researcher of the Year 2017
Professor Barry O'Sullivan – Department of Computer Science/Insight Centre for Data Analytics
Career Achievement Research Award
Dr Alan Mathewson – Micro-Nano Systems Centre, Tyndall National Institute
Link to UCC Research Awards webpage: https://www.ucc.ie/en/research/overview/awards/