News archive 2017
News archive 2017
Prof Cryan profiled in 'El Mercurio' national paper of record in Chile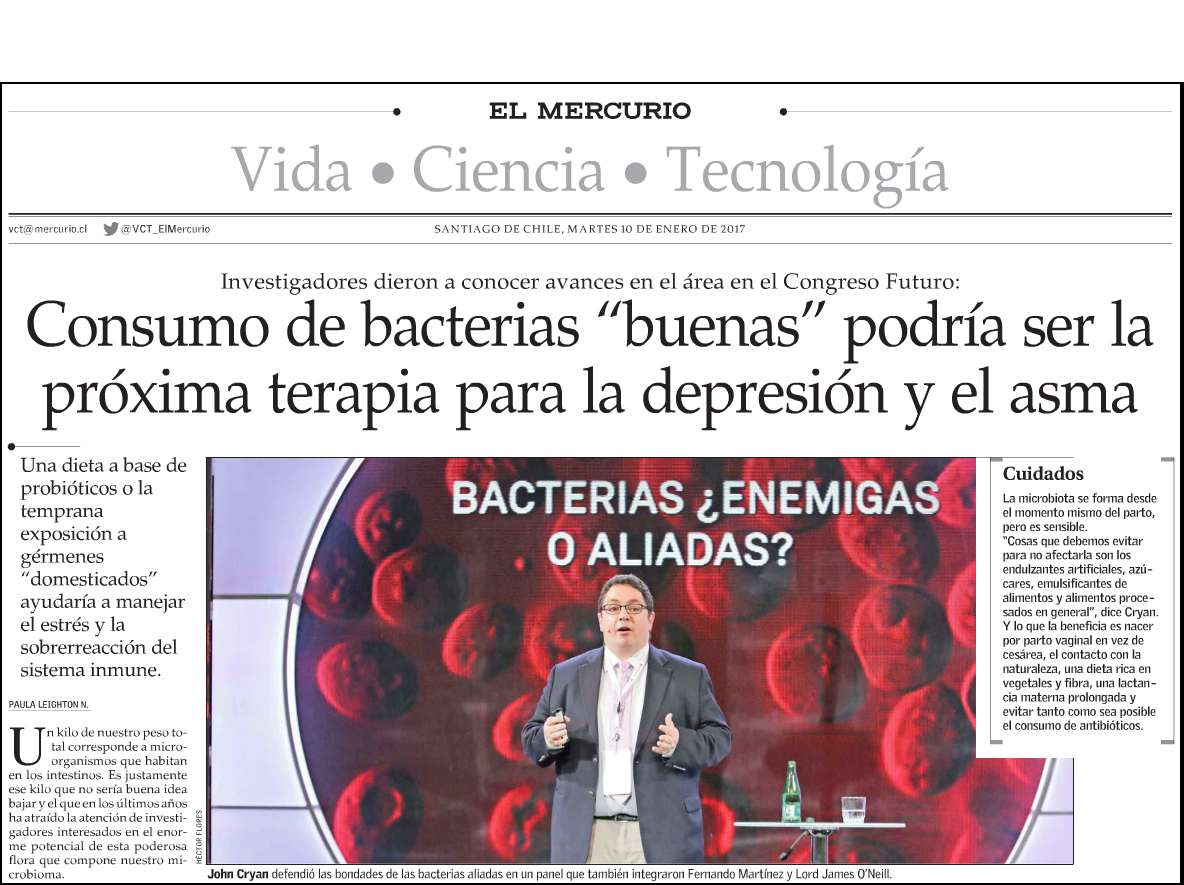 Big news story in the national paper of record in Chile today- A report of Professor John F.Cryan's presentation as Guest Speaker at the VI Futures Congress in Chile, features on the front page of Chile's national paper of record El Mercurio.
Prof. Cryan spoke about his research on gut-brain interactions in a panel focusing on "Bacteria- Enemies or Allies". http://impresa.elmercurio.com/Pages/NewsDetail.aspx?dt=2017-01-10&dtB=10-01-2017%200:00:00&PaginaId=12&bodyid=1. Other panellists include the economist Lord Jim O'Neil, Former Chairman of Goldman Sachs Asset Management and former UK government minister spoke on antibiotic resistance, and the esteemed paediatrician in Fernando Martinez from Arizona who focused his presentation on the role of microbes in asthma. http://impresa.elmercurio.com/Pages/NewsDetail.aspx?dt=2017-01-10&dtB=10-01-2017%200:00:00&PaginaId=12&bodyid=1
The Futures Congress http://www.congresodelfuturo.cl/, now in its sixth year, takes place between the 9th and 15th of January 2017 in Santiago and across Chile. It is a space for exchanging scientific, technological, and socio-political ideas that will shape the future of our civilization. This event invites the public to reflect on our future and our society. It continues to be a free event open to the public. The 2016 Congress brought together over 15,000 attendants, and more than a million followed on live streaming from different countries across the globe.
The forum is aimed at promoting an exchange of ideas between Chile and the world's leading scientific thinkers. The event includes Nobel laureates, scientists, researchers, politicians and scholars alike. Participants will enjoy seven days of thought-provoking and action-driving debates on topics as broad as energy, artificial intelligence, new materials, smart cities, global warming, extending life expectancy, genomes and artificial chromosomes, the origin of the universe, perspectives of astrobiology, medicine and nano-technology, paradigms of sustainable development, multiculturalism and ethnic integration, the impact of the Internet of Things and the Big Data, among others – all critical issues for the building of a better future for mankind.
Professor Cryan has also been invited to give a lecture at the Pontifical Catholic University of Valparaíso during his trip to Chile where two UCC research alumni are on faculty.