News archive 2017
News archive 2017
New BSc Medical and Health Sciences Degree launched at UCC Open Day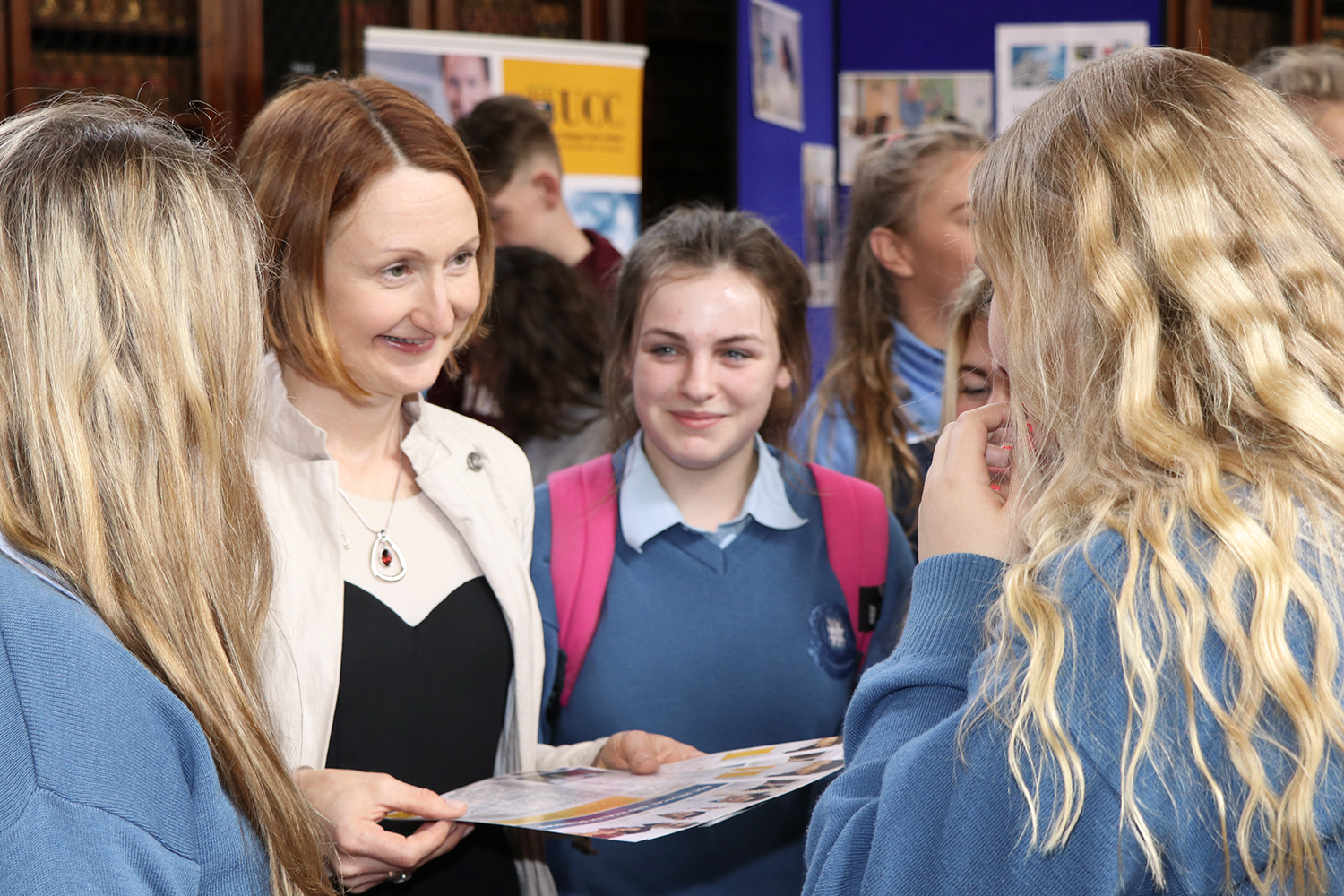 The BSc in Medical and Health Sciences generated a lot of interest at the School of Medicine area of the Spring Open day held this week in the Aula Maxima. Professor Aideen Sullivan, course coordinator was on hand to chat about the new programme to Guidance Counsellors and interested Transition Year students.
'The feed back was very positive' she said 'The BSc Medical and Health Sciences programme will attract proficient capable school-leavers to a research-led Honours BSc degree, which will produce graduates ideal for entry to the College of Medicine and Health (CoMH)'s postgraduate research programmes as well as its graduate-entry professional programmes. In addition, graduates will be equipped with the skills and knowledge needed for careers in a wide range of medical research and healthcare professions.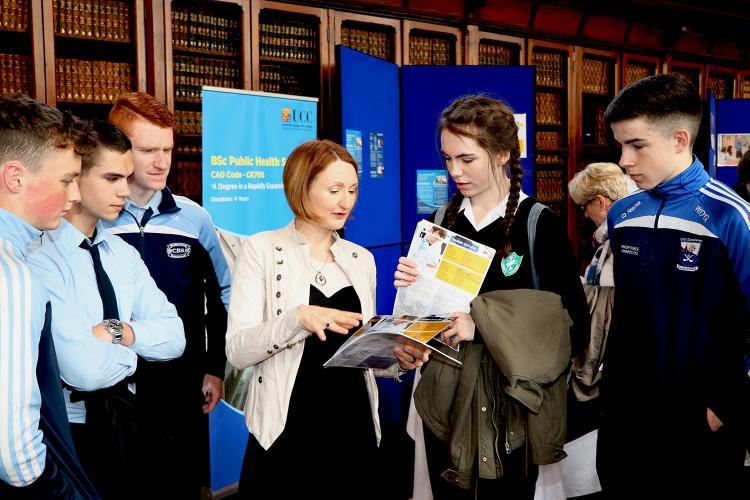 Students from St Anne's secondary school Tipperary and Christian Brothers' Secondary School (C.B.S.) Mitchelstown chat with Prof Sullivan about the new BSc Degree
Developed by Professor Sullivan and recently passed by the University Academic Programme Approval Panel, the new BSc Medical and Health Sciences degree is due to take its first students in September 2018. This exciting new cross-College programme brings together eight research-focused disciplines; Anatomy, Biochemistry, Epidemiology, Microbiology, Neuroscience, Pathology, Pharmacology and Physiology, offering students the opportunity to study a broad range of medical sciences. It will complement existing degree programmes in Biological Sciences and in Public Health Sciences, and will have a strong focus on translational medical research.
Professor Sullivan is confident that this degree will produce graduates who are passionate about medical and health sciences, and who are equipped to follow careers in medical research or healthcare professions. Having a strong focus on research and taught by research-active academics in a wide range of disciplines spanning the biological and medical sciences, this course will deliver up-to-date current knowledge in the field of biomedical, clinical and public health sciences. Students will be encouraged to foster their analytical study skills and critical thinking, enabling them to research, develop and implement the innovative healthcare of the future.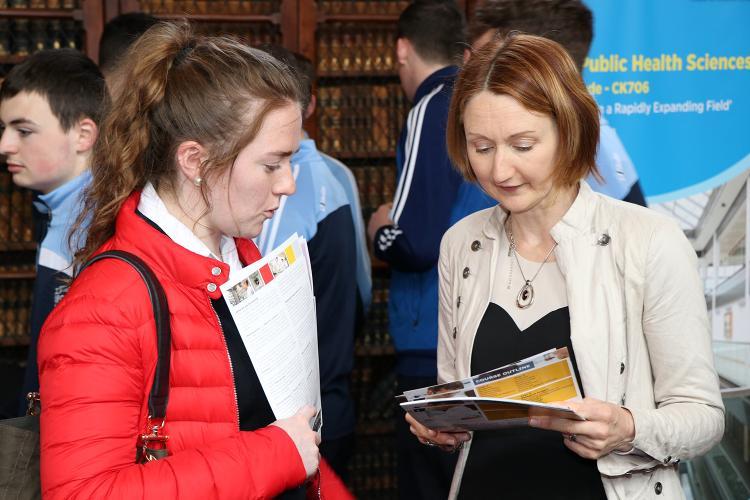 Graduates of the BSc Medical and Health Sciences will have a solid foundation to pursue Masters and Doctoral studies in a wide range of medical sciences areas, PhD research leading to careers in medical research, and for graduate entry to study Medicine, Physiotherapy, Radiography, Audiology, Public Health, Occupational Health, Occupational Therapy and Speech & Language Therapy. Career prospects also include employment in the pharmaceutical, biotechnology and medical devices industries, sales and marketing for medical and pharmaceutical companies, and in health promotion, education and policy.
For further information contact:
Prof Aideen Sullivan Programme coordinator Email MedHealthSci@ucc.ie +353 (021) 4205427 Download course brochure
BSc Medical and Health Sciences Degree course details
(Photos B.Riedewald)