News 2017
News 2017
Government of Ireland International Education Scholarship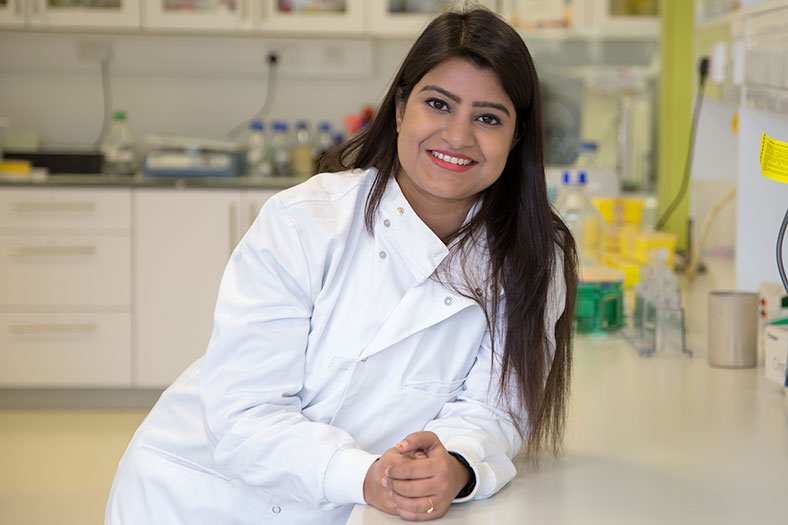 Congratulations to Ms. Heena Hussain, who was awarded a scholarship under the 2017 Government of Ireland International Education Scholarships Programme (GOI).
Heena, has a strong record of academic excellence, having been the recipient of an Excellence in Science Award in Secondary School for securing top grades in Science (98%). She is a meritorious student who consistently ranked in the top 10% students in her class and graduate with a BSc in Life Sciences (First Class Honours) from the University of Delhi, India. Heena will pursue an MRes in Biochemistry and Cell Biology under the supervision of Dr. Justin V. McCarthy, School of Biochemistry & Cell Biology.
Worldwide, breast cancer remains the most frequently diagnosed cancer and the leading cause of cancer death among females, accounting for 23% of the total cancer cases and 14% of the cancer deaths in 2014. This is in part because many breast cancers are not detected early enough or the breast cancer returns or spreads. These cancers very often become incurable disease and lead to the patient's death. Therefore, there is the need for new breast cancer markers to help detect cancer earlier and provide more aggressive treatment options.
In her MRes research project, Heena will study one such marker is called EpCAM, which is found in high concentrations in many breast cancers. EpCAM stimulates cancers cells to grow faster and become more resistant to cancer treatment. In this study Heena will study the regulation of EpCAM and how its levels and functions change in tissue samples from breast cancer patients. She will then compare these EpCAM levels with information in the patient's individual health records to see if there are any correlations with specific types of breast cancer. We anticipate that any identified changes can then be used to develop novel diagnostic and/or prognostic test assays that can be used in the future diagnosis and treatment of other breast cancer patients. This will lead to improved treatment strategies and better patient survival.
Following completion of her MRes in Biochemistry & Cell Biology, Heena wishes to pursue her career as a PhD research scientist and hopes to make a contribution in the field of cancer biology.