News 2017
News 2017
Eli Lilly Research Scholarship 2017-2018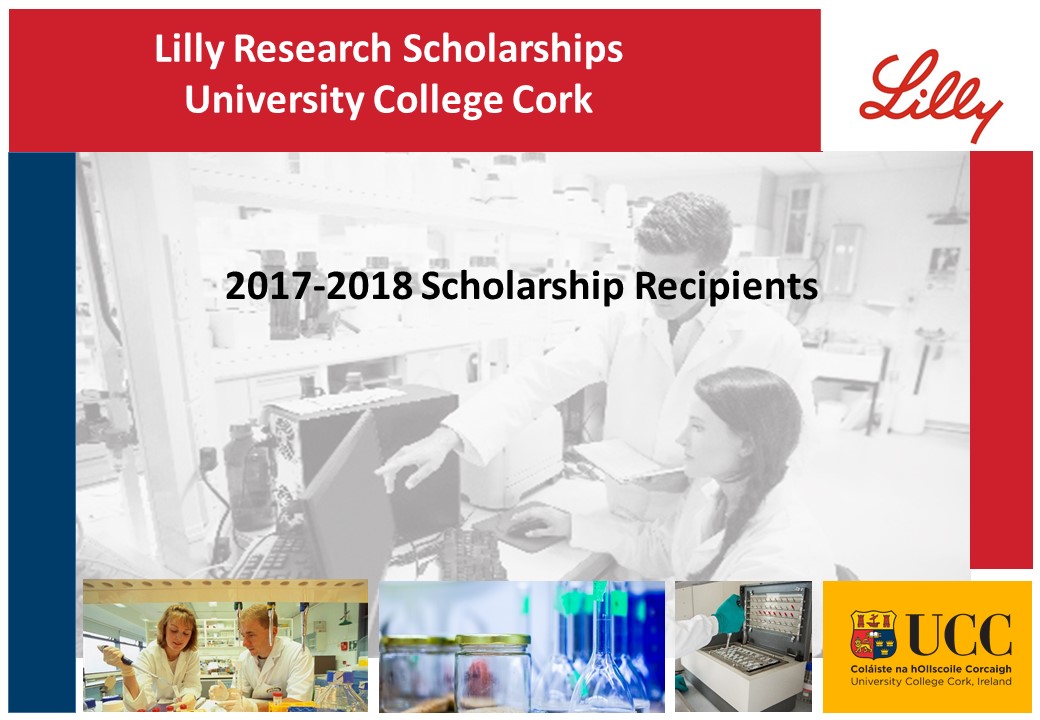 UCC invited applications for the first Lilly Research Scholarships which was established to promote research excellence in one of the following disciplines: Chemistry and Pharmaceutical Sciences; Biotechnology related areas and Chemical Engineering.
These scholarships aim to support students and integrate them into the academic, social and cultural aspects of University College Cork. The scholarships are targeted at high performing students proposing to undertake impactful research, possibly of an inter-disciplinary nature, at the highest level in the broad areas of Chemistry and Pharmaceutical Sciences; Biotechnology related areas and Chemical Engineering under a supervisor or supervision team with significant experience in the area.
Two students were awarded the Eli Lilly scholarship for the 2017-2018 year:
Ryan Alam graduated with a BSc in Pharmacy from the Royal College of Surgeons in Ireland in 2013 and subsequently went on to complete an MPharm in 2014, prior to formal registration, with the Pharmaceutical Society of Ireland (PSI), as a pharmacist. After practicing as a community pharmacist for two years, he completed a MSc in the Analysis of Pharmaceutical Compounds in UCC. He subsequently went on to work as a research assistant, in pharmaceutics, with Dr Brendan Griffin in the School of Pharmacy at UCC, where he was involved in the manufacture of a sustained-release oral dosage form. Being a recipient of one of the first Eli Lilly Research Scholarships, he is now delighted to have the opportunity to pursue a PhD in Pharmaceutical Chemistry, under the supervision of Dr JJ Keating (Department of Chemistry and School of Pharmacy, UCC). This project will be focused on "The Synthesis and Impurity Profiling of Novel Indole and Indazole Synthetic Cannabinoids". In recent years, synthetic cannabinoids (also known as "legal highs") have gained international notoriety for being highly potent alternatives to traditional cannabis products. The potency and widespread availability of these illicit products pose a major challenge to both public health and the decision makers who are tasked with their effective legislative control. Ultimately, this work will aim to bridge the knowledge gap that exists in our synthetic and analytical understanding of these classes of novel psychoactive substances.
Christina Killian is a UCC alumnus graduating with a First Class Honours degree from the BSc in Biochemistry in 2016. Christina has always had a strong passion for research and during her undergraduate career she was exceptional in securing 2 different Research Bursaries (one from the APC Microbiome Institute in the summer of 2015 and another from the School of Biochemistry and Cell Biology in the summer of 2016) to undertake research projects with Dr Susan Joyce in the School of Biochemistry and Cell Biology. Since graduating Christina has continued her commitment to top-level research by learning new skills as a Research Assistant in Trinity College Dublin. Christina has returned to UCC where she is honoured to be a recipient of one of the first Lilly Research Scholarships. Christina will be aligned with researchers in the School of Biochemistry and Cell Biology, the School of Microbiology and with the APC Microbiome Institute, where her project aims to investigate: "Receptor interplay in longevity and aging – investigating the host-microbe dialogue". The objective of this research is to identify metabolites, produced by the human gut microbiota, that have the potential to alter longevity or life span. This novel research will be facilitated by using the nematode, Caenorhabditis elegans as a model of aging, and will be jointly supervised by Dr Susan Joyce (School of Biochemistry and Cell Biology) and Dr David Clarke (School of Microbiology).