News and Events
News and Events
Victory for UCC student at Bar Council of Ireland's Justice Week debate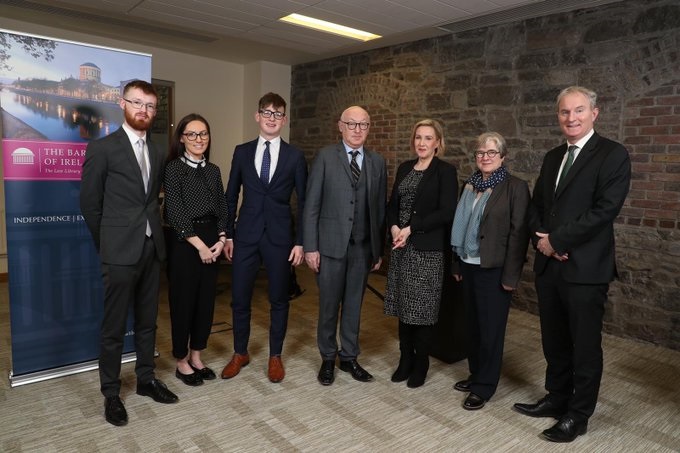 Final Year BCL student (and auditor of UCC Law Society), Jason Herbert, was part of the winning inter-university team at the Bar Council of Ireland's Justice Week debate.
In this special guest blog post for the School of Law website, Jason reflects on his experience at the debate.
Last week I was delighted to take part in the Bar Council of Ireland's Justice Week debate on the motion 'This House believes that Law is Politics by Other Means'. As an experienced debater, having competed internationally at the World's University Debating Competition in Mexico City, the challenge of speaking at this competition was one which I embraced despite the pressures of being in final year.
Usually, in debating you are familiar with your team-mates' style of speaking and methods of content creation, however, with this debate, I was teamed up with Ciara Ramsbottom from DCU and Simeon Burke representing NUIG. As opposed to being able to meet up and practice our speeches together we had to come up with our hypothesis and arguments over email which was difficult considering the necessity to be fluent on each other's points. Despite this, we managed to create coherent arguments and displayed a high level of teamwork which ultimately won us the debate.
Together we were faced with the task of proposing the motion, a stance which I was happy to take. After having met for the first time in a café 40 minutes before the start of the debate we quickly adjusted our speeches as we had made changes that morning. We then made our way to the Dispute Resolution Centre and were photographed. This made me feel like some sort of famous barrister (or criminal). Our first speaker, Simeon, had the challenge of defining the motion which we had decided was to relate politics to the power people exert over other people. Establishing power dynamics and emphasising the coercive control of governments was essential to our arguments. Simeon followed his definitions by illustrating the indeterminacy of law and the work of Herbert L.A. Hart. He also touched on judicial activism and how judges can strike down legislation or enforce it. Ciara then brought the debate to an Irish context illustrating the Catholic influence on Bunreacht na hÉireann which in turn was influential in decisions such as McGee. The opposition which consisted of speakers from Maynooth, UL and UCD all drew heavily on the separation of powers and political activism being separate to legal activism. Finally, it was my turn to provide the final substantive speech for team proposition. Whilst I had eight minutes to speak I had roughly 4 minutes of material pre-prepared and the rest of my time was used to rebut the opposition. I decided to show modern examples of how politicians use the law to achieve what could be seen as solely political aims. Using the recent decision of the US Supreme Court which allowed the Trump administration to block immigrants seeking permanent residency in America based on their likelihood to use public benefits, I showed that the conservative majority in the Court was used to achieve the political aims of the US President ahead of an upcoming election. The majority of my speech was identifying the points of clash throughout the debate and trying to prove why our side won. I found that I was able to draw on many different cases and legal theories across my 3 years of studies to cement my arguments. Unfortunately, I was mid rebuttal when I hit the eight-minute bell and had to quickly summarise the debate as a whole before the timekeeper cut me off.
It was now out of our hands and we awaited the decision of the panel consisting of Court of Appeal Judges, Ms Justice Aileen Donnelly and Mr Justice Brian Murray as well as Chairman of the Bar Council of Ireland Michael P. O'Higgins and RTE Legal Affairs Correspondent Orla O'Donnell. Thankfully they reached a unanimous decision and declared that the motion had been carried. We were then presented with our generous prize money.
The experience was fantastic and also probably the last time I will compete in a university debate, so it was great to end on a high note. Debating has always been something I've drawn enjoyment from and has facilitated me to become a confident public speaker. As Auditor of the Law Society, I have tried to encourage debating amongst law students and this year I re-established the Gold Medal Debate with the help of our Debating Convenor, Róisin Mullins.
I have a few people I'd like to thank for their help. First and foremost, Dr Patrick O'Callaghan for his useful and badly needed guidance on jurisprudence and providing me with excellent academic work to study. I'd also like to thank Kate Liffey-Faherty for her support in the build-up to the debate, but also for her work throughout the year in facilitating communication between students and staff. Finally, I would like to thank the School of Law for offering me this opportunity and ensuring that students are offered the chance to show off their abilities in a variety of competitions.
Le meas,
Jason Herbert
(Photo courtesy of the Bar Council of Ireland)