News and Events
News and Events
School of Law students recognised at College Work Placement Awards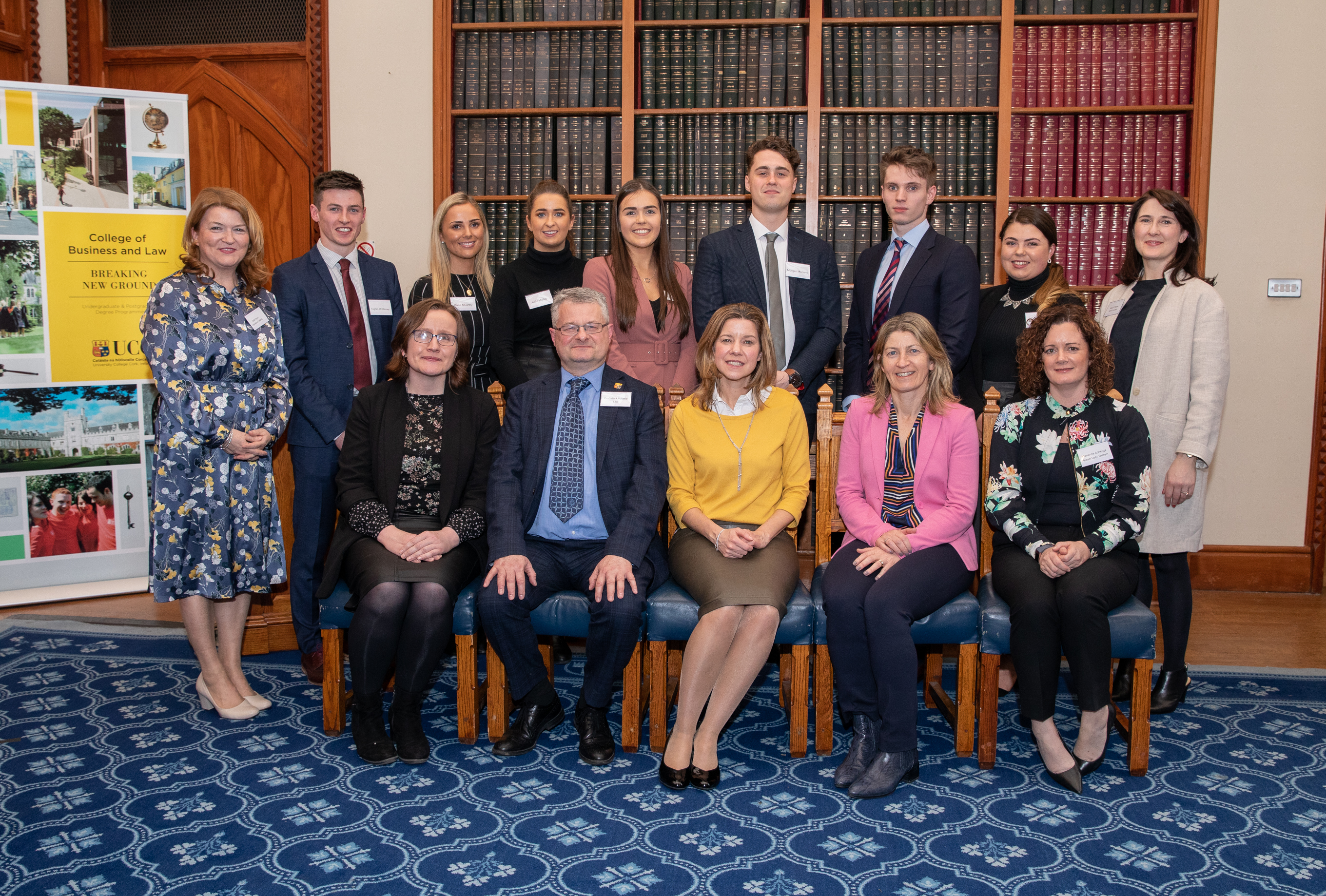 Four UCC School of Law students recently won prizes for their successful work placements at UCC's College of Business and Law annual Work Placement awards.
The awards recognise students for their achievements on work placement as part of their studies, and highlight the emphaiss placed on work placement as a hugely important part of studying at the College of Business and Law.
Our winners:
Leah Moriarty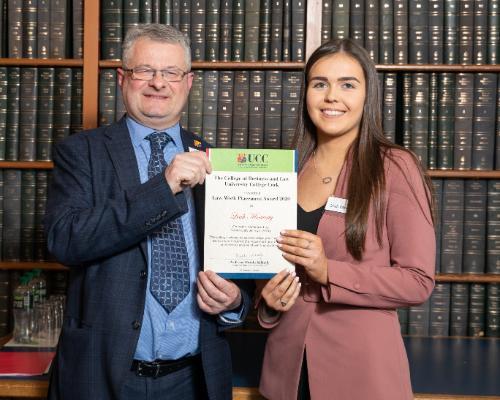 Leah Moriarty was nominated for her successful work placement in the Litigation Department at law firm Ronan Daly Jermyn in Cork. This placement was undertaken as part of Leah's studies on the BCL (Clinical) degree programme.
Leah's nominator at Ronan Daly Jermyn praised her as an astute student and intelligent team player, noting:
"Interns are rarely in a position to make the impact that Leah made during her stay. Her consistent approach to all jobs was exemplary and we would suggest had a knock-on effect to the positive to other interns on placement at the time".
Ronan Daly Jermyn also offered Leah an extension to her contract over her summer holidays, which she accepted.
Commenting on her win, Leah said:
"Winning a work placement award was completely unexpected, but thoroughly appreciated. The opportunity offered by UCC to get practical work experience in your chosen field is invaluable. I truly enjoyed my time in Ronan Daly Jermyn, so much so that I am now certain becoming a solicitor is what I want to do after I graduate."
Katie Nic Craith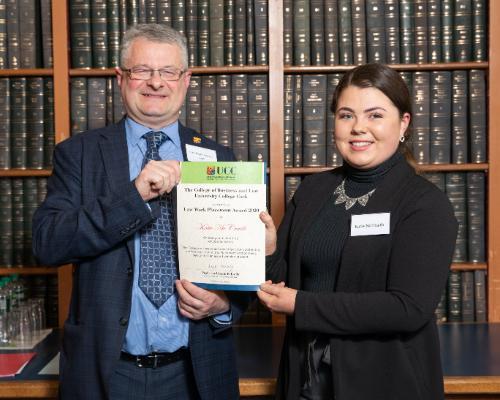 Katie Nic Craith was nominated for her successful work placement in the Commercial Real Estate department at AMOSS Solicitors in Dublin. This placement was undertaken as part of Katie's studies on the BCL (Law and Irish) degree programme.
Katie's nominator at AMOSS described her as an outstanding employee, who was extremely professional and mature and demonstrated excellent communication skills, problem-solving skills and legal capability. They further noted:
"Katie worked with the Commercial Litigation and Dispute Resolution department on a case that was conducted in Irish. As a fluent Irish speaker, Katie translated the legal documents in the office and attending court with the solicitor to translate the case.
We believe that Katie has the potential to become one of Ireland's top commercial lawyers and we look forward to working with her again in the future."
AMOSS were so impressed with Katie that they offered her a trainee solicitor contract when her internship came to an end, kick-starting her career in law.
Commenting on her win, Katie said:
"I'm very honoured to have received this award, it really is a bonus to the amazing and valuable time I had on placement last year. I'm grateful for the nomination of my employer AMOSS and I can't thank them enough for the opportunities they gave me to apply myself to given tasks. My time there was so enjoyable, a great learning experience and a massive confidence boost. The work placement programme helped me to apply my studies in practice and was truly an eye-opening experience. I really look forward to starting my future as a trainee solicitor with AMOSS!"
Eoghan McElhinney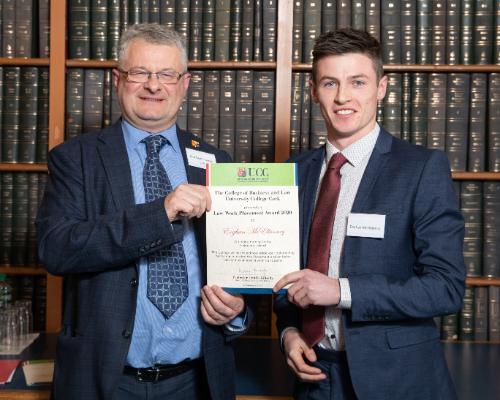 Eoghan McElhinney was nominated for his successful work placement in the Legal team in Heineken Ireland. This placement was undertaken as part of Eoghan's studies on the BCL (Law and Business) degree programme.
Eoghan's nominator at Heineken Ireland praised his ability and eagerness to handle complex tasks, noting:
"Eoghan was a source not only of good legal knowledge, but also demonstrated an excellent ability to apply that legal knowledge to new commercial situations in creative ways - a key skill for an inhouse legal team.
He has been a pleasure to work with, and his ever-sunny disposition and sense of humour are missed by all who worked with him."
Commenting on his win, Eoghan said:
"I am extremely grateful to both the School of Law and Heineken Ireland for this award. My placement was a wholly positive experience and a hugely beneficial aspect of my college education. It gave me an insight into the legal profession, and excited me for a career after college life.
In our education, we develop a level of discipline, self-motivation and work ethic that has us well equipped for the working world, and this experience has shown that we, as UCC students, are being excellently prepared for a career in law.
The fact that the placement was a graded final year module in BCL (Law and Business) shows the emphasis that is being placed on these experiences, and their benefits are immeasurable.
Being nominated and subsequently presented with this award was a great bonus to what was already a wonderful experience."
Abby Hanrahan
Abby Hanrahan was nominated for her successful three-month work placement at SOSV in Cork. This was a summer placement undertaken by Abby, who was completing the LLB programme at the School of Law in UCC at the time.
Abby's nominator at SOSV praised her valuable and effective contribution to the firm, her professional approach to the placement and her very good work ethic. They further noted:
"Abby was a pleasure to work with. She took instruction well, worked diligently and enthusiastically on all tasks assigned to her during the period of her placement. Abby demonstrated the ability to act on initiative and to work efficiently. She is a courteous and engaging individual.
SOSV would be happy to have Abby back in this office."
Commenting on her win, Abby said:
"Thank you to the College of Business and Law for presenting me with a Work Placement Award for my time spent in SOSV. Furthermore, I would like to thank SOSV for welcoming me into their office, I thoroughly enjoyed the time that I spent there.
Having the opportunity to work in a global venture capital firm was an invaluable experience. It gave me the chance to not only see but experience the vast amount of work that goes into managing a global firm. This opportunity was eye-opening and is something that will stand to me hugely as I go forward in my career."
In all, ten School of Law students were shortlisted for awards this year. The six students to receive parchments based on their nominations were Karina Doody (BCL Clinical), Elaine McCarthy (BCL Law and Business), Aoife Molloy (BCL Clinical), Morgan Moriarty (BCL Clinical), Ross O'Caomhanach (BCL Law and Business) and Miah Phelan Sweeney (BCL Clinical).
Huge congratulations to all our shortlisted and winning students, and thank you for being such fantastic representatives for the School in the workplace!