News and Events
News and Events
Professor Mary Donnelly discusses health and capacity law, consent issues and research ethics in the latest episode of UCC School of Law's Impact Series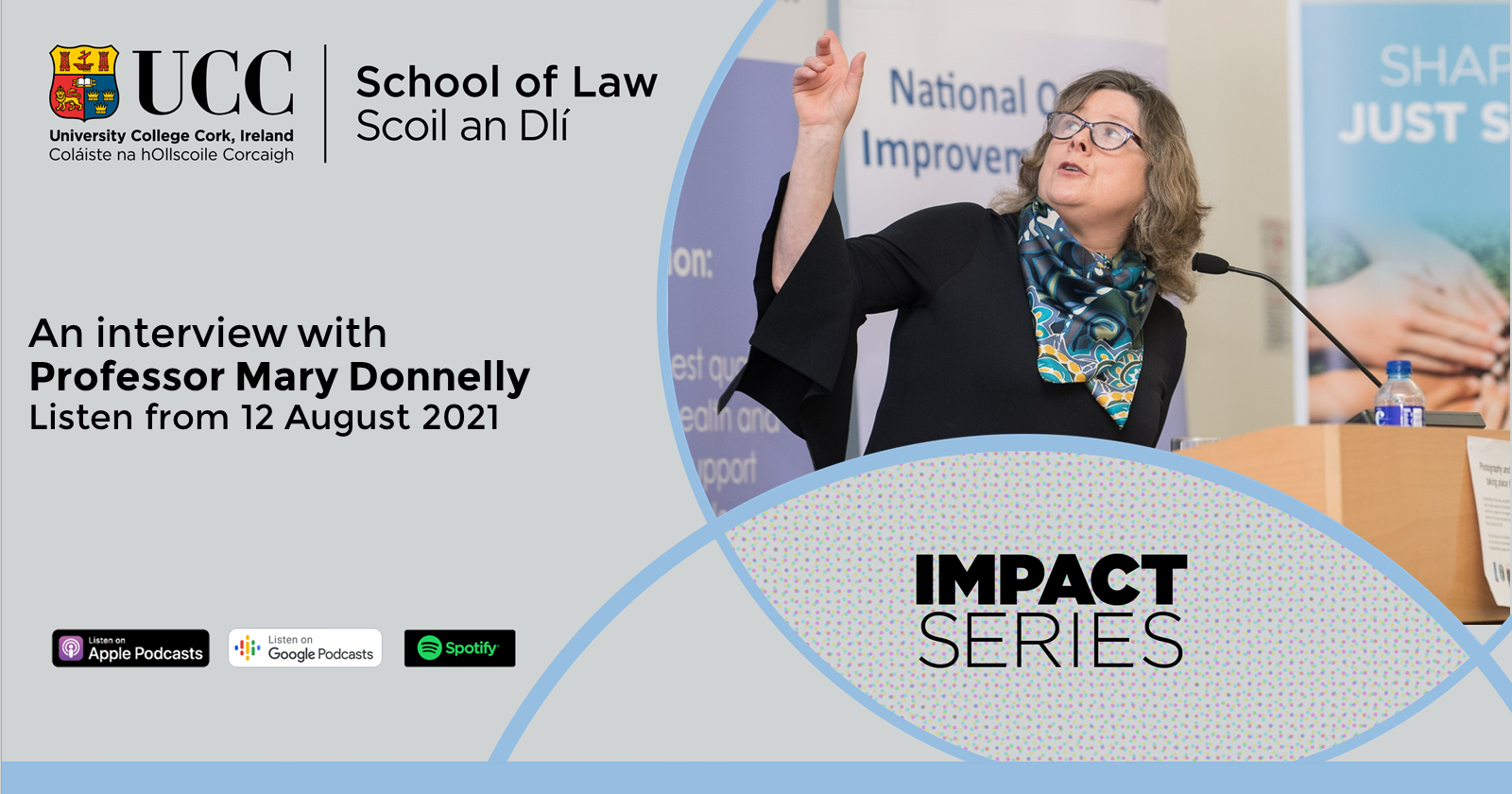 Professor Donnelly was interviewed by Ann Lynch, PhD Candidate at the School and Law Lecturer at Munster Technological University, as part of our new podcast series which shines the spotlight on the resounding impact made by School of Law faculty and their work in the public policy sphere.
Professor Donnelly holds several public service roles, including joint-chair of HSE National Consent Policy Advisory group, joint-chair of the Assisted Decision-Making (Capacity) Act commencement group, member of the Mental Health Commission Legislation Committee and member of the National Research Ethics Committee. She discusses the work of these groups during the interview, as well as her involvement with the Vaccination Consent group – which has been very busy this year in light of the Covid-19 response – and the National Screening Service.
The interview covers a range of fascinating issues surrounding health and capacity law, assisted decision-making, consent and research ethics. With Professor Donnelly's busy portfolio, different issues tend to arise at different times, and currently – as she shares with us in the podcast – the finalisation of the review of the National Consent Policy and the commencement of the Assisted Decision-Making (Capacity) Act 2015 in 2022 are both high on the agenda. The Assisted Decision Making (Capacity) Act is an issue of particular interest to Ann Lynch, as her PhD (supervised by Professor Donnelly and Dr Claire Murray) is focused on decision-making in healthcare for adults with severe to profound disabilities.
Speaking ahead of the launch of the latest Impact Series episode, Professor Mary Donnelly said:
I am very proud of the Law's School's commitment to Shaping a Just Society which is central to the way we operate. I am delighted to take part in this series and to have the chance to talk about my public service roles with Ann Lynch whose PhD work makes a very valuable contribution to debates on supported decision-making in healthcare in Ireland.
The Impact Series is available to listen as part of the wider UCC School of Law podcast, which is on Spotify, Apple, Google or wherever you get your podcasts.
Listen to episode two now:
Upcoming episodes include an interview with Professor Conor O'Mahony about his work on child protection including as Government appointed Special Rapporteur on Child Protection and a special episode featuring a selection of UCC School of Law PhD students discussing the impact that they hope their research will make for civil society in the future.