News Archive
News Archive
Irish History Students' Association (IHSA) Conference 2011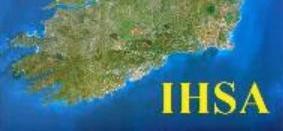 The School of History, UCC and UCC Historical Society proudly present the 2011 IHSA conference on 25-27 February 2011
For information & registration,
Email: 2011ihsa@gmail.com
Website: http://www.ucc.ie/en/history/ihsa
Friday, 25 February:
7-8pm: Registration.
8pm: Opening address by Professor Geoff Roberts, School of History, UCC.
Wine and hot food reception, Aula Maxima, North Wing
Saturday, 26 February:
8.30-9.15am: Registration, 1st floor O'Rahilly Building, UCC
9.15-5.30pm: Consecutive panels, lunch, tea and coffee.
8.00pm: Conference Dinner at the Gresham Metropole Hotel.
Keynote address by Prof. John A Murphy
Sunday, 27 February:
12.30pm: Walking tour of Cork (with a few stops in Corks finest pubs!)
Registration for non-speakers: 15 euro
(includes wine and food on Friday night, lunch and programme on Saturday and walking tour)