News Archive
News Archive
History of Cork airport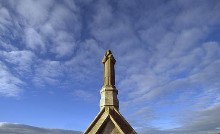 Fifty Years Have Flown: The History of Cork Airport by Donal Ó Drisceoil & Diarmuid Ó Drisceoil is published by Collins Press, Cork in October.
Fifty years ago, in October 1961, Cork Airport opened its doors and runways. This history charts the history of Irish aviation and the effort to establish an airport since the 1920s, including the controversial purchase of the site, and details on how the airport became a glamorous outpost for social events and celebrity spotting, bringing economic benefit to Cork and Munster. Special pieces capture 'A Day in the Life' of the airport through the stories of workers, past and present.
Dr Donal Ó Drisceoil lectures in the School of History, University College Cork.
Fifty Years Have Flown The History of Cork Airport is published by Collins Press
It retails for €24.99/£22.99.