News and Events
News and Events
Perforum Season Spring 2023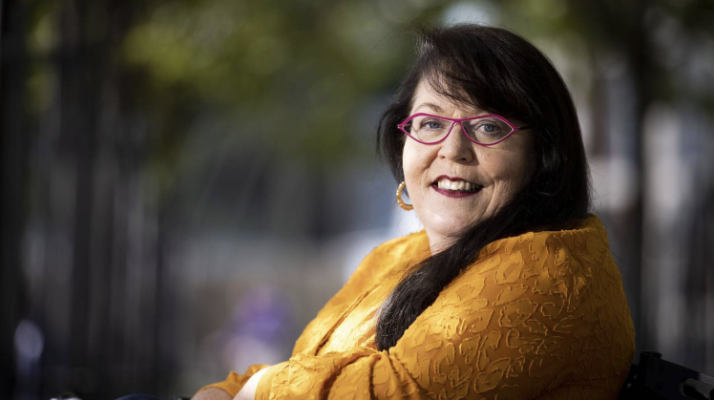 Weds 25th January 2.15pm @ Granary Theatre: Rhona Coughlan/Conversations about disability and dance
Weds 1st March 2:15pm @ Granary Theatre: Roderick Ford / The Poetics of Otherness
Weds 29th March 2:15pm @ Granary Theatre: Rosaleen McDonagh/ "Disability light" "Disability reality"
Perforum Spring 2023
Theatre and Dance – a disability perspective
To coincide with the premiere of Roderick Ford's magic realist play Daughter of God* at the Granary Theatre, UCC is delighted to present a Perforum Series, curated by UCC and Cork Opera House Theatre Artist-in-Residence, Jody O'Neill. The season will explore creating theatre and dance through the lens of disability. From January to March, leading practitioners will join us at the Granary to share their experiences and insights.
Rhona Coughlan/Conversations about disability and dance - 25th of January 2023
Rhona Coughlan set up Ireland's first inclusive dance company "Wheels in Motion" performing in Father Mathew Hall and The Cork Opera House. She then went on to work in the area of Radio broadcasting and disability advocacy.
In 2006 she co-founded Croí Glan inclusive dance. Performing at Dublin Fringe Festival, Cork Midsummer Festival and The Clonmel Junction. Working with international choreographers such as Jess Curtis, Kim Epifano and Adam Benjamin.
In July 2022 Rhona Coughlan was appointed the Artistic Director of Ireland's first professional qualification in inclusive dance which began in September 2022 partnering with UCC, Cope Foundation Cork ETB and The Firkin Crane.
This session will be a facilitated conversation, followed by a Q&A, with Rhona sharing her experiences of the first year of the Inclusive Dance Programme as well as her insights as a professional disabled dancer and performer.
Roderick Ford / The Poetics of Otherness - 1st March 2023
Roderick Ford is an autistic poet with many awards and shortlistings, two collections, and a poem on the UK National Curriculum since 2015. His work is concerned with otherness, othering and life subsumed in another neurological order.
His magic-realist play Daughter of God will be produced at The Granary Theatre in the second week of March. In the play, Yulia, a single mother, has three daughters two of whom are disabled: one has crippled legs, the other is brain-damaged and kept in a cage. In the world outside their flat, an emergent fascist state is brutally "cleansing" disabled people from society...
For this event, Roderick will be joined by cast member, Eleanor Walsh for a conversation with Jody O'Neill. Among other things, they will discuss their our individual approaches as autistic people to writing and performing for theatre in a neurotypical world.
Eleanor Walsh is a performer, writer, storyteller, and an autism and disability advocate. Recent credits include Yellow (Jody O'Neill), The Amanda (Saoirse) Show (Scream for Ireland), What I (Don't) Know About Autism (Abbey Theatre), Home: Part One (Abbey Theatre), and Dear Ireland: Part One (These Four Walls by Sinéad Burke) (Abbey Theatre). Eleanor is featured in "Be Inspired! Young Irish People Changing the World" by Sarah Webb, published by O'Brien Press.
Rosaleen McDonagh/ "Disability light" "Disability reality" - 29th March 2023
Dr Rosaleen McDonagh is a playwright, performer, columnist for The Irish Times and a member of Aosdána. Her plays include The Baby Doll Project, She's Not Mine, Rings, The Prettiest Proud Boy and Mainstream. Her most recent commissions were Walls and Windows for the Abbey Theatre and Contentious Spaces for the Project Arts Centre. Rosaleen holds a BA, two MPhils from Trinity College Dublin and a PhD from Northumbria University. She is a board member of Pavee Point Traveller and Roma Centre and was appointed a Human Rights Commissioner in June 2020. Her first book Unsettled was shortlisted for The Journal Best Irish Published Book of the Year in 2021.
Unsettled explores racism, ableism, abuse and resistance as well as the bonds of community, family and friendship. As an Irish Traveller writing from a feminist perspective, McDonagh's essays are rich and complex, raw and honest, and, above all else, uncompromising.
Rosaleen will deliver a presentation on her experiences in the context of theatre and disability.
*Full details of the production of Daughter of God by Roderick Ford will be available on www.asylumtheatre.com in the coming weeks.
Writer: Roderick Ford
Director: Donal Gallagher
Designer: Medb Lambert
Producer: Maura O'Keeffe
Cast: Eleanor Walshe
For more on this story contact:
Theatre@ucc.ie