News
News
Vivienne Dick in Conversation with Pat Murphy Friday 2nd November at 8pm, Kane Auditorium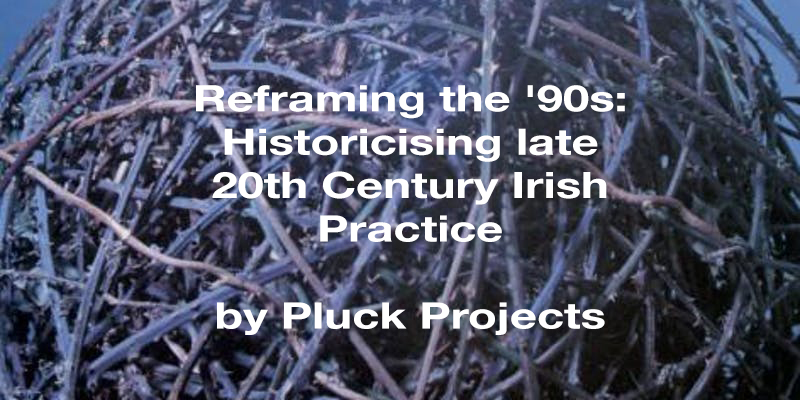 As part of the Reframing the '90s: Historicising Late 20th Century Irish Practice conference this weekend there will be a special screening of the work of Vivienne Dick in the Kane auditorium on Friday evening at 8pm. Vivienne will discuss her work with UCC/Arts Council Film Artist in Residence Pat Murphy. The event is free, but tickets must be booked in advance, by using the dropdown menu for conference events here:
https://www.eventbrite.com/e/reframing-the-90s-historicising-late-20th-century-irish-practice-tickets-51320295385
Vivienne Dick is an Irish filmmaker who makes multilayered, open-ended work framed from a female perspective and with an interest in sexual politics, music and philosophy. Her early work is associated with the No Wave film and music movement of late seventies New York. Her work has been shown extensively at festivals and museums such as, MoMa New York, Lisbon Estoril and Filmhaus Vienna with a survey of her work at IMMA in 2017. Recent screenings include MOMA New York, BAM Brooklyn, RedCat, LA, Videoex Switzerland and CUFF Chicago. Retrospectives include Crawford (2009) Tate Modern (2010) and SEFF Seville (2016). Her work is in the collections of The Irish Film Archive, Lux, Anthology Archives and The Museum of Modern Art, New York. She is a member of Aosdana and Her work is distributed by LUX UK.
Pat Murphy is Arts Council/UCC Film Artist in Residence Her early work emerged from the radical, creative upheavals which defined Hornsey and the Royal College of Art in the 1970s. Her graduate film Rituals of Memory was screened at the Hayward Gallery Film As Film exhibition. In 1977 she was awarded a scholarship to the Whitney Museum of American Art Independent Study Program. Her first feature, Maeve (BFI/RTE) won the Best Irish Film Award in Cork and was screened in Venice in 1981. Her second feature Anne Devlin also represented Ireland at many festivals. Nora (2000) an award winning, international co-production, starred Ewan McGregor and Susan Lynch. Her most recent film Tana Bana won an audience award at JDIFF Dublin International Film Festival in 2015. Pat has curated major film and seminar programmes for the Irish Museum of Modern Art and the Irish Film Centre. In 1992, Pat made a film installation for the Strokestown Famine Museum. A founder Board Member of CIRCLES Women's Distribution Collective, of FILM BASE and of the Screen Directors Guild of Ireland, Pat was elected to Aosdana in 2002. She was a Lecturer in Film Studies at QUB from 2005-09. From 2010 and 2015, she was Associate Arts Professor in Graduate Film at NYU Tisch Asia in Singapore.