News
News
UCC Film and Screen Media at the Fastnet Short Film Festival, Schull May, 2017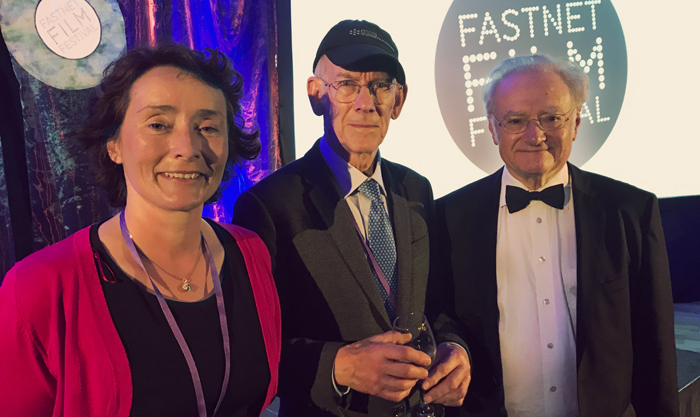 Celebrating its ninth year, the Fastnet Short Film Festival, located in the picturesque village of Schull, West Cork, continues to attract the cream of filmmakers from Ireland and beyond.
Among this year's guests were the former Head of BFI, Greg Dyke; Oscar-winning producer and UCC's Adjunct Professor of Film and Digital Media, David Puttnam; award-winning directors Jim Sheridan, Lenny Abrahamson, Peter Foott, Juanita Wilson; and our Film and Screen Media's Film Artists in Residence for 2014-15 and 2015-16, Carmel Winters and Gerry Stembridge.
As in previous years, UCC Film and Screen Media students and staff were at the heart of the Festival, as both volunteers and guests. We hosted our annual student showcase, introduced by Gerry Stembridge, on Saturday 27th, and the audience was treated to films from each year of the BA, including Amy O'Callaghan's A Change of Heart; What's in a Cup by Emma Creaner; Michael Hussey's & Antoine Thomas's Sound Affect; The Bugler's Son by Alex Sanchez Ballestin; John Gleeson's Idol; and Shaun McWhinney's Just a Bit of Banter.
Film and Screen Media's involvement continued as the Festival welcomed one of its special guests, Oscar-winning historian/filmmaker Kevin Brownlow, for a special Q+A hosted by Gwenda Young. Kevin discussed the key films of his career as a filmmaker and a restorer of silent cinema, as well as his contribution to writing film history.
The Festival's Gala Event was a premiere of a restored 1925 masterpiece of the American silent screen, Clarence Brown's The Goose Woman starring Louise Dresser and Jack Pickford. The screening was introduced by Kevin Brownlow and accompanied by live piano from Carl Davis, OBE, the world-renowned conductor and composer. Film and Screen Media and the College of Arts were among the key sponsors of this special event.
The film received a standing ovation and a Q+A moderated by Gwenda Young then followed.
The hectic pace continued when, on Saturday night, FSM students beat off fierce competition and displayed their formidable knowledge of film in the annual "Big Quiz". FSM teams picked up the first and second prize!
And rounding off an incredible weekend, the prize for best Irish documentary of the Festival was awarded to BA 3 student John Gleeson for his moving and beautifully-executed film, Beautiful Boy. Congratulations go to John and his crew and, of course, to Dan O'Connell!
Special thanks goes to the incredible Festival organisers that have made this the highlight of FSM's year: Helen, Hilary, Pauline, Maurice, Chris, Maria, Aidan… and many more….you really are the dream team!
Gwenda Young, 2017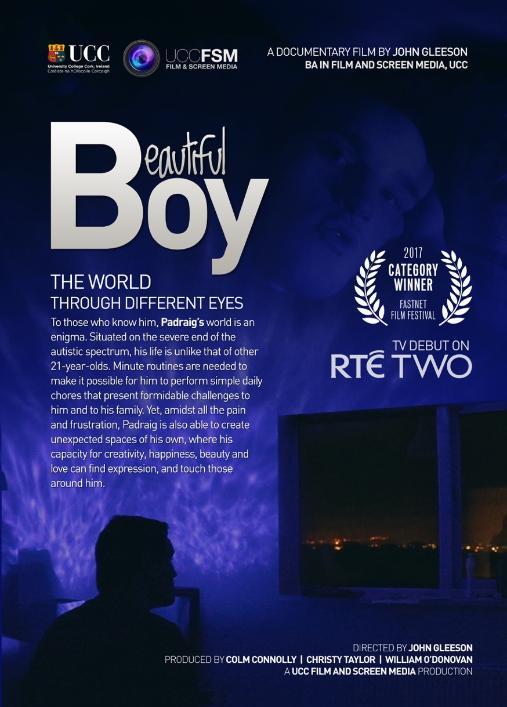 'Beautiful Boy' by BA 3 Film and Screen Media student John Gleeson. Winner of Best Documentary Ireland at Fastnet Film Festival.
Poster design Dan O'Connell.