FLAME Laboratory
FLAME Laboratory
End of an Anatomical Era....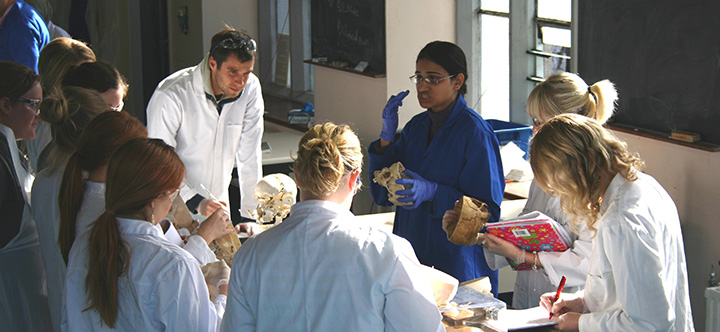 Picture: Dr Sobia Hashmi, Senior Medical Demonstrator teaching neuroanatomy to Second Year Graduate Entry Medical Students in the old Anatomy Dissection Room in the Windle Building.
Teaching of Anatomy in UCC's Windle Building has come to an end with the Department's move to its new state of the art laboratories in the Western Gate Building.
For thousands of medical and dental students Anatomy teaching has been synonymous with the neo-Gothic Windle building named after Professor Bertram Windle former Chair of Anatomy and President of then Queen's College Cork. "This is a truly momentous day for the department and for the Medical School in general; it is not just the end of an era but also the beginning of a very exciting episode in the modernisation of the department and discipline in general" said Professor John F. Cryan who recently took up the post of Chair of Anatomy.
The new facility will be named the Anatomy FLAME laboratory, with FLAME being acronymic for Facility for Learning Anatomy, Morphology & Embryology. FLAME is also the title of a piece specially commissioned sculpture by the late artist Alexandra Wejchert. It represents the flame of knowledge which leads to the light of understanding. As the lights are switched off on the Windle-based laboratories the flame of knowledge will continue to burn brightly into the future in UCC. For more about Anatomy please see http://www.ucc.ie/en/anatomy/